Zayn Malik's New Look Has Fans Over The Moon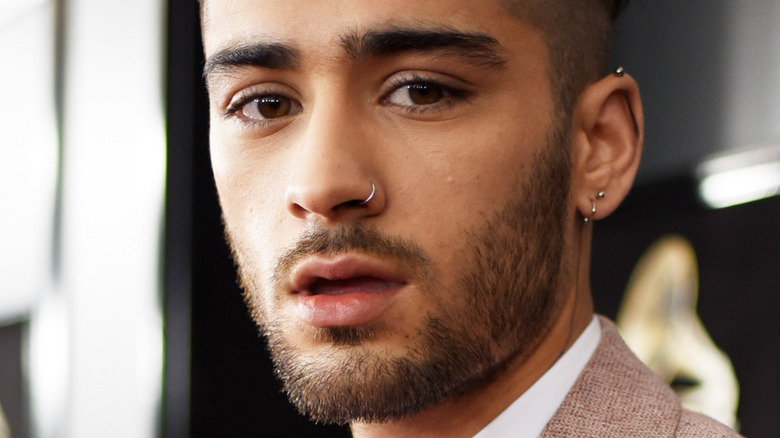 Kevin Mazur/Getty Images
It's a fresh start for Zayn Malik. After a tumultous and controversial breakup with baby mama Gigi Hadid in October 2021, Malik may be open to new life experiences. 
A man who certainly resembles the "Pillowtalk" singer was spotted on a dating app called WooPlus, per Page Six. The Malik-lookalike, who calls himself "Zed," signed up on the "dating app for curvy people to find and enjoy love" and posted an emoji challenge video. While a spokesperson for WooPlus could not confirm if the user is Malik,  they indicated, "We'd be thrilled to have Zayn Malik in our inclusive dating community if he did join."
Of course, Malik made his preferences clear in a 2016 interview with Billboard. He said, "I need a challenge. Also, I like girls that are a bit chunky in certain areas — the nice areas. I like a fuller woman. I enjoy an intellectual conversation as well." If "Zed" is really Malik, he may be on the correct dating app after all.
However, the biggest change for 2022 has been Malik's new look, and he showed off his rugged appearance in a recent Instagram post that has fans losing it.
Zayn Malik rocks rugged, edgy look
Zayn Malik has fans swooning after he dropped a selfie in mid-January. The former One Direction singer wore tinted circular frame glasses and a leather jacket, that drew attention to Malik's tattooed neck and chest. But, it was his full, thick beard that seemingly transformed his entire face. Fans took to the comments section to talk about his look. 
One fan wrote, "Nothing better than waking up to thissssss," while another noted, "Love the new look." A third follower penned that Malik was a "true beauty." The share has already generated over 5.3 million likes and 106,000 comments as fans weighed in about his transformation.
Interestingly, Doja Cat called out Malik's facial hair in December 2021. Hola! reports that during an Instagram live session, tweeted by a fan, Doja spoke about Malik. She questioned, "Did Zayn get a beard yet?" She then found his page and seemed to be talking about this image where he was beard was less prominent. She continued, "Oh, he has a beard. I wonder if he's grown it out a lot. You know?" Doja said before taking in his appearance. "Oh, what a beautiful face. That's a good face. Gorgeous," the "Kiss Me More" singer raved. She inhaled deeply before gushing, "Wow, Zayn is beautiful. Good face." Somebody should tag Doja on his latest pic. Just saying that the "Juicy" singer may appreciate Malik's new look.