Is NCIS' Emily Wickersham In A Relationship?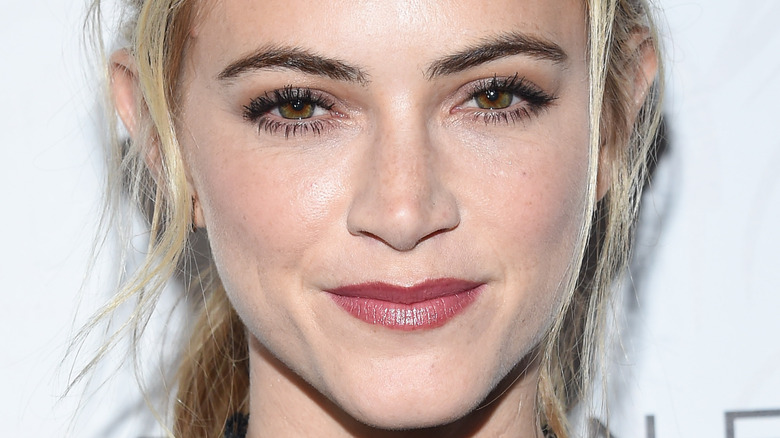 DFree/Shutterstock
Emily Wickersham has been a household name ever since she began starring as Special Agent Eleanor Bishop on "NCIS," which was a role she portrayed for a total of eight years. Her run on the series recently came to an end, as she announced in September 2021 that she will not return after Season 18, per Distractify. Her private life off the small screen has mostly been kept quiet, but some facts about her dating history have been made known in the past. Express reported that in 2010, Wickersham married a musician, Blake Hanley, who is the lead singer of the band Ghost Lion. Their union lasted until 2018 when, sadly, the couple decided to part ways. Hanley later spoke to CBS12 about moving to his hometown after the divorce and his pain over their separation.
"Coming home after such a long time, it felt odd. I had gone through a lot of heartbreak," Hanley said. The news outlet explained that Hanley had been channeling his heavy emotions to create music for Ghost Lion, who played at the SunFest music festival in 2019. "With everything I've gone through, it has been a year ... it has been a journey," he added.
So, has Wickersham moved on from what sounds like a devastating breakup with Hanley?
Emily Wickersham is in a new relationship with James Badge Dale
Since her separation from her ex, Blake Hanley, actor Emily Wickersham has a new significant other in her life. Rumors began to swirl that Wickersham may be in a relationship with fellow actor James Badge Dale, who has appeared in projects such as "24" and "The Pacific," as Wickersham would sometimes appear in photos on his social media account. One of these Instagram posts by Dale showed the two together lounging on a couch and posing for a fun selfie, as reported by American Entertainment. Dale captioned the image "Coming home baby," and tagged Wickersham in the post. She separately announced she was pregnant via Instagram in July 2021, further fueling public intrigue. 
The actors then went on to announce that they were expecting a child together in December 2021. Again taking to Instagram to share this news publicly, Dale posted a selfie with himself and Wickersham as she showed off her bare baby bump for the camera. This confirmed that the two were not only an item, but would soon become parents together.
Emily Wickersham and James Badge Dale have welcomed a baby boy
On December 31, 2021, Emily Wickersham made the celebratory announcement via Instagram account that she and James Badge Dale had welcomed a baby boy into the world. Their bundle of joy, named Cassius, was shown wrapped up in a blanket and resting with Wickersham and Dale in the photos she posted.
"Welcome to the world Cassius Wickersham Dale born 12/30/21 just in time to join the party to ring in the New Year. You are more than @jamesbadgedale and I could ever have imagined. We are so in love with you," Wickersham captioned the photo. Dale separately posted a photo on his Instagram account of himself with Cassius in his arms, writing, "New Years was WILD Met up with my boy Cassius Old soul Good dancer Smells great Here's to keeping the party going in 2022 @emilywickersham." 
It sounds like Wickersham has moved on from her previous heartbreak to find a positive relationship and a loving family unit. Congrats to the new parents!