The Spicy History Behind Jodie Sweetin's Style Of Engagement Ring - Exclusive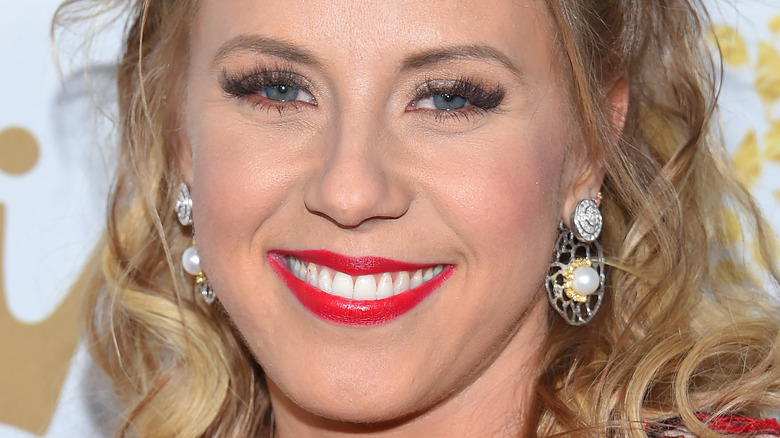 DFree/Shutterstock
We're not trying to be rude, but the truth is that after a while all engagement rings — even the big ones sported by celebs — can start to look the same. Every now and then, though, one spectacular rock really catches our collective eye. This is the case for Jodie Sweetin's stunner of a marquise cut engagement ring. The Full House actor announced her engagement to boyfriend Mescal Wasilewski on January 18, showing off her new rock in an adorable Instagram post.
The large stone in the center of the ring is cut in a classic diamond shape, while a diamond studded band set slightly apart from the center makes an outline. Put together, the shape of the ring looks like an eye — or, perhaps, a mouth. We asked Mike Fried of The Diamond Pro for his assessment of the unique ring, which he called "extraordinary." Fried also let us in on the surprisingly sexy origins of the marquise cut, which has been around since the 18th century.
Jodie Sweetin's engagement ring has royal origins
As it turns out, the history of Jodie Sweetin's ring is not only royal, but rather salacious as well. "The marquise shape has been around since the 18th century when King Louis XV of France requested a diamond to be cut in the shape of his mistress's lips, Jean Antoinette Poisson," The Diamond Pro's Mike Fried told Nicki Swift. "Couples who want a distinct look are drawn to the marquise cut." Fried added that the ring's elongated shape can also make it appear larger than similarly-sized stones — and he had some praise for Sweetin's piece in particular. 
"In Jodie's ring, the ends of her marquise are well-secured to ensure the points of the diamond don't chip," he noted. "Overall, this diamond shape and ring are extraordinary and give Jodie's ring an exceptional amount of character." We're no diamond experts, but looking at the close-up photo Sweetin's new fiancé posted to his Instagram (pictured above), the word "exceptional" seems just about right. But unlike the ring, Mescal Wasilewski's caption was understated. The husband to be wrote only, "So that happened..." And we love it.