Inside Beyoncé And Serena Williams' Friendship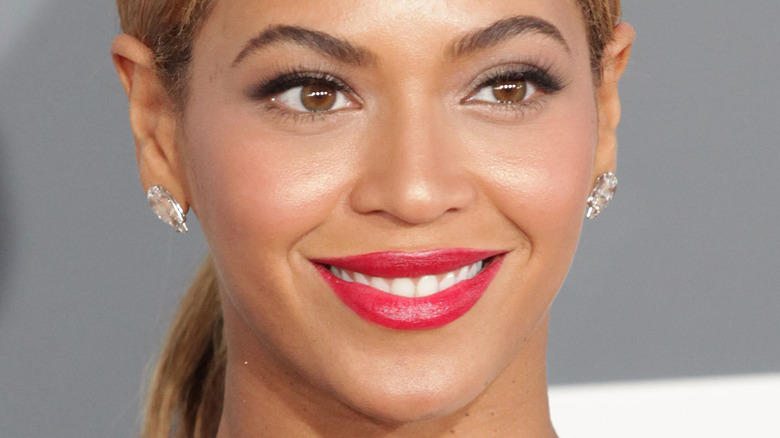 DFree/Shutterstock
Nothing says friendship like inviting someone to be in a music video — especially when it's Beyoncé extending the invitation. After her surprise appearance in Beyoncé's 2016 music video for "Sorry," which has since garnered over 300 million views on YouTube, Serena Williams and Queen Bey have seemingly become quite close. From surprise collaborations to touching social media messages, the duo's public support for one another makes us all slightly envious.
While fans have become enamored by the famous friends in recent years, the pair have reportedly known each other since the Destiny's Child era — we're talking early 2000's. In fact, fellow Destiny's Child alum Kelly Rowland seemingly introduced the two. "Kelly Rowland is friends with Serena Williams, and she hooked us up with her doctor and I'm doing very, very well," Beyoncé said following a hamstring injury in 2004 (via MTV).
Since then, the friendship has blossomed and the two have continued to support each other's career achievements, personal endeavors, and everything in between.
Serena Williams had 'a lot of fun' dancing with Beyoncé
When Beyoncé released the visual art for her 2016 album "Lemonade," fans were shocked to see a leotard-wearing Serena Williams slaying in one of the videos. The tennis superstar explained that performing the dance routine was as fun as it looked.
"Dancing in the Beyoncé video was obviously a lot of fun. I remember being super sore after because I was down the whole time, you know, kind of twerking a lot," Williams told the Associated Press. She added, "I was able to work a lot with her choreographers ... and I really learned so much just about my body movement and also different styles of movement to do."
While the show-stopping dance routine in "Sorry" was the first time viewers got to see the two icons on screen together, Williams had been seemingly preparing for the moment for some time. A year before the release of "Lemonade," Williams put her own spin on Bey's "7/11" video, complete with a golf cart, tennis racket, and sneakers.
Beyoncé regularly cheers Serena Williams on from the stands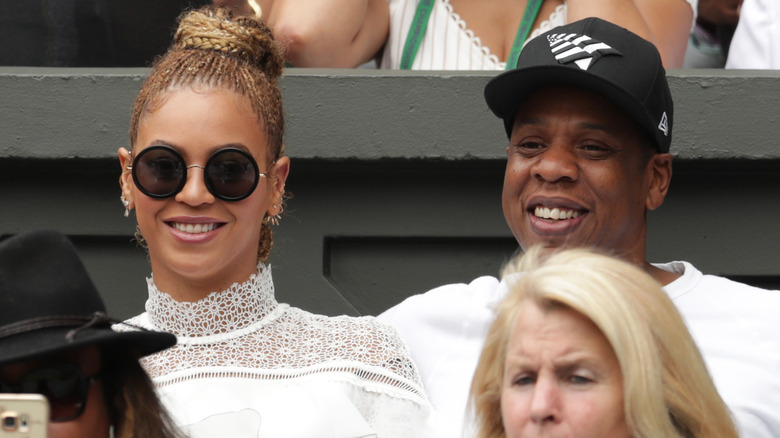 Pool/Getty Images
It seems Beyoncé is equally a supporter of her tennis champion pal. Back in 2013, Beyoncé took to her website to share a handwritten message to Serena Williams after she dominated at the French Open. "Stunt on them Serena, 31 and in your prime. You have no idea how much you inspire all of us women. I'm so proud of you," Bey wrote (via the Los Angeles Times).
Fast forward to July 2016 when Williams faced off against Angelique Kerber at the Wimbledon women's final, and Beyoncé and husband Jay-Z were among the spectators cheering the tennis star on, per Grazia. According to AP News, the power couple was also in attendance when Williams defeated Vania King at the U.S. Open later that year.
When asked about her friendship with one of music's biggest stars, Williams gushed about the support she receives from the Knowles-Carter tribe. "It's great to have Beyoncé and Jay Z supporting," she told E! News in 2016. "It's always wonderful to see them at tennis and it's always good when you can just rely on someone and know that they're always in your corner whether they are there or not and that's kind of how it is with us."