Home Town's Erin Napier Reveals The Scary Ramifications Of Her Past Appendix Issues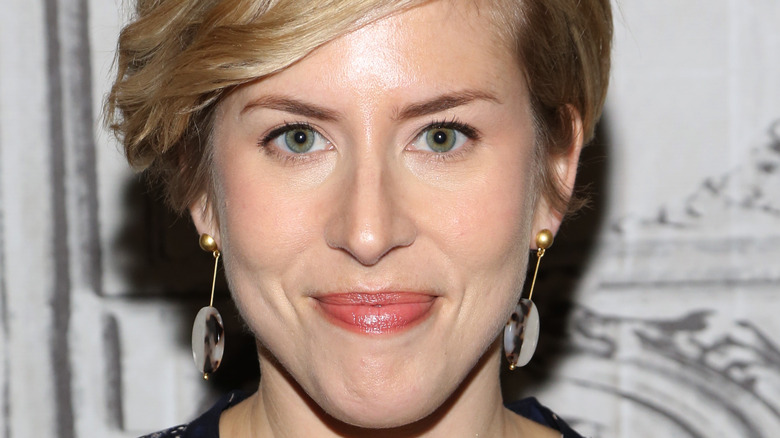 Manny Carabel/Getty Images
We may receive a commission on purchases made from links.
On the surface, Erin Napier appeared to have a near-perfect life, working on renovating homes alongside her husband Ben Napier on their reality series "Home Town" — but the HGTV star was struggling behind the scenes. For a decade, Erin was afflicted with an undiagnosed illness. "In the beginning, it would be 24 hours of terrible stomach pain and a low grade fever, and then it would disappear," she recalled to People in 2018. The pain and discomfort were accompanied by frustration, as the couple searched for answers to diagnose Erin's condition. "We went through everything, from doctors thinking it might be something really bad like cancer to saying it was in Erin's head," Ben said.
Eventually, an exploratory procedure revealed that Erin's organs were constricted which was caused by a perforated appendix. "The first time it happened, when I was 19, it just partially ruptured. Not enough to kill me, just enough to make me sick," the reality star told People. Once properly diagnosed, doctors were able to alleviate Erin's condition, but complications arose from the decade-long issue. Doctors believed it "wasn't likely" Erin could conceive, per People.
Fortunately, those worries turned out to be unfounded, as Erin and Ben had their first child, Helen, in 2018. They added to the family with baby Mae in 2021, per Us Weekly. Even though she was able to give birth, Erin still copes with unexpected issues from her previous illness.
Erin Napier struggles with intense, health-related anxiety
On January 20, Erin Napier shared a gut wrenching post on Instagram that gave true insight into the aftermath of her previously chronic condition. The "Home Town" star uploaded two photos of her family that were taken POV-style from her hospital bed in 2014. 
"This time of year, I feel the anniversary of illness so acutely," Erin wrote. She detailed how "the physical suffering" had dissipated, but sadly a new issue had taken its place. The HGTV star had physically recovered, but suffered from PTSD-like symptoms. "It left some deep ruts in my neuro pathways that have left me with an extreme fear and preoccupation with sickness, nausea in particular, ever since," Erin revealed. The Mississippi native said the "fear" of illness caused extreme anxiety. "Panic attacks and spiraling thoughts come rushing in," she added.
Many followers flooded the comment section with words of appreciation, including Drew Barrymore. "I love you @erinapier and THIS DOES HELP TO KNOW and I believe we are lucky to have a window into you that will also help others!!!!!!!!!!!" the talk show host replied. "Thanks for sharing. We are all a little broken, that's how the light gets in," one fan wrote.
Erin previously discussed her condition in her book "Make Something Good," which began as a blog when she was ill and searching for positivity. "I committed to writing down at least one good thing that happened every single day of our life, and it changed my life," she told Qolture in 2018.