Jennifer Coolidge Reveals How Ariana Grande Changed Her Life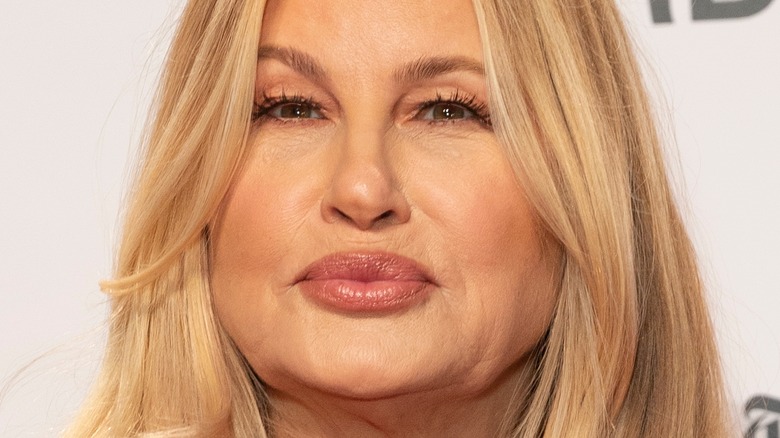 lev radin/Shutterstock
Who would have thought that a tiny bit in the middle of a late-night show interview could completely change someone's career? Well, luckily for actor Jennifer Coolidge, that's exactly what happened.
While sitting down to chat with Jimmy Fallon on "The Tonight Show," pop superstar Ariana Grande was almost immediately asked about her famous impressions. Over the years, she has grown notorious for her celebrity impersonations — she absolutely killed it as Jennifer Lawrence on "Saturday Night Live" and played a jaw-dropping game of "Wheel of Musical Impressions" with Fallon previously. During the May 2018 episode, Fallon asked Grande to do an impression of Coolidge, and she obliged, saying two of Coolidge's movies, "Best in Show" and "Legally Blonde," were her favorites. Grande then altered her typically soft-spoken voice to mimic Coolidge's as she said the actor's iconic "Legally Blonde" line, "God, you look like the Fourth of July!" The impersonation was so spot on that laughter immediately erupted from the audience before she could get to the punchline.
The whole conversation on Grande's Coolidge impression only lasted about a minute, but this brief spark ultimately ignited a fire in Coolidge's career, according to the actor.
Jennifer Coolidge was 'going through a dead zone' before Ariana Grande's impression
Before 2018, "not much was going on" for Jennifer Coolidge, as she said on "The Tonight Show Starring Jimmy Fallon." She had just wrapped up her time on the sitcom "2 Broke Girls" and finished some voice work as characters in "The Emoji Movie" and "The New Adventures of Max" at that point, per IMDb. However, that changed when Ariana Grande went on Jimmy Fallon, said Coolidge.
"You should know that it was sort of the beginning of a lot of cool things that happened for me because — I don't know — I was going through a dead zone," Coolidge explained. "Not much was going on, and then Ariana did this imitation on your show, and you encouraged her, and then this ball got rolling." Despite thinking Grande wouldn't read it herself, Coolidge decided to message the singer on Instagram anyway and praise her for the impression. Then suddenly, Coolidge found herself on the set of Grande's "thank u, next" music video, reprising her "Legally Blonde" role.
Coolidge got out of her "dead zone" when she starred as Tanya McQuoid in the HBO hit series "The White Lotus." And Coolidge has certainly kept the momentum going with several projects in the works, according to her IMDb page. One of those projects just happens to be the third installment of "Legally Blonde," written by Mindy Kaling, per People. It's been over 20 years since the first film premiered, so we can't wait to see what Paulette and Elle Woods have been up to.