Is This How Melania And Donald Trump Make Their Marriage Work?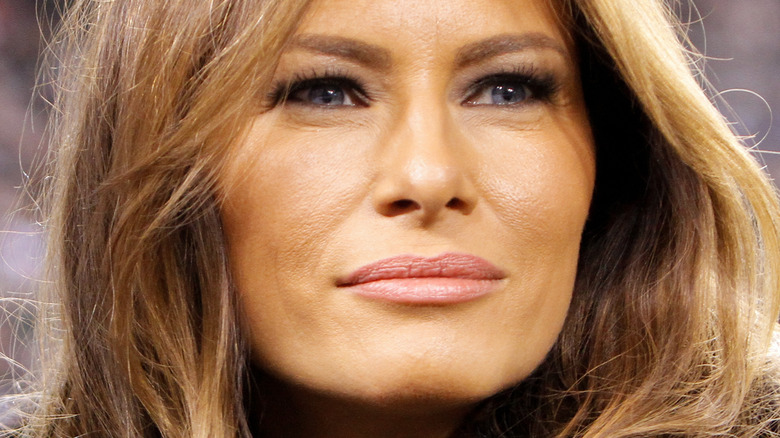 Debby Wong/Shutterstock
When Donald Trump began his tenure as the 45th president of the United States in 2017, he wasn't the only one thrust into the spotlight. His wife, Melania Trump, also became the center of attention, facing scrutiny for her career as a model and her fashion choices as the first lady of the United States, along with her questionable involvement in the various investigations of which her husband remains the subject. 
Since Donald and Melania were married in 2005, they have become one of the most polarizing couples in recent American history.  These days, they live their lives at his Mar-a-Lago Club in Palm Beach, Florida, where they will celebrate yet another wedding anniversary this January, along with their son, Barron Trump. But what some sources have to say about the couple and how they make their marriage work, particularly when it comes to navigating their post-White House lives, might raise some eyebrows.
Melania Trump's life is dictated by her interests and family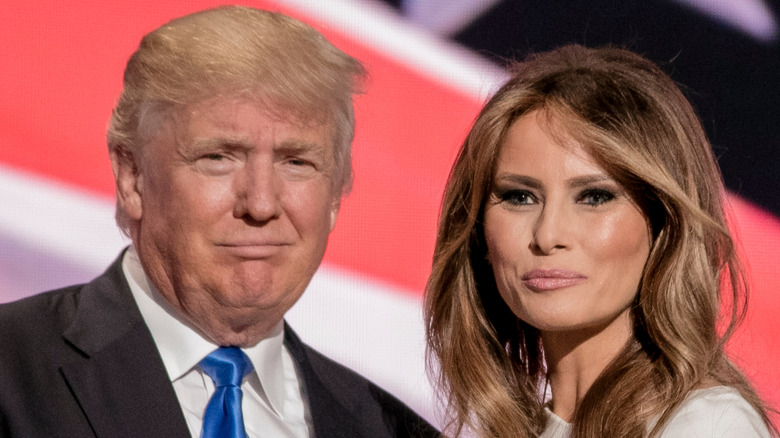 mark reinstein/Shutterstock
In a recent interview with People, a source shared that Melania Trump's life is largely dictated by her own interests and family. "She makes an appearance with Donald for certain dinners, but spends much of her time with her own family," the source explained, adding that Melania's inner circle consists of her sister and parents. "This is a way of life for her and she likes it, especially in Palm Beach." The source added that Melania is a relatively "quiet" and "low-key person" who enjoys her privacy at Mar-a-Lago. "She knows what Donald wants from her, but the rest of her life is dictated by her own interests. Each has come to respect what the other wants and needs."
Along with focusing on her son Barron's private schooling, Melania is also busy dabbling in her own projects, including an auction of NFTs, art, and clothing, and more work with children, per People. "Melania has her own fashionable interests and wants to do something with them to make money," another source said. "She definitely has her own attitude and does pretty much what she wants — even if others don't get it." As another source told CNN in September 2021 about Melania's preference for privacy, "That's how she likes it. The more she can be private and not in the public eye, the better."
So, while some may question the durability and livability of Melania and Donald Trump's relationship, it seems respecting one another's interests and priorities has led them to celebrate their 17th wedding anniversary together — a feat that cannot be overlooked.