Is Alex Rodriguez Dating Someone New?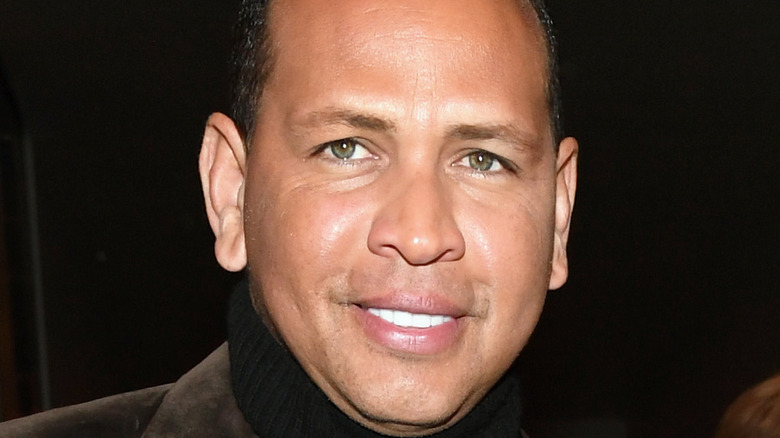 Kevin Mazur/Getty Images
Alex Rodriguez and Jennifer Lopez made headlines when the couple announced they called off their engagement and broke up. "When they first split, he wanted to work things out, and still held on to hope that he and J.Lo would get back together," a source told Entertainment Tonight about Rodriguez in June 2021. But, of course, Lopez had famously moved on quickly with her former flame, Ben Affleck. In the following months, the former New York Yankee was spotted with various women. "He is friends with a lot of women," another source told Entertainment Tonight in June 2021. That did not mean A-Rod was on the market. "He isn't going to be dating for a while," the source added.
In July 2021, Rodriguez was photographed living his best life on his yacht in St. Tropez alongside an assortment of women rocking bikinis, per the Daily Mail. Reportedly, the baseball slugger was "doing great" at the time as he celebrated his birthday with family and friends, per People.
One of the women spotted on Rodriguez's European sojourn was NFL reporter Melanie Collins. The duo were photographed eating lunch next to each other, and speculation formed that the they could be dating — although it turned out that Rodriguez and Collins were just friends, per Page Six. But now, A-Rod is romantically linked to another woman, as the pair spent a weekend together at a couple high-profile events.
Alex Rodriguez and fitness model Kat Padgett have been spotted together multiple times, but are they dating?
On January 22, Alex Rodriguez attended the Green Bay Packers playoff game at Lambeau Field. The star athlete opted to stay in the stands amongst the fans, and posted a video of the "Bucket List" experience to Twitter. During the game's television broadcast, Rodriguez was shown in the stands nestling up to a "mystery blonde" who wore matching Packers hats with A-Rod, per the New York Post. Shortly after the pair were filmed together, the "mystery" woman was revealed as fitness model Kat Padgett by The Spun.
The day after the Packers game, Rodriguez and Padgett seem to have attended a Minnesota Timberwolves game together on January 23. Rodriguez is part owner of the team, and Padgett uploaded a snap from courtside at the Target Center in Minnesota to her Instagram Stories, per Page Six. After attending back-to-back sporting events together, rumors swirled that the duo were officially dating, but Rodriguez apparently retained his bachelor status. "A-Rod is single and enjoying life," a source told Page Six about the potential relationship. "It's not like she's his girlfriend. They went to Green Bay and then to Minnesota. She's not his girlfriend. He is a single dude," the source added. The outlet also noted that Rodriguez follows Padgett on Instagram.
One thing that both Rodriguez and Padgett share is an athletic side. Her Instagram page features photos from fitness competitions, and lists herself as a "UST soccer alum" in her bio.