The Two One Chicago Stars You Didn't Know Dated In Real Life
Kathy Hutchins/Shutterstock
The TV or movie set seems like one of the most likely places to fall in love. There are countless cases of romances blossoming while spending all those long hours filming various TV shows and movies, with on set romances blossoming over and over again over the years.
Of course, there are the obvious ones we all remember — Angelina Jolie and Brad Pitt on "Mr. and Mrs. Smith," Blake Lively and Ryan Reynolds on "Green Lantern," and Ben Affleck and Jennifer Lopez on "Gigli," to name a few! But then there are those romances though go a little more under the radar and actually manage to transcend multiple shows, even if the couple in question doesn't actually spend that much time on the set together.
It's the latter that happened on in the One Chicago franchise (that's the "Chicago Med," "Chicago Fire," and "Chicago P.D." universe if you were unsure) so we're taking a look back at a Windy City show couple you may have forgotten (or potentially never even knew) dated from two of the biggest shows in CBS' hugely popular Chicago universe.
Torrey DeVitto and Jesse Lee Soffer dated for eight months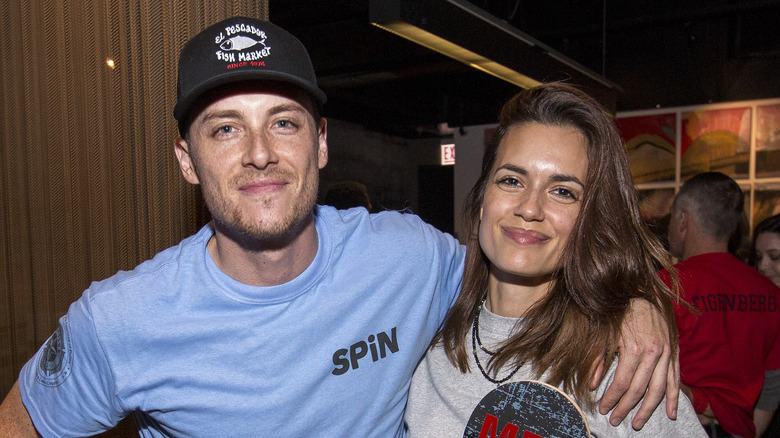 Barry Brecheisen/Getty Images
It's a One Chicago love story! Just not one that lasted forever... In a romance you may not be aware of, Torrey DeVitto and Jesse Lee Soffer were once a real-life couple in the One Chicago world, dating for eight months between 2018 and 2019.
Though this sadly didn't last, their romance appeared to begin to blossom in August 2018 when an insider confirmed to Us Weekly that their love was very much on. The two took what appeared to be a pretty romantic trip to Scotland at the time — even sharing photos to Instagram that have since been deleted — while the source claimed that the twosome "complement each other beautifully."
It was the following month when the "Chicago P.D." star officially confirmed that he was romantically involved with the "Chicago Med" actor, gushing about their romance while speaking to Us Weekly. He didn't give too much away about her relationship, but sweetly admitted, "It's great, it's awesome." Aww!
It seemed like things were going very (very, very) well too, as DeVitto shared also sweet little insights into their romance with Us Weekly that same month. "It's great, we felt like we were out in the open. It's really great. Everything's going so well," she told the outlet. "I'm really happy, [the] happiest I've ever been."
But, sadly, this one just wasn't meant to last.
The One Chicago split
By May 2019, Torrey DeVitto and Jesse Lee Soffer's One Chicago love story was sadly all over. Sources claimed that the two had split and gone their separate ways, with an insider telling Us Weekly that they were "still friends but are both single."
It's not clear exactly what happened between the former lovebirds, though, when the breakup news broke, Soffer still had snaps with his ex on his Instagram account and still followed her. DeVitto, however, didn't seem to share that sentiment and removed several photos that included her former boyfriend. As of January 2022, Soffer still follows DeVitto on the social media site, but she doesn't follow back.
The two don't appear to have spoken out publicly too much about what led to their split, though Soffer did tell the former couple's favorite outlet (Us Weekly, of course!) that their busy schedules didn't always line up, particularly when it came to shooting their shows. "We're barely on set together. He's always working with Will [Nick Gehlfuss]. When I'm working with Will, it's a different thing than when she is!" he said in September 2018.
The two both seem to have moved on since their romance, with DeVitto confirming in May 2021 via a super cute Instagram post that she's dating baseball star David Ross. As for Soffer, he appears to have kept his dating life a bit more under the radar since calling it quits with his One Chicago co-star.