Neil Young Just Gave Spotify A Huge Ultimatum Over Joe Rogan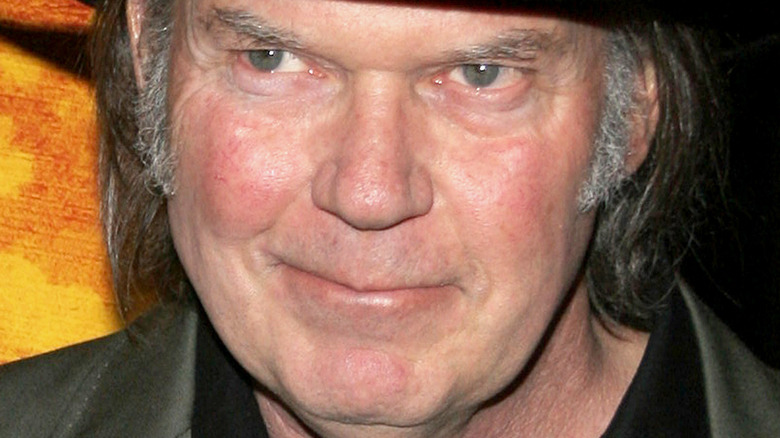 Tinseltown/Shutterstock
Musician Neil Young got his start in the band Buffalo Springfield in 1966, before going on to be known for solo hits like "Heart of Gold." The performer was also part of the famous super group Crosby, Stills, Nash & Young, but only for a short while, according to Britannica. His influence on the music industry is also extremely notable, as he was inducted into the Rock & Roll Hall of Fame twice.
As Young has gotten older, he has still maintained a fanbase and adapted to the changing climate of the music industry. However, he has taken a break from touring, at least until COVID-19 is officially over. "People are not being realistic and they're not being scientific. If we followed the rules of science, and everybody got vaccinated, we'd have a lot better chance," the performer told Howard Stern in December 2021.
Fans can still support the singer, as Young's entire catalog is available to listeners on streaming platforms including Spotify and Apple Music. However, Young has certain criticisms of Spotify that might make him pull his music from the popular service — unless podcaster and former "Fear Factor" host Joe Rogan leaves first.
Neil Young will leave Spotify if Joe Rogan stays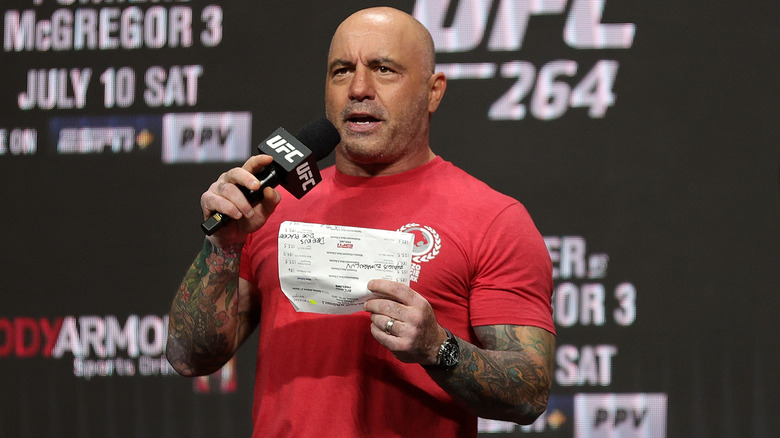 Stacy Revere/Getty Images
Neil Young has given Spotify a clear ultimatum: if podcaster Joe Rogan continues his show, Young will take his music off the streaming service. The tense stand-off comes after Rogan has promoted controversial takes on COVID-19 during episodes of "The Joe Rogan Experience" — which Spotify exclusively purchased for a reported $100 million in 2020, according to The Verge.
"I want you to let Spotify know immediately today that I want all my music off their platform. They can have Rogan or Young. Not both," Young wrote in a now-deleted open letter on his website, according to Variety. He continued, "I am doing this because Spotify is spreading fake information about vaccines — potentially causing death to those who believe the disinformation being spread by them." 
Young is not alone. In January, a group of 270 doctors and medical professionals put out an open letter, urging Spotify to put an end to Rogan's spread of medical misinformation, according to The Washington Post. Neither Spotify nor Rogan's representatives returned the publication's request for comment.