Tiffany Haddish Responds Exactly As You'd Expect When Asked About Recent DUI Arrest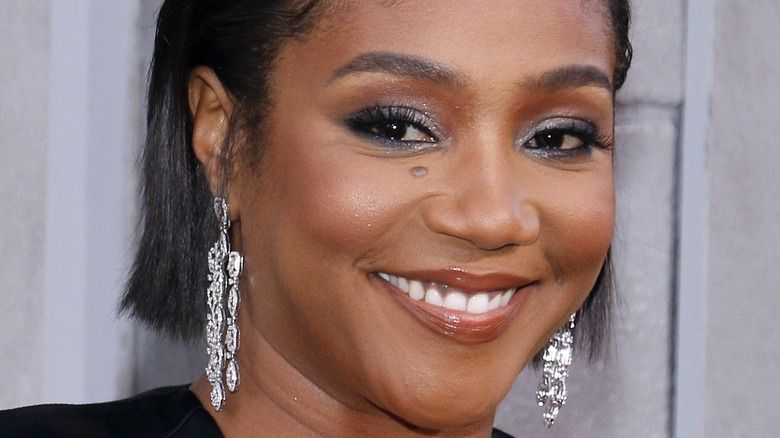 Tinseltown/Shutterstock
Actor and comedian Tiffany Haddish is moving on from her run-in with the law on January 14. According to TMZ, Haddish was taken into custody around 2:30 a.m. after Georgia police officers pulled the star over for allegedly falling asleep at the wheel. Authorities say Haddish was suspected to be under the influence of marijuana when she was arrested. The "Girls Trip" actor was reportedly only in jail for a few hours before paying her bail.
Prior to her DUI charge, Haddish was dealing with a number of issues in her personal life. ​​"I'm going through some things over here," she admitted to Entertainment Tonight in January. "My personal life is in shambles. This year people are like, 'Happy New Year!' I'm like, 'No, neutral New Year.' I'm gonna be neutral in the year." In addition to her painful breakup with Common, Haddish is mourning the recent losses of her dog, grandmother, and mentor-turned-father-figure comedian Bob Saget. "That man — he taught me so much," she told the outlet. "...He was always encouraging and kind."
Come what may, Haddish tends to use her signature sense of humor to overcome her hardships. Haddish just broke her silence on her arrest, and her response is exactly as hilarious as you'd expect.
Tiffany Haddish's arrest was divine intervention
Tiffany Haddish spoke out about her arrest on "The Tonight Show Starring Jimmy Fallon," when Fallon asked if she wanted to address the incident. "I can say this, Jimmy... I've been praying to God to send me a new man. A good man," she began. "And God went ahead and sent me four... in uniform." Without much explaining, Haddish continued her joke by assuring the situation was being handled. "And now I got a really great lawyer, and we're going to work it out. I've got to get my asking of things to God a little better!"
Haddish is definitely one to turn her lemons into lemonade. For example, Haddish made the most of a New Year's Eve set she bombed in 2018 by inviting audiences onstage to drink with her as a last ditch effort, per The Root. "Yes this happened," Haddish tweeted, owning the career miss.
Over the years, Haddish has made a real effort to be positive. ​​"People who focus on the negative all the time? You don't bounce back from nothin', because your focus is on the bad stuff," she explained to WedMD. "There's no resilience in negativity; it's just more pain. If I focus on positive thoughts and attitudes, then it's least likely I'll fail."