Ben Roethlisberger Confirms What We All Suspected About His NFL Retirement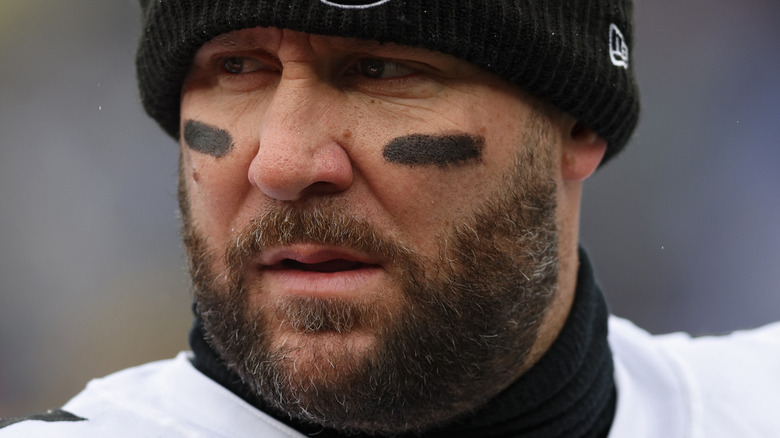 Patrick Smith/Getty Images
Legendary Pittsburgh Steelers quarterback Ben Roethlisberger had quite the fairytale ride into the 2022 playoffs after his team started the season 1-3. In a dramatic Week 18, the Jacksonville Jaguars upset the Indianapolis Colts, paving the way for the Steelers to beat the San Diego Chargers in overtime. However, the Steelers' improbable path to Super Bowl LVI came to an abrupt halt after their 21-42 loss to the Kansas City Chiefs on January 16. Roethlisberger took the loss in stride, speaking to ESPN about his pride in the team. "God has blessed me with an ability to throw a football and has blessed me to play in the greatest city, in Pittsburgh, with the greatest fans and the greatest football team and players," he said. Likewise, head coach Mike Tomlin echoed these sentiments of pride and gratitude. "Man, he was [No.] 7. It's been an honor and a pleasure, man," he told ESPN.
These post-game comments sparked buzz that Roethlisberger was finally hanging up his cleats for good. And with older, more experienced quarterbacks such as Tom Brady and Aaron Rodgers looking to a life beyond football, a changing of the guard seemed evident. Chiefs' quarterback Patrick Mahomes spoke of his admiration for figures like Roethlisberger, whom he had "watched growing up." "That's what I told him, that if this is his last game, he did it the right way," Mahomes added, via ESPN. And, on January 27, Roethlisberger put an end to the speculation by formally announcing his retirement.
Ben Roethlisberger will be remembered for his incredible career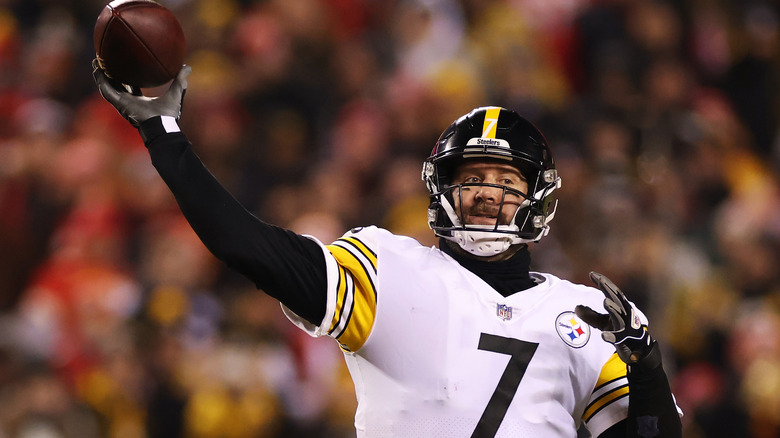 David Eulitt/Getty Images
For Pittsburgh Steelers veteran Ben Roethlisberger, 18 seasons was long enough in the NFL. Nearly two weeks after the two-time Super Bowl winner lost to the Kansas City Chiefs, he posted a video to Twitter that spoke about what the game of football had meant to him. "The journey has been exhilarating, fueled by a spirit of competition," Roethlisberger said in the clip. "Yet the time has come to clean out my locker, hang up my cleats and continue to be all I can to my wife and children. I retire from football a truly grateful man." He added, "While I know with confidence that I gave my all to the game, I am overwhelmed with gratitude for all it has given me."
As news of Roethlisberger's retirement broke, the Pennsylvania franchise thanked their quarterback on Twitter for everything he has done "for the organization, the city, and for the game." The team also shared clips from Roethlisberger's former teammates and coaches who congratulated him on leaving the field for good. "Congratulations on a remarkable career," ex-coach Bill Cowher said. "When you think about all the passing records you have set, but more importantly the fact that you took the team to three Super Bowls, brought home two championships, and you did this all with one team." Though Roethlisberger's career was not without controversy, fans will no doubt remember him as one of the all-time greats of the sport.