Kylie Jenner's New Makeup Collection Has Some Fans Calling Her Out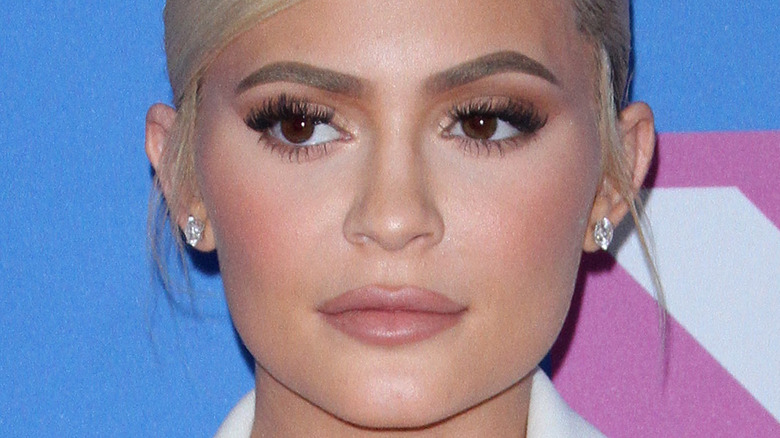 Tinseltown/Shutterstock
Kylie Jenner is back on her Kylie Cosmetics game and fans are curious where the brand is headed. Kicking off the year, Kylie passed a huge social media milestone by becoming the second most-followed individual on Instagram, according to Daily Mail. The star had a fairly quiet end to 2021, following the tragedy of Travis Scott's Astroworld, but as the two await the arrival of their second child, Kylie's businesses are picking back up.
In September 2021, Kylie Swim launched, joining the influencer's brand line-up that includes Kylie Cosmetics, Kylie Skin, and Kylie Baby. This was not the happiest of launches, however, as reviews were brutal, per USA Today. Customers critiqued the poor quality of the swimwear for such a steep price, averaging $80 per one-piece or bikini set. Photos of the thin, see-through material and poorly sewn seams flooded social media. 
The last post to the Kylie Swim Instagram was from October 27, and fans are curious if the brand is done for. "Swim line really flopped, never to be heard from again," one account jokingly commented. Now, with a new Kylie Cosmetics collection, echoes of dissatisfaction are coming through early.
Fans are not happy with Kylie Jenner's latest product launches
Kylie Jenner gave the first look of Kylie Cosmetics' limited-edition Valentine's Day collection set to launch on February 3 on her Instagram. The holiday-themed products include a pressed powder palette, highlighter, blush sticks, two matte lip kits, a lip gloss set, false lashes, and a lip balm set from her other venture, Kylie Skin. It is fairly common for brands to go all out for a holiday collection, but this reveal left fans underwhelmed and a little heated.
The comment section of the Kylie Cosmetic announcement tweet has a collective opinion of, as one account puts it: "looks familiar." "Why are the lipsticks always the same color?" one person asked, while another rolled their eyes via emoji and said, "It's always the same nothing new anymore." This disappointment is unfortunately a continuing trend for Jenner's brands, especially coming off the Kylie Swim reviews. Now, fans are speculating that the beauty mogul is recycling the same cosmetic products, per BuzzFeed News.
Twitter users also noted the similarity in packaging for the lip gloss set — namely the heart-shaped tubes — to Trixie Mattel's lip gloss from "Trixie Cosmetics." Always one to find the humor in situations, Mattel tweeted an image of her own product and said, "Now entering our reputation era #glossgate." The container is by no means unique, and the launch timing could be accidental, but the buzz is there. Here's hoping for a spring collection fans can get behind.