Sean Penn's Controversial Statement About American Men Has Fans Fuming
Andrea Raffin/Shutterstock
Sean Penn may have first risen to fame because of his acting, but his controversial opinions regarding women, the #MeToo movement, and masculinity are quickly becoming his signature trait. In one recent interview with a U.K. newspaper, the actor raised several eyebrows with his comments on the American male of today. "I am in the club that believes that men in American culture have become wildly feminized," he explained. And on January 28, Penn repeated the very sentiments that fans found most offensive in an interview with the Independent. 
"I think that men have, in my view, become quite feminized," Penn told the British newspaper. "I have these very strong women in my life who do not take masculinity as a sign of oppression toward them. There are a lot of, I think, cowardly genes that lead to people surrendering their jeans and putting on a skirt." (He was accompanied by his daughter, Dylan Penn, for this interview, by the way.)
We're not sure what "cowardly genes" he's referring to, but a lot of people have interpreted this comment as transphobic — which seems fair, to be honest. As you might expect, the backlash on social media was brutal. 
Sean Penn is getting heat on social media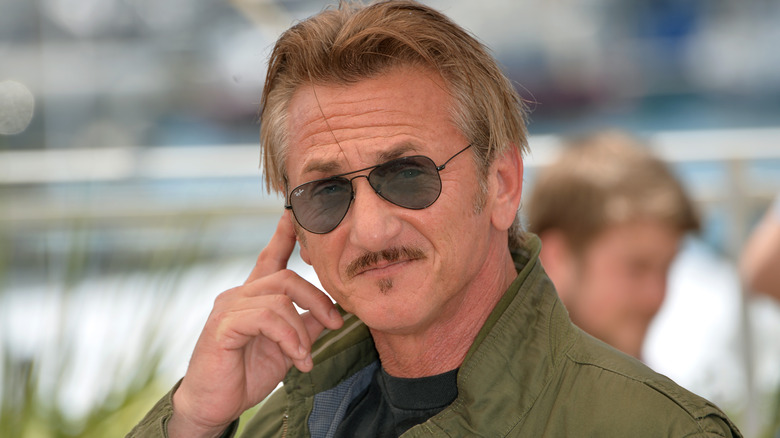 Featureflash Photo Agency/Shutterstock
You better believe social media had something to say in response to Sean Penn opining on "feminized men" and their "cowardly genes." For one thing, many people were reminded that the actor has been seriously accused of brutal domestic violence, including against ex-wife Madonna, according to The Daily Beast. If these allegations are true, it does not seem like Penn is the best person to be holding forth on the virtues of traditional masculinity. 
Many others accused Penn of simple toxic masculinity and recommended everyone move on. "Sadly Sean Penn has died from toxic masculinity," wrote one person on Twitter. Another person commented, "Is Sean Penn trying to act tough?.. That's so cute." Some people expressed their disdain in joke form: "Sean Penn is so potently masculine he's morphing into a testicle."
For the record, we looked and we can't find any scientific evidence of the existence of a so-called "cowardly gene," so either Penn knows something the scientists don't or he's in for a rude awakening.