Rihanna Finally Addresses Her Pregnancy With New Photo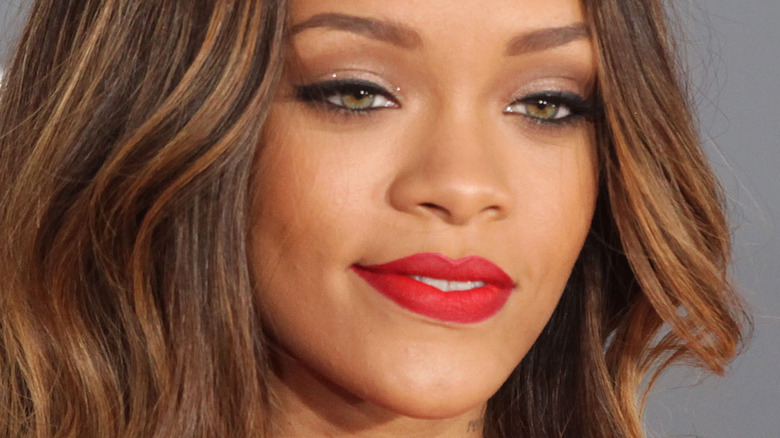 DFree/Shutterstock
When Rihanna revealed to the world that she's pregnant and expecting her first child with her boyfriend, rapper A$AP Rocky on January 31, the news stirred up quite a few reactions. "I'm ecstatic," Rihanna's father, Ronald Fenty, told Page Six, while opening up about his daughter's pregnancy. Going on to say that he's "so excited" and was "so happy that [he] jumped for joy" when he first heard the news, he added, "Rihanna always said that she wanted children, she loves kids. She always takes care of her cousins' kids ... she's going to be a good mom."
On the other hand, not everyone seems so thrilled. For instance, StyleCaster pointed out Rihanna's ex, Drake, happened to unfollow both the singer and A$AP Rocky on social media the day after the news of her pregnancy went public (and we assume when he found out along with the rest of the world that she's starting a family with the man she's been with since 2020).
As for the expectant parents, A$AP Rocky's Instagram account is relatively quiet, but Rihanna has finally addressed her pregnancy by posting a new photo that you definitely need to see.
Rihanna shared a sweet yet significant pregnancy photo
Beyoncé's pregnancy pic may have broken the internet back in February 2017 when she revealed that she was welcoming twins into the world, but Rihanna has obviously decided to take a very different approach. After initially being photographed while out for a walk with A$AP Rocky in New York City with her beautiful bare belly was on display, according to People, she then took to Instagram on February 2 to share a few of those shots — and that's not all!
The first photo in the IG collection isn't as styled and clearly wasn't taken by a professional, but it's just as wonderful as the others. That's because the singer can be seen in what looks like a bathroom holding up the football jersey she's wearing — with matching gloves no less — to look down at her pregnant belly. While it's a simple image, it's also incredibly sweet.
The caption was also incredibly significant, with the singer writing, "[H]ow the gang pulled up to black history month." Indeed, with the post happening just a couple of days into Black History Month, it seems perfectly apt for this history-making Black mother-to-be to recognize the occasion while acknowledging her growing family.