Kanye West's Allegations Against Kim Kardashian Have Taken A Truly Disturbing Turn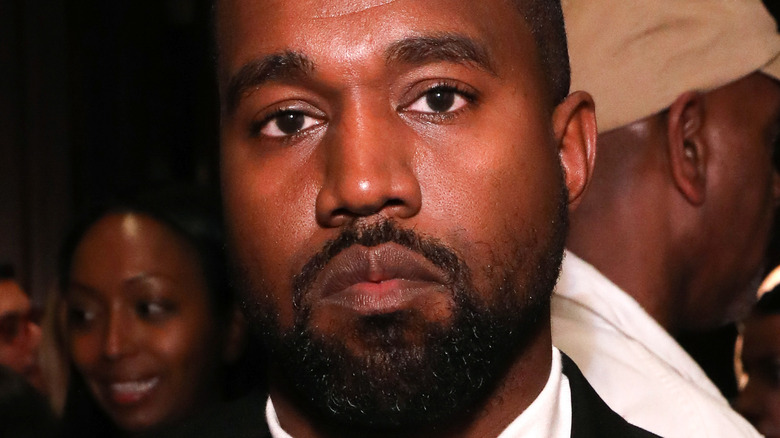 Robin Marchant/Getty Images
Kanye "Ye" West and Kim Kardashian were easily the most famous celebrity couple in the past, but things have certainly turned sour between the pair. The two got married in Florence, Italy in 2014 and share four children, but in February 2021, Kim filed for divorce, per Brides. Ever since then, Ye and Kim can't seem to stay out of the headlines, especially now that they are both dating someone new. Since November 2021, Kim has been dating funny man Pete Davidson and is reportedly helping him achieve his wildest dreams. Meanwhile, Ye has been very publicly dating Julia Fox and gave her quite the extravagant birthday gift.
But Ye and Kim's family drama is starting to really heat up. Recently, the two seem to be having a public dispute over their oldest daughter, North, being on TikTok. In a since-deleted Instagram post, Ye wrote, "Since this is my first divorce I need to know what I should do about my daughter being put on TikTok against my will." Then Kim wrote on her Instagram Stories that Ye is harming their daughter more than TikTok with his public attacks. She explained (via CNN), "Divorce is difficult enough on our children and Kanye's obsession with trying to control and manipulate our situation so negatively and publicly is only causing further pain for all."
But things have taken a much more dark turn with Ye's latest public outcry. 
Kanye West claimed Kim Kardashian accused him of hiring a hitman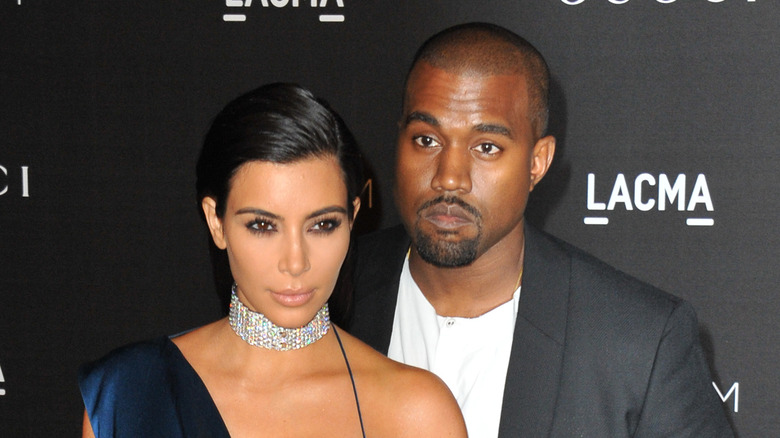 Jaguar PS/Shutterstock
Kim Kardashian expressed in her statement that she would like to handle anything regarding her and Kanye "Ye" West's children in private, however, that's not something Ye is following, according to CNN. Ye doesn't stray from controversy and has been very vocal about his life issues, so it's no surprise that he's made several comments about his estranged wife. Most recently, however, he's made some seriously disturbing allegations about his former partner.
On February 6, Ye posted an Instagram of screencapped text of him asking an unnamed person for Kim's phone number, but the caption is where things got dark. He alleged that Kim accused him of putting a hit on her. He further claimed in all caps: "I beg to go to my daughter's party and I'm accused of being on drugs then I go play with my son and I take my Akira graphic novels and I'm accused of stealing now I'm being accused of putting a hit on her these ideas can actually get someone locked up."
Then Ye seemed to address Kim's family, as well as her, and wrote, "They play like that with Black men's lives weather [sic] it's getting them free or getting them locked up I'm not playing about my black children anymore." Then Ye posted another photo thanking Apple Music's Creative Director Larry Jackson for sharing Kim's phone number. Currently, Kim has not publicly responded to the serious allegations.