Aaron Carter Breaks Down Talking About Eating Disorder, Mean Comments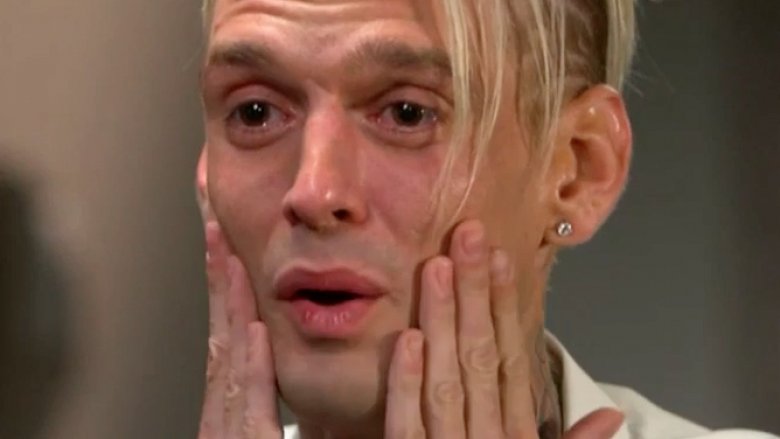 The "That's How I Beat Shaq" singer is tired of all the hate he's received for his appearance.
Aaron Carter spoke with Entertainment Tonight about all the mean comments that have come his way, especially following his recent arrest, and it had him in tears.
"Unless you're in my body, you don't know," Carter told the celeb news source in an interview shared on July 19, 2017. "I'm sorry for the way that I look."
The 29-year-old went on to explain how he's been the target of cyberbullying by people who believe his thin body is the result of drug use. He said that "every two seconds" he sees a tweet accusing him of having done meth or crack. Other messages cruelly state, "Go die."
After showing off his pearly whites and his smooth skin as proof that he's never done hard drugs, Carter said, "I am not a meth head. I've never touched it in my life."
Aaron Carter tears up talking about his body image issues and admits he gets fillers in his face. pic.twitter.com/okw8669Cyv

— EntertainmentTonight (@etnow) July 19, 2017
Carter attributes his thin body to a condition called a hiatal hernia, which he was diagnosed with when he was 19 years old. "[I weigh] 135, 140," he explained to ET. "Yeah, and I'm 5'8. [Doctors] said avoid stress. Because I can develop cancer."
According to ET, Carter, who's been having some major family drama lately, admitted that he finds it hard to even look at himself some days. "Oh my God, it hurts so badly," he said. "It hurts so badly because there's like nothing I can do about it."
He has done a few things about it though. He revealed that he gets Voluma to "fill [his] face," as well as JUVÉDERM and Restylane treatments. Carter also said that he plans to attend a training camp to get into healthier shape—something he's reportedly wanted for quite some time.
Carter's interview comes just days after he was arrested for an alleged DUI and marijuana possession. He later claimed that he'd been targeted by police and was not behind the wheel of a moving vehicle when he was arrested, though other sources allege he was driving erratically at the time.
As Nicki Swift previously reported, he's spoken out against commenters accusing him of doing drugs before. After his mug shot was released to the public, Carter tweeted, "This body shaming must end now! It's amazing how many of you who can hide behind your screens and type it, but wouldn't say it to my face."
Poor Aaron. It doesn't look like he can handle any more negativity in his life.