Who Inherited Kurt Cobain's Money After His Death?
Koh Hasebe/shinko Music/Getty Images
No one took raw, dirty music to the masses like Kurt Cobain. In the '90s, the Nirvana frontman became the face of the grunge movement — a title he didn't escape in life and wouldn't escape in death. 
Nirvana first took the music world by storm when their 1991 album "Nevermind" displaced Michael Jackson's "Dangerous" from the top of Billboard 200. "The music and natural talent of Kurt Cobain are undeniable ... He also forced music as a whole to evolve," The Killers' guitarist Dave Keuning told Discover Music. In addition to his music skills, Cobain's dreamy face and daring sense of style helped turn him into a symbol that would live on generations down the line. News of his April 5, 1994, death sent shockwaves across the world. "It was an emotional blow, and we all felt it. I don't know why everyone on Earth felt so close to that guy; he was beloved and endearing and inoffensive in some weird way," Red Hot Chili Peppers' frontman Anthony Kiedis wrote in his autobiography "Scar Tissue."
Cobain's work didn't translate just into massive cultural influence but also into a fortune. Cobain was only 27 when he died, but he was worth $50 million, according to Celebrity Net Worth. Many 27-year-olds are thinking about many things other than writing up a will, and Cobain was no different. As such, the fate of his estate had to be decided in a less straightforward way. 
Kurt Cobain's wife and daughter inherited most of it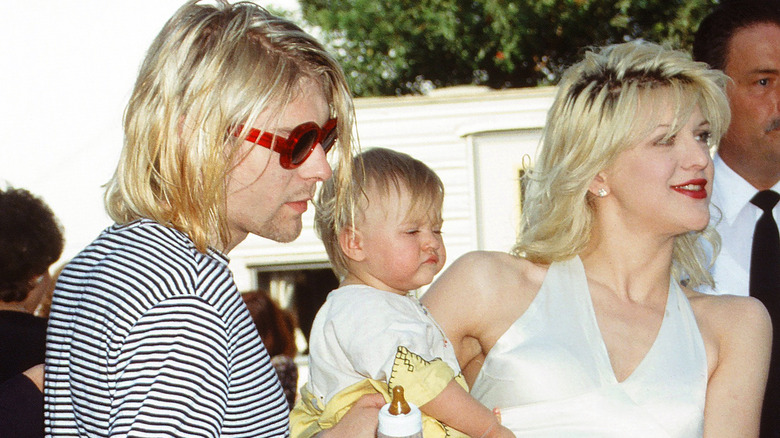 Kathy Hutchins/Shutterstock
Kurt Cobain famously married Hole frontwoman Courtney Love in his pajamas on February 24, 1992. By the time of their wedding, Love was pregnant with their only child. Frances Bean was born that August 18, meaning she was just 19 months when she lost her father. After Cobain died in 1994, Love became the primary beneficiary of Cobain's fortune — receiving 98% of Nirvana's publishing rights at the time, per Rolling Stone. Love called the responsibility "overwhelming" and ultimately sold 25% of her share of the band's publishing catalog to former COO/GM of Virgin Records and "strategic partner" Larry Mestel in 2006, the outlet notes.
When Frances turned 18 in 2010, she received access to her trust fund, per Express. Four years later, Cobain's estate was estimated to be worth $450 million, according to the outlet, but that doesn't mean Frances has access to all that money. In 2017, NME reported that Frances earned over $100,000 per month from Kurt's publicity rights and was worth around $11.3 million at the time.
Love continues to earn good money, as she's reportedly worth $100 million, per Celebrity Net Worth. However, in 2014, she revealed to the Sunday Times (via Us Weekly) she "lost about $27 million" of "Nirvana money" in lawsuits and other legal settlements. The rocker is okay, though. "I make enough to live on, I'm financially solvent, I focus on what I make now," she told the Times.
Frances Bean Cobain feels 'guilt' over inheritance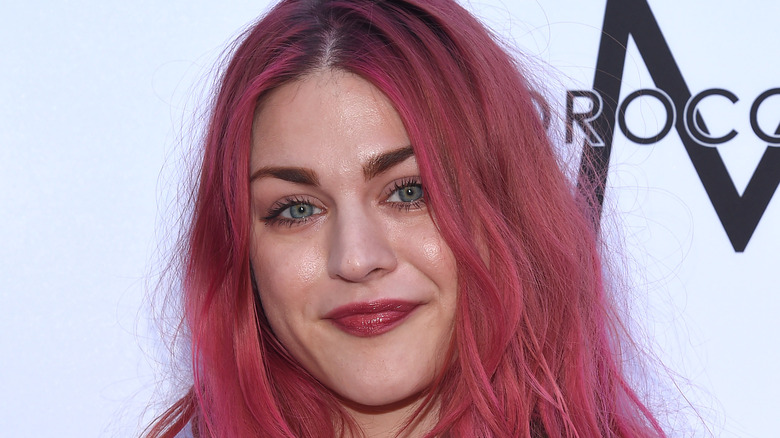 DFree/Shutterstock
Frances Bean Cobain was a toddler when Kurt Cobain died. Because she barely knew her legendary father, she has conflicting sentiments regarding being his heir. "My relationship to money is different because I didn't earn it ... I have an almost foreign relationship to it or guilt because it feels like money from somebody that I've never met, let alone haven't earned myself," Frances said on the "RuPaul: What's the Tee?" podcast in 2019 (via USA Today). 
Documents filed during Frances' divorce from The Eeries' lead singer Isaiah Silva in 2017 showed she was spending about $200,000 a month, as the Blast reported at the time. Frances admitted to RuPaul and co-host Michelle Visage, "The one way that I was shown how to live was to live in excess, like, live beyond your means."
In 2018, Frances shared insight into how her sobriety played a role in her relationship with money, telling "RuPaul: What's the Tee?" hosts, "It took me stepping away from that and getting sober in order to realize that no matter how much money you think you have, it's not permanent."