How Neil Young Nearly Lost His Life As A Child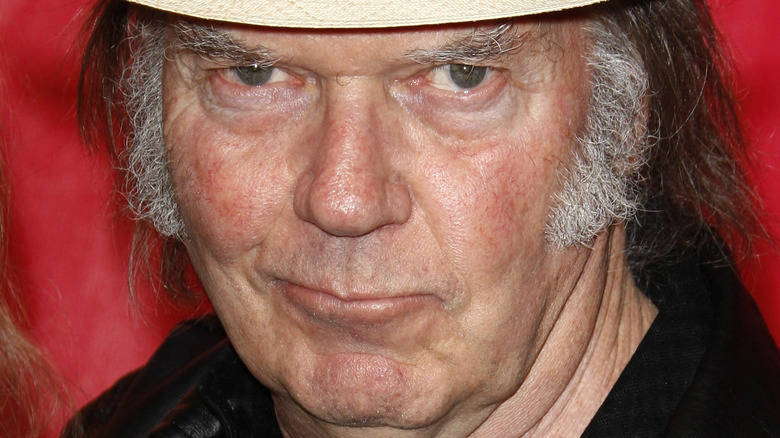 Joe Seer/Shutterstock
Neil Young's tenor voice combined with the complexity of his primitive guitar work and personal lyrics transformed him into a symbol of folk rock and one of the 20th century's most celebrated musicians. The Canadian-born singer ranks seventh on Acclaimed Music's list of most recommended artists of all time, higher than Prince and Elvis Presley. Similarly, Rolling Stone deemed Young the world's 34th greatest artist. With such a storied career, Young has been making history for more than five decades. 
The unusualness of Young's distorted guitar playing that characterized his band, Crazy Horse, caught the music world by surprise. His dirty chords influenced the musicians that went on to make history in the 1990s, including Nirvana's Kurt Cobain and Pearl Jam's Eddie Vedder, as Far Out noted. The links didn't go unnoticed. In 1991, Pulse! nicknamed Young "The Godfather of Grunge Rock," when the genre was taking the world by storm (via HyperRust). In 1995, Vedder inducted Young into the Rock and Roll of Fame, praising the musician's continued influence not only on grunge but on all of music. "I don't know if there's been another artist that has been inducted into the Rock and Roll Hall of Fame to commemorate a career that is still as vital as he is today," Vedder said.
North American music would exist without Young, but it would sound vastly different. That reality, as hard as it is to imagine, could've happened as Young almost didn't make it into adulthood. 
Neil Young had polio when he was 5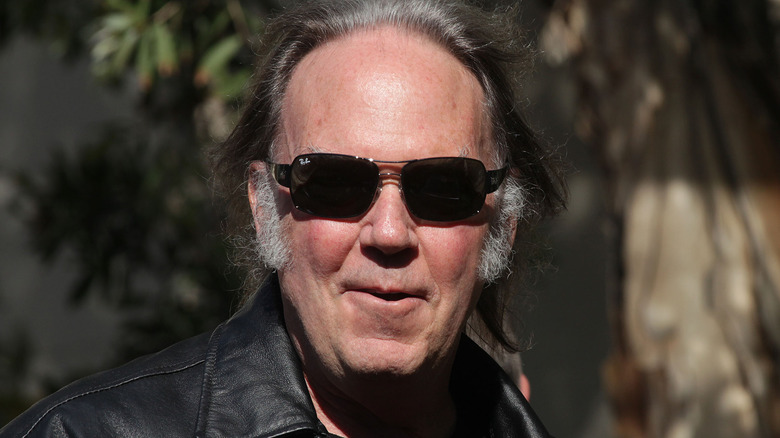 DFree/Shutterstock
In the summer of 1951, when Neil Young was 5, he contracted polio, he detailed in his 2012 autobiography "Waging Heavy Peace." His condition quickly deteriorated, prompting his parents to rush him to Sick Children's Hospital in Toronto, about 80 miles from Omemee, where the family lived. "It was obvious that his life was on the line," his older brother, Bob Young, then around 8, recalled in Young's book. The Salk vaccine didn't start being administered on a large scale until 1954, according to Britannica. 
Young was hospitalized for a week, during which the nurses sang "Beautiful Brown Eyes" to soothe the boy. The treatment was successful, and Young was discharged. "I didn't die, did I?" Young asked his father upon leaving the hospital. He hadn't, but he didn't escape death unscathed. His recovery was long and arduous. "Walking was hard for a while, and my back hurt," he wrote. His family had to isolate to protect others. "We had a quarantine sign on our house that said POLIOMYELITIS on it," Young revealed. 
The effects of polio didn't end there. The left side of his body was left permanently weaker, causing lasting back issues, Young noted. Later, he had lower-back vertebrae removed, requiring him to wear braces in his early career. "I recorded most of 'Harvest' in the brace. That's a lot of the reason it's such a mellow album. I couldn't physically play an electric guitar," he told Rolling Stone in 1975.
Neil Young is a fierce defender of vaccines
On March 21, 2021, Neil Young took to Instagram to reveal he received his COVID-19 vaccine. "I feel so much better for so many reasons," he captioned the post. He also listed his motivations for getting the shot, which included "Helping others be safe" and "Being able to visit family!!!!" — reasons that take on different meaning in light of the childhood isolation he faced after contracting polio.
This wasn't the only time the legendary musician publicly defended vaccines. In January 2022, Young made headlines when he accused Spotify of enabling podcaster Joe Rogan in his promotion of COVID-19 misinformation, as Rolling Stone reported. In a letter on his website, which he later deleted, Young asked the streaming platform to remove his content from its library in protest. "I am doing this because Spotify is spreading fake information about vaccines — potentially causing death to those who believe the disinformation being spread by them," he wrote (via Rolling Stone).
Spotify removed most of Young's content from its platform the same week, according to The New York Times. Spotify explained its position in a blog post, saying, "We know we have a critical role to play in supporting creator expression while balancing it with the safety of our users." Other artists followed Young's lead, including former bandmates, David Crosby, Stephen Stills, and Graham Nash, according to Paste. Failure, India Arie, and Joni Mitchell also asked Spotify to remove their music.