LeToya Luckett On Filming The 'Creepy' Scenes In Line Sisters - Exclusive
LeToya Luckett was thrown into the spotlight at a very young age as a founding member of Destiny's Child. Since then, she's developed a successful music career as a solo artist and turned her hand to acting. Now, Luckett is back on our screens in Lifetime's "Line Sisters," and the creepy thriller is a huge milestone for the performer. 
"I wanted to take a leap and do something different," Luckett told Nicki Swift in an exclusive interview. "I had never done a horror film before. Nothing close to scary ever. So I was like, 'okay, you know what? Let's give this a shot.'" The movie follows four sorority sisters who reunite for a Black Greek Weekend celebration on the Outer Banks of North Carolina. However, a mysterious death from 15 years prior impacts the reunion, and some seriously scary things start to take place.
Luckett admitted that just being on the set of "Line Sisters" was pretty scary at times. "I think in some moments, I wasn't having to do any acting because I was actually really freaked out," she teased. "Yeah, it was definitely an interesting process for me." Nicki Swift caught up with LeToya Luckett to find out just what made those scenes in "Line Sisters" so unsettling.
LeToya Luckett was genuinely scared on set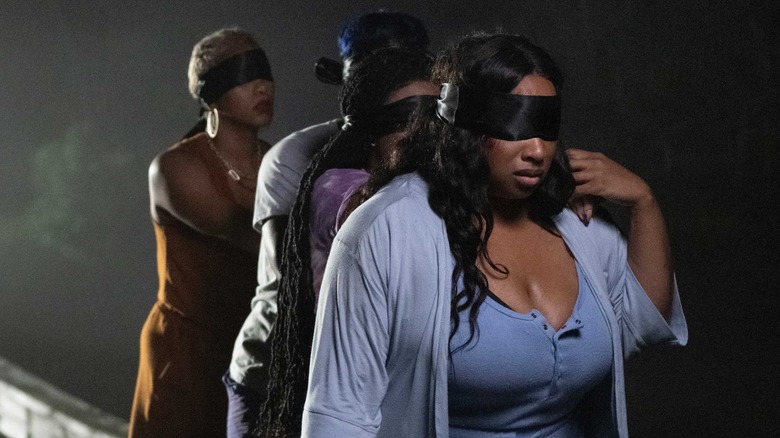 Lifetime
The shoot for "Line Sisters" was pretty tense, and LeToya Luckett told Nicki Swift just how scary it could be to be on set. "The cool thing was that I knew it wasn't real, or I knew what was coming up next. So that was the cool part about it, is knowing that, okay, this is just a film," Luckett explained. "You know the actors. She's not crazy for real." Above all, appearing in the horror movie was an important challenge for Luckett, who realized that she could push herself as an actor. "It kind of, I guess, opened up that window for me of, okay, you know what? Maybe you can do this," she explained. "Maybe this is something that you can continue to do."
But that doesn't mean that there weren't any tense moments on set for Luckett. "There were still some moments, especially when we had to do water scenes at night, [where] I was like, 'Uh-uh, this is creepy,'" the actor reflected. "Still, I think it just helped to make it fun. I really do. I think it added to the excitement." 
Luckett's performance in "Line Sisters" speaks for itself, and it's clear that the former Destiny's Child star should take on even more gritty roles in the future. "You ask anyone, I am the biggest wimp when it comes to scary movies and things that go bump in the night," Luckett said. "They're all so proud of me for doing this."
"Line Sisters" airs on Lifetime on February 12, 2022 at 8p/7c.