What Dr. Dre Didn't Know About Eminem Before Working With Him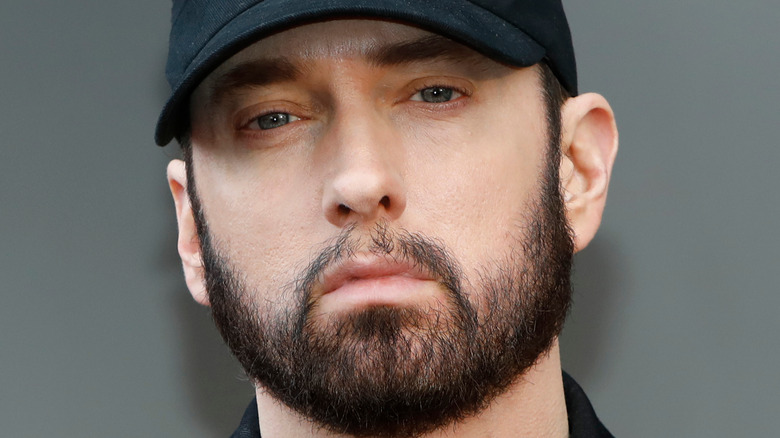 Kathy Hutchins/Shutterstock
Rapper Eminem and Dr. Dre have been music partners ever since the rapper and produce discovered Eminem in the late '90s. As reported by Far Out magazine, the Netflix documentary "The Defiant Ones" shared the fateful story of how Eminem and Dre first got connected. While Eminem had been rapping in Detroit and working hard to make a name for himself, he felt deeply disappointed when he came in second place at the 1997 Rap Olympics competition, per HipHopDX.
Although he didn't win this title, Eminem was noticed by an intern who worked at Interscope Records during his performance. The intern gave one of Eminem's CDs to producer Jimmy Iovine, who then passed it along to Dre. After listening to Eminem's recordings, Dre quickly made sure that he and the Detroit native would meet face to face. "In my entire career in the music industry, I have never found anything from a demo tape or a CD," Dre said in the documentary. "When Jimmy played this, I said, 'Find him. Now.'" From there, the rest was history, and their collaborations have resulted in numerous hits like, "My Name Is," "Forgot About Dre," and "The Real Slim Shady," as pointed out by HotNewHipHop.
Although Eminem's rapping talent turned out to be just as strong as Dre had anticipated, there was one thing Dre learned about Eminem when they met that he didn't expect before they worked together.
Dr. Dre initially didn't realize Eminem was white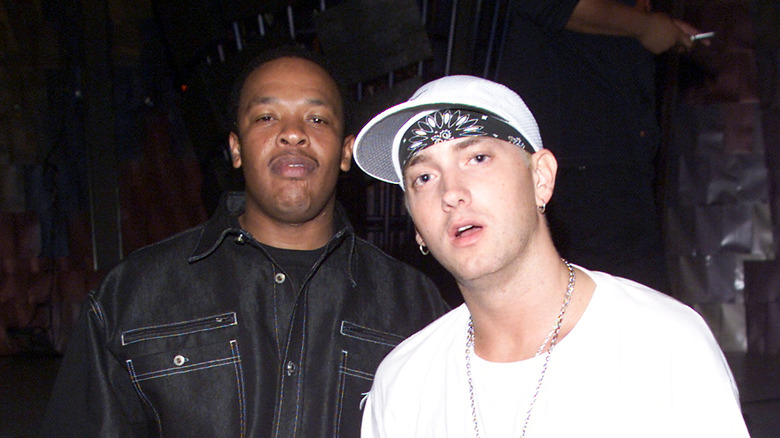 Frank Micelotta Archive/Getty Images
As Far Out magazine detailed, Dr. Dre was extremely eager to work with Eminem after he listened to a CD of the rapper's music in 1997. Dre knew he and Eminem could come up with some memorable material in the studio, but one thing he didn't know before meeting Eminem in-person was that the rapper is white, Capital Xtra wrote.
"When I heard Em for the first time, I didn't even know he was white. I just knew I wanted to work with him," Dre said. "And that kind of actually made it better for me, because it was so different." Once the two met up face-to-face, they quickly started churning out rap songs that would go on to become chart-topping hits. 
The two recalled positive memories of the very first time they worked together in the documentary, "The Defiant Ones," per The Things. In the doc, they said that when Dre first played the beat for "My Name Is," within seconds Eminem freestyle rapped the hit song's hook. Together, they then completed "The Slim Shady LP," and have continued to collaborate ever since.
Eminem will soon be joining Dr. Dre for the Super Bowl halftime show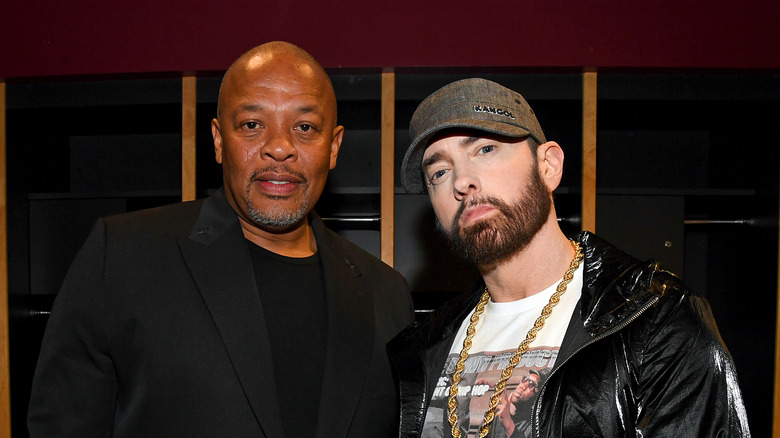 Kevin Mazur/Getty Images
Since their music alliance began in the '90s, Dr. Dre and Eminem have remained close colleagues and most recently released a new song "Gospel" for "Grand Theft Auto Online: The Contract," HipHopDX reported in 2022. Another venture the two will soon embark on together is the halftime show for Super Bowl LVI, which will take place on February 13, as stated on NFL.com. As Billboard reported, Dr. Dre will be headlining the performance, and Eminem will be joining him along with some of Dre's other friends and music legends like Snoop Dogg, May J. Blige, and Kendrick Lamar.
The performance is sure to be one for the books, as the talented lineup of performers together have a large collection of music hits and a total number of 44 Grammy Awards, per CBS Sports. It will also give Dre and Eminem a chance to experience a full-circle moment together as they reminisce on their journey as music partners, which started with a meeting over two decades ago that changed both of their fates forever.