How George Clooney's Prank Got Brad Pitt In Trouble With The Police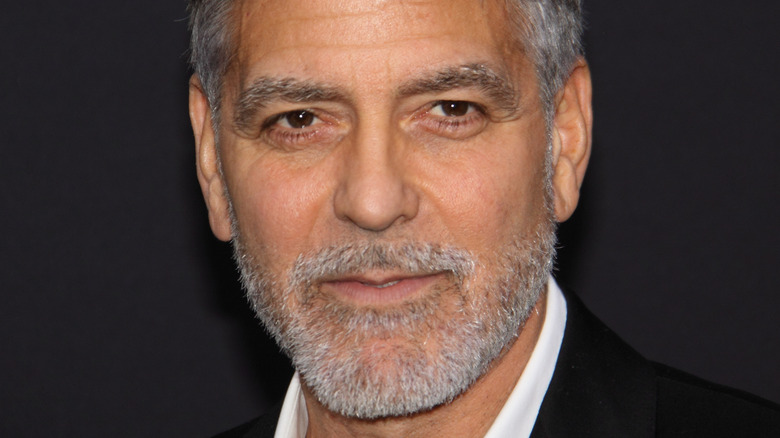 Serge Rocco/Shutterstock
Brad Pitt and George Clooney's friendship has definitely outlasted many of their Hollywood romances. The two men have starred in films together such as "Ocean's Eleven," "Ocean's Twelve," "Ocean's Thirteen," and "Burn After Reading." The two men are such good friends that they don't even mind poking fun at one another from time to time. Clooney had even starred as a mega-Pitt fan in a commercial for Omaze as the "World's Worst Pandemic Roommate" who had a slight obsession over the actor but has also praised him for his success in the entertainment industry. "For a long time now, Brad has been the biggest movie star in the world. He's bigger than me, bigger than DiCaprio. And I really admire how he deals with that," Clooney told Esquire in 2013.
That said, Pitt might have been very close to blocking his Hollywood bestie on messages after he pulled one of the biggest pranks of their friendship. Unfortunately for Pitt, he was on the receiving end of the prank, which could have gotten him into a lot of trouble.
George Clooney was close to getting Brad Pitt into a lot of trouble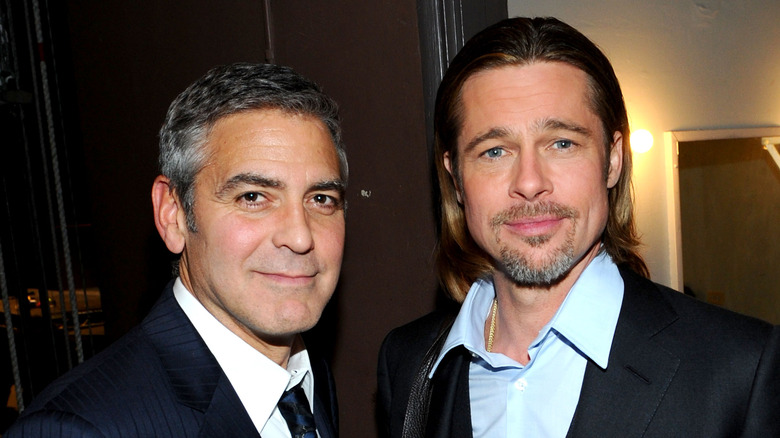 Michael Buckner/Getty Images
According to Pop Sugar, back in 2001, George Clooney was close to being taken off Brad Pitt's BFF list for good when he pulled a prank on him that could have led to some complications. Apparently, he put a bumper sticker on the back of Pitt's car that said, "F**k Cops" without Pitt's knowledge. It didn't take very long for the "Thelma and Louise" star to get pulled over. 
And while it did prompt Pitt to declare war on his Hollywood bestie, it didn't stop Clooney from planning his next surprise. "I'm working on [a prank] right now for Brad Pitt. It might end his career. I've been working on it for two years. I'm not going to tell you what it is, but just know, I got it," he told "Inside the Actor's Studio" in 2012, according to the HuffPost. Even though that prank might be years in the making, Pitt should be worried seeing how Clooney also pulled this stunt off, much to his friend's dismay.
Brad Pitt and George Clooney have the ultimate Hollywood bromance
carrie-nelson/Shutterstock
Back in 2005 when Brad Pitt and Angelina Jolie first stepped out as a couple and shortly after the actor's separation from Jennifer Aniston, George Clooney made it appear as though he was hosting Brangie's wedding day at his estate in Lake Como, Italy. In fact, he managed to trick the local media by pretending to host Pitt and Jolie's wedding. "There was a story going around that Brad was going to get married at my house in Italy and it was sort of catching on," Clooney said, according to the Irish Examiner. "So I called Brad up and I said we should sort of let it leak out and then hire a bunch of kids dressed up to pretend to be getting married on that day and let everybody rent helicopters and spend a fortune."
Needless to say, Pitt and Jolie did end up getting married in 2014, but at their estate in the South of France. Clooney married human rights lawyer Amal Alamuddin in 2014, but Brad and Angie had to miss the festivities, as they were filming "By the Sea."