What We Know About James Holzhauer's Wife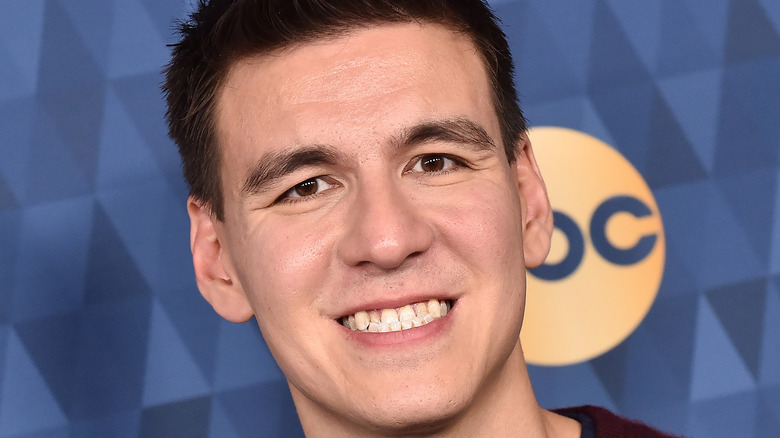 D Free/Shutterstock
Before Amy Schneider made "Jeopardy!" history as the third longest-running contestant on the famed trivia show in 2022, it was James Holzhauer who held the title, according to Good Housekeeping.
As the outlet noted, Holzhauer won 32 games consecutively during his run, earning him a total of $2,464,216 — a few thousand short of Ken Jennings' $2,520,700 record for the highest cumulative cash win. Holzhauer didn't feel too bad about being beaten by Schneider and offered his congratulations on Twitter. "Big congrats to @Jeopardamy on her 33rd win! This makes three eligible players in the 30+ game millionaires club," Holzhauer wrote, poking fun at Jennings, whose role as "Jeopardy!" consulting producer means he cannot compete on the show anymore, according to The Washington Post.
While Holzhauer joked about Jennings, his actual run on the show was extremely impressive. Vox noted that his "aggressive betting strategy and impressive knowledge," paid off and helped him become a million-dollar winner in a short amount of time. Holzhauer may have received some strategic tips from his wife, who is also a trivia queen.
James Holzhauer's wife starred on another famous game
Fans who have watched James Holzhauer on "Jeopardy!" would know that he often uses his own personal connections as a strategy to win games. In fact, James admitted in an interview with The Washington Post: "Family and friends will always mean more to me than any amount of money or 'Jeopardy!' wins. I wanted to show them my love in an unconventional way." In the same interview, he also confirmed he was married — and as it turns out, his wife Melissa is also a professional when it comes to trivia.
In 2014, years before her husband appeared on "Jeopardy!," Melissa appeared on ABC's "Who Wants To Be a Millionaire," according to Newsweek. James appeared briefly in a cameo during his wife's run and told then-host Cedric the Entertainer that Melissa was hoping to use her game-show earnings to buy a puppy. "I told her if she wins half a million she can pick the dog out," James joked.
Unfortunately for Melissa, her earnings didn't exceed half a million, and she only won $28,800 on the show. Still, the couple has been going strong ever since, balancing their careers and family life.
James Holzhauer's wife is a teacher
When Melissa Holzhauer isn't competing on game shows, she is busy taking care of her daughter, whom she welcomed with husband James Holzhauer in 2014, according to Newsweek. Melissa is also a teacher and tutor with a focus on helping students with classic languages like Greek and Latin, having previously taught Greek Mythology.
"I always strive to help my students find deeper connections between the materials they are learning and their lives," Melissa wrote on her LinkedIn profile. "I am passionate about translation because I believe that language, spoken or written, is a conduit for understanding and that words can bring people together, even though sometimes it takes a few tries to find the right ones!" Clearly, Melissa and her husband are passionate about learning and want to inspire the next generation to be as curious about the world as they are.
While Melissa continues her work, James has continued to flex his knowledge on ABC's "The Chase," which is a 60-minute competition that sees competitors try to answer 166 questions to be crowned champion, as per TV Line. James and "Jeopardy!" alumni act as "chasers" to curb emerging victors, which shouldn't be a problem given James' winning experience on "Jeopardy!"