Dr. Dre Has Made More Money From Doing This Than Making Music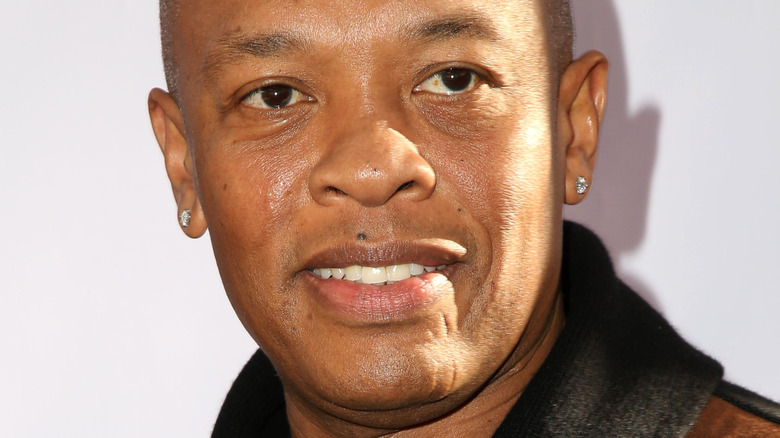 Kathy Hutchins/Shutterstock
Social media is lighting up after legendary producer and musical artist Dr. Dre turned up this year's star-studded Pepsi Super Bowl halftime show as the Cincinnati Bengals battled the Los Angeles Rams for the Vince Lombardi trophy to no avail. The "Still D.R.E." rapper, who last released an album of his own in 2015, performed an explosive set alongside his fellow hip-hop greats, like Snoop Dogg, Mary J. Blige, Kendrick Lamar, and his own protégé, Eminem, who Dr. Dre first signed to his label in 1998, reports The New York Times. Although he's been helping reshape hip-hop since the '90s, fans of all generations have seemingly found their way to Dr. Dre's tunes at some point. And after decades of climbing up the entertainment ladder, he's built an impressive electronics company estimated at nearly $3 billion in value, all with his main focus on music and figuring out new ways for people to listen to it. 
Thus, fans might not be surprised that the "I Need a Doctor" rapper has actually become one of the richest celebrities in the world from being a successful entrepreneur and businessman rather than a singer and producer.
How Dr. Dre's headphone company made him one of the richest celebs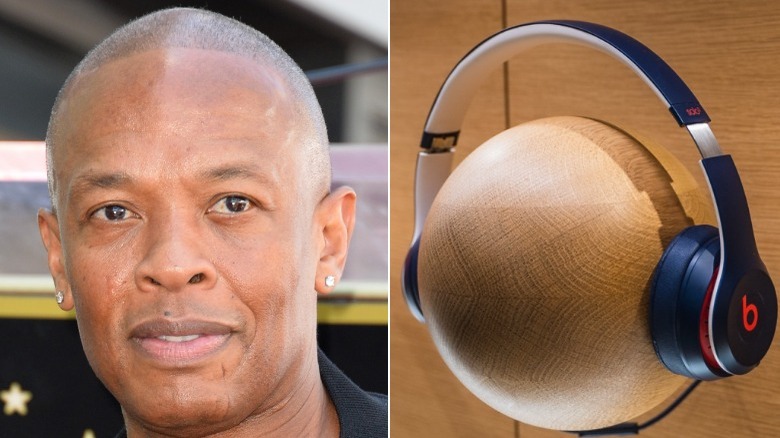 Featureflash Photo Agency & DedMityay/Shutterstock
Actor and in-demand producer Dr. Dre has made millions from his music career, but the core of his wealth stems from co-creating Beats Electronics and Beats By Dr. Dre, the rapper's headphone and streaming company launched in 2006. His entrepreneurial pursuits paid off when Apple bought the popular brand for $3 billion in 2014, making the rapper one of the richest, most famous celebrities on the planet, with an estimated net worth of $500 million, according to Celebrity Net Worth.
Dr. Dre, who rarely does interviews anymore, opened up in a GQ UK interview in May 2020 about launching his billion-dollar brand. He explained the idea came to him because he wasn't fond of Apple's plastic EarPods and noticed the quality was missing in relaying songs to the world. The rapper said bad listening quality is "another thing to destroy the feeling of what I've worked on." His co-creator, Jimmy Iovine, who's the chairman of Interscope Records, a subsidiary of Dr. Dre's company Death Row Records, said "although the music industry was in denial," people were eventually going to listen to music through "streaming," and Dr. Dre could envision it, too, eventually shaping the way celebrities, professional athletes, and people around the globe would listen to music.
Beats By Dr. Dre headphones are celebs' and athletes' preferred choice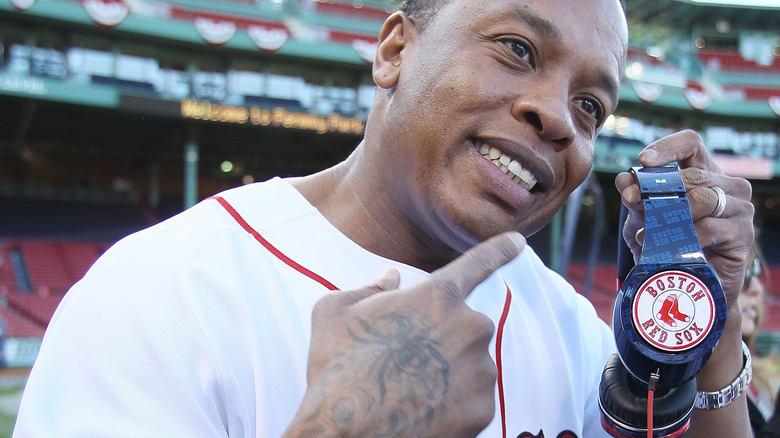 Elsa/Getty Images
Dr. Dre has solidified himself as one of the most successful entertainers of the last 30 years. But he's also built a leading reputation for creating his highly popular headphones company, Beats By Dr. Dre, often referred to as just "Beats." Consumers appreciate that his electronics are specifically designed by someone who has more than three decades of experience in the music industry and respectfully knows the quality in which songs should be heard. In 2021, Billboard declared Dr. Dre's headphones to be the best celebrity endorsed and "musician-approved" product of its kind, ranking the entrepreneur's creation as the third-best option available in a widely sought after market.
With advanced sonic technologies that still provide a chic appearance and comfy feel, Dr. Dre's headphones have helped him garner the influence of celebrities and athletes around the world, like "King of the NBA" Lebron James, who has worn "Beats" since they first launched, cites Hot Hot Hoops. The NBA all-star even designed his own version called "PowerBeats" for listeners with an athletic lifestyle. In addition, world-famous tennis player Serena Williams has proudly worn the rapper's headphones, appearing in a commercial in June 2021 supporting the launch of a new design called Studio Buds. Besides athletes, InStyle reports supermodel Bella Hadid cannot go without the wireless version the rapper sells. And do not forget about iconic singers Lady Gaga and Nicki Minaj choosing Dr. Dre's products as their headphones of choice.