Bad News For Manson Follower Leslie Van Houten's Legal Effort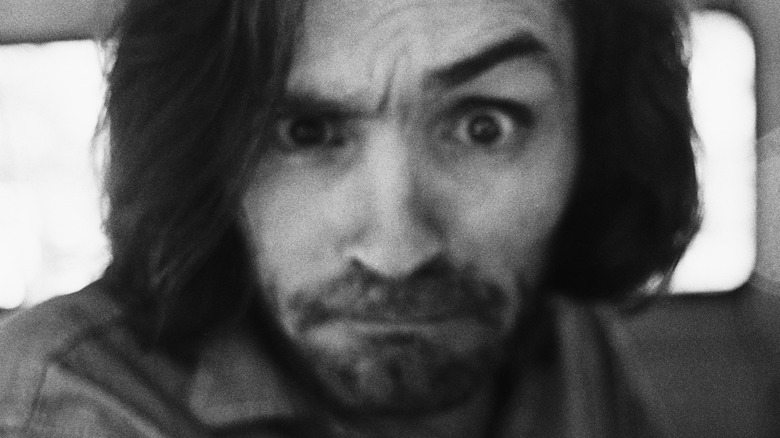 Michael Ochs Archives/Getty Images
While distance of time might lead many to believe the 1969 Tate-LaBianca murders committed by followers of cult leader Charles Manson are a relic of the past, in reality, this couldn't be further from the truth. Even though Manson himself died in 2017 while serving a life sentence for his role in masterminding the deaths of seven people, including "Valley of the Dolls" actor Sharon Tate, a number of his cult members, both current and former, are still alive and serving their time behind bars. But out of those, only Leslie Van Houten, who participated in the killings, has been up for parole a handful of times within the past six years. And now, it seems like yet another bid for her release has reached a final conclusion.
As the AP reported on February 11, a decision regarding Van Houten's November 2021 recommendation for parole was finally determined after a months-long wait. Initially, the parole rec was denied by current California Governor Gavin Newsom the same month it was issued. Van Houten's legal team, headed by attorney Rich Pfeiffer, then appealed to the California Supreme Court in order to overturn Newsom's rejection. The rejection was, as Newsom put it, based on Van Houten posing "an unreasonable danger to society if released from prison," per Rolling Stone. Taking this into account, California's highest court finally put forth their own adjudication of the matter.
California's Supreme Court ruled against Leslie Van Houten's parole
According to the AP, California's Supreme Court ruled on February 11 to uphold Governor Gavin Newsom's parole rejection for Leslie Van Houten by way of refusing to hear out her legal team's argument against it. While her attorney Rich Pfeiffer had filed a petition after Newsom's block, arguing it violated Van Houten's right to due process, it seems the state's supreme court did not agree. The AP also noted Pfeiffer did not respond to attempts to reach out for comment.
As the New York Post noted, Van Houten has been recommended for early release by the prison parole board five times since 2016. Out of those five, four have been denied by Newsom and former California Governor Jerry Brown. These repeated recommendations are presumably based on both Van Houten's model behavior in prison, her denouncement of Manson, and her expressed remorse for her crimes, as NBC wrote in 2016.
But there's still hope for her: as the Post also pointed out, one of those recommendations has been under review since November 2021. In the end, there's a slim possibility the former Manson family follower still has a chance of living the last phase of her life as a free woman after all.