How Jacob Elordi Got Injured While Filming Euphoria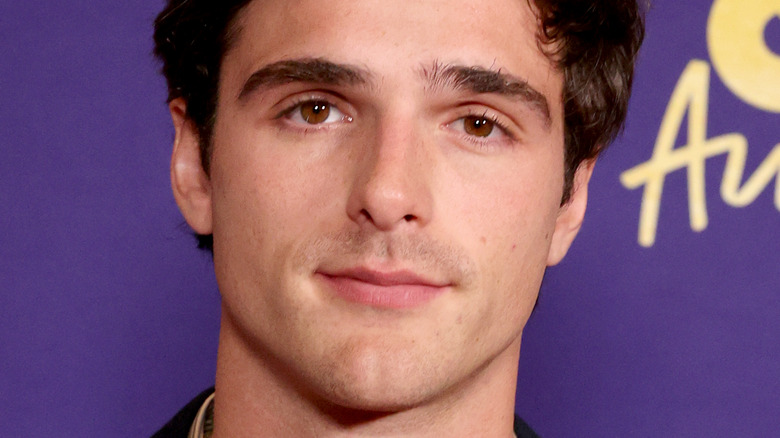 Kevin Winter/2021 Mtv Movie And Tv Awards/Getty Images
HBO debuted the first episode of its boundary-breaking emotional drama series "Euphoria," starring Zendaya in the lead role, in June 2019. Quickly, "Kissing Booth" actor Jacob Elordi, who plays the violent school bully Nate Jacobs on the show, found himself gaining attention in Hollywood alongside his Emmy-winning co-star. After the eight-episode first season aired, Entertainment Weekly enthroned him as one of the "most terrifying villains" on screen that year. For the Season 2 premiere last month, the gritty teen show pulled in 2.4 million viewers, according to WarnerMedia (via Variety). Elordi has gained a fanbase of more than 12 million followers on Instagram, consistently gaining followers since becoming a series regular.
Elordi's character Nate Jacobs' struggle to understand his sexuality causes him to jump into fights and behave erratically towards those around him. But there's always been tension with one character in particular that led to the core of his anger. While filming the show's Season 1 finale, Elordi went dangerously too far expressing that rage. The show's creator has said watching Elordi rage "was physical and gut-wrenching to shoot," according to The Hollywood Reporter.
How Jacob Elordi's Euphoria role landed him with concussion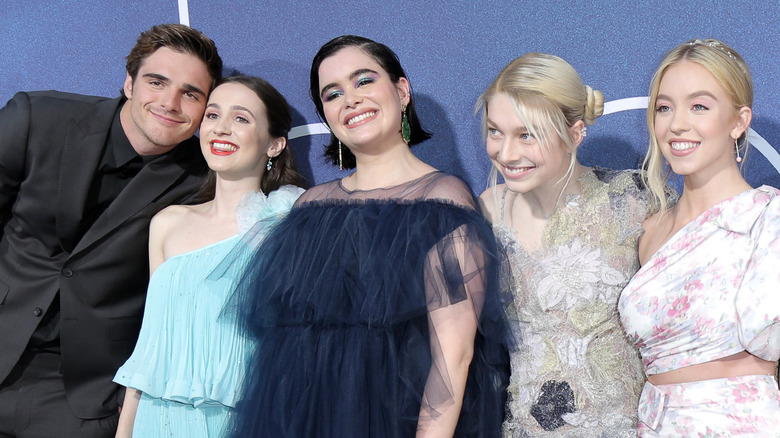 Kathy Hutchins/Shutterstock
Australian actor Jacob Elordi has been a series regular on HBO's "Euphoria" for two seasons as Nate Jacobs, a high school football star known for frightening fans with his eerily cool demeanor and bursts of physical violence, says Entertainment Weekly. While filming the Season 1 finale that aired in August 2019, Elordi lashed out at his character's father Cal, played by Eric Dane, so aggressively and intensely that the actor says he "was bleeding [and] ended up throwing up after work." 
The scene was surrounding years of built-up tension in regards to his father's hidden sexual past as seen throughout the show's entire first season, in addition to his character confusion around his own sexuality. He agreed to go all-in for the finale scene adding that Dane "f***ing smashed" him to make it look as realistic as possible, which resulted in a "worthwhile" concussion from his character banging his head on the floor screaming repeatedly. Elordi calls acting in the finale "the most fulfilling thing" he's ever shot, claiming to have told his on-screen dad beforehand "let's rock and roll."
Jacob Eloridi's character has become one of TV's 'scariest' villains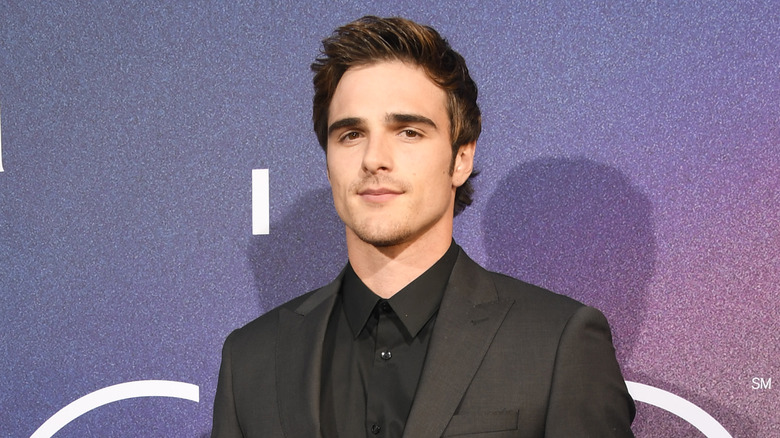 Frazer Harrison/Getty Images
"Euphoria" star Jacob Elordi called his character Nate Jacobs "an emotional terrorist, a narcissist, a sociopath, a freak," telling W Magazine in February 2021 that it's been an eye-opening experience to play the aggressive, vicious teenager. Elordi said it has been "so scary" to read about fans having a crush on his charming but abusive character, stating "it's so bad" to see because he understands Nate is meant to display toxic behavior. "The Kissing Booth" actor said when he first auditioned for his "Euphoria" role he interpreted his character as a "macho college a**hole" and could tell he was meant to be abusive but didn't know the scope of depth as seen across the series.
After the series' first season ended in 2019, Elordi's character started to get a reputation as one of the "most terrifying villains" on television. Elordi said most of his character's abusive actions stem from his dad on-screen, Eric Dane, who "physically [and] mentally hurts him," causing long-term damage and leading him to abuse others. The actor claims Nate's dad has "messed up his whole interpretation of what it is to be a functioning human being," according to The Wrap. Although Elordi told Entertainment Weekly "there is so much understanding that it's acting," he wants to make it clear his "Euphoria" character is supposed to be the scary guy people run away from.