Kate Hudson's Son Is Dating The Daughter Of Another Famous Celebrity Couple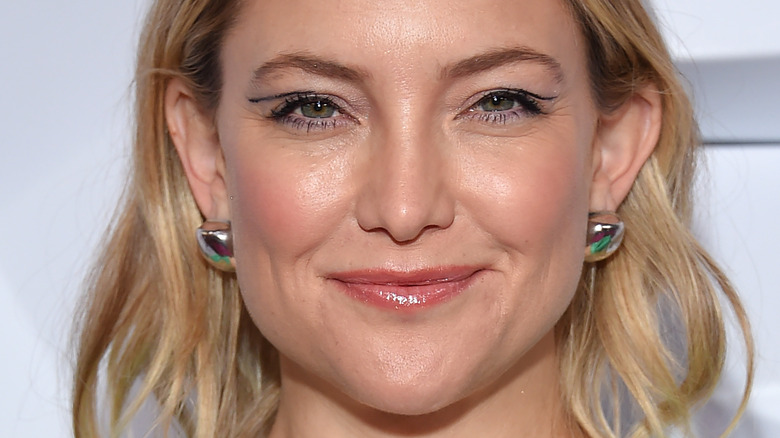 DFree/Shutterstock
Kate Hudson is one of the most famous names in the industry. The star is most well-known for her acting skills (well, and for being the daughter of Goldie Hawn), but she also has another role in her life that she takes very seriously — that of mom. The star has two sons, Ryder Robinson and Bingham Bellamy, and one daughter, Rani Fujikawa. Hudson shares plenty of photos of her tribe on Instagram, and it's no secret that she's one proud mama.
In September, the A-lister shared a few cute images of her sons on National Sons Day. She paired the post with an equally sweet caption to express her love. "I can't even explain the heart explosion that happens when I go through all these pics of my boys!" she gushed, adding that she was a "very lucky ma." In an candid interview with Today, she opened up about raising a mixed family. "​​I've got multiple dads, I've got kids all over the place," she dished. "The only expectations I really have that are really high in my life is with my kids. And with like family stuff. Other than that, it's like, I just let it go. I work my ass off and then I walk away, and I hope for the best."
At 42 years old, it's hard to believe that Hudson already has an 18-year-old in Robinson. Like most other parents, she is experiencing all aspects of teenage life, including dating. But, his girlfriend also happens to have pretty famous folks.
Ryder Robinson is dating Judd Apatow and Leslie Mann's daughter
The Hollywood dating mill consists of a lot of close connections, even in the kids of celebrities. And what better way to share your relationship status than on Valentine's Day? Kate Hudson's son, Ryder Robinson, took to Instagram on February 14 to share a sweet photo of him and his girlfriend, Iris Apatow, who happens to be the daughter of Leslie Mann and Judd Apatow. We told you those Hollywood connections run deep!
The post included two photos of the pair at what appeared to be a restaurant. In the first shot, Robinson planted a kiss on Iris' cheek as she closed her eyes and wrapped her arms around his neck. The second image appeared to be a candid shot with both Iris and Robinson looking away from the camera. The 18-year-old simply captioned the photo with a red heart. Both moms seemed to approve, and Kate Hudson commented on the post, saying "sweets." Leslie Mann gave her stamp of approval by adding a trio of red hearts. Iris' sister, Maude Apatow, also commented on the shot, saying it was "so cute."
Judging by his Instagram page, this appears to be the first photo of the two together. Iris did not share a Valentine's Day post on her Instagram feed, but we can only hope that we will be seeing a lot more of them soon. If both moms approve, then we have to approve too!