Serena And Venus Williams Make A Heartbreaking Admission About Their Lives
Dimitrios Kambouris/Getty Images
Tennis superstars Venus Williams and Serena Williams offered more insight into their hectic lives in their latest cover story with Harper's Bazaar. The Williams sisters have always been open about their struggles growing up, especially when it comes to attaining sports royalty status.
In their early days, they would train for hours upon hours in a crime-ridden neighborhood in Compton, California, where the public courts were "littered with drug addicts' syringes," per the Independent. They would also often hear gunfire from drive-by shootings. When the sisters eventually made it to the pros, the two had to face blatant racism from fellow players and fans alike. "The under­current of racism was painful, confusing and unfair," Serena wrote in an essay published by Time in 2015. "In a game I loved with all my heart, at one of my most cherished tournaments, I suddenly felt unwelcome, alone and afraid."
While the Williams sisters seem to have gotten past it all and achieved all their goals, their interview with Harper's Bazaar sheds light on what they didn't get to do.
Serena and Venus Williams revealed that they've 'never been free'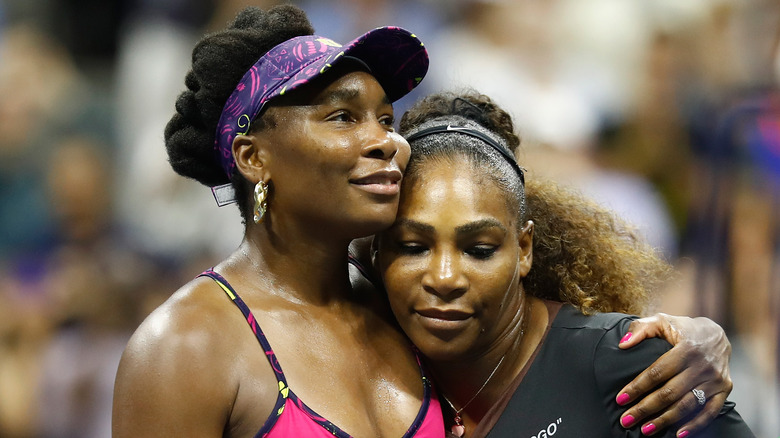 Julian Finney/Getty Images
For Venus and Serena Williams, it's tennis or nothing — or at least it was. Now that they're near the age of retirement, they were asked if they had plans on what to do beyond the world of sports, and according to the sisters, having the world in their hands is something they never thought they would ever have.
"Serena and I say we're going to become body builders after tennis," Venus joked, adding that having the freedom to do what they want is a foreign concept. "From such a young age, all we've done is work. So I think for Serena and I to explore that freedom is surreal. We've never been free." But they said that focusing on purely tennis wasn't the plan from the get-go. "We never planned to just only play tennis and just only be tennis players," Serena added. "We planned to do more."
Neither sister has made announcements on retirement yet, but according to Serena, she already knows what to do once she gives up her racket. "I am prepared for [the day of my retirement]. I've been prepared for that day for over a decade," she told Entertainment Tonight. "I think it's really important to always have a plan and that's kind of what I did." Meanwhile, Venus has no plans of leaving the court yet. "When it's my last, I'll let you know," she said in 2021 after her 23rd Wimbledon appearance, per the Independent. "I'll give you a little whisper in your ear."