Who Is William Byron's Girlfriend, Erin Blaney?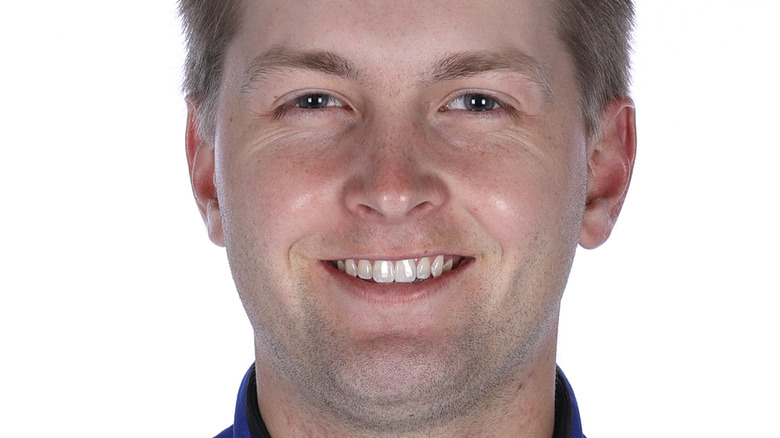 Chris Graythen/Getty Images
The sports spotlight is on NASCAR drivers as the 2022 Daytona 500 race draws closer. Like other pro athletes, NASCAR drivers often enjoy the spoils of their success when they are not on the racetrack — including some high-profile relationships.
Driver Ricky Stenhouse Jr., for example, famously dated fellow NASCAR racer Danica Patrick for about five years before calling it quits in 2017, according to ESPN. Shortly before their split, Patrick told TMZ Sports she was "ready yesterday" to marry Stenhouse, before blowing off her comments as an April Fools joke on Instagram the following day. Other drivers prefer to keep an air of mystery about their love lives, including NASCAR superstar Chase Elliott, who was rumored to be dating hair stylist Ashley Anderson. Elliott thanked Anderson for "putting up with" him in a sweet Instagram post in 2021, but has remained hush-hush about his relationship status in recent months.
One NASCAR driver who isn't so shy about his love life is William Byron, who interestingly is dating his competitor Ryan Blaney's sister. So, just who is Byron's girlfriend, Erin Blaney?
William Byron's girlfriend comes from a NASCAR family
William Byron first introduced his girlfriend Erin Blaney to the world in November 2019. "Thanks for showing me around Asheville," Byron captioned a photo of the two getting close in front of a Christmas tree. "You're quite the Axe thrower," he added, including a short clip of Erin chucking an axe at a target on a unique date. Erin has made several appearances on her man's IG since 2019 and it's clear her boyfriend is crazy about her. "The last year we've been there for each other through a lot," Byron wrote to Erin in a dedicated Instagram post on Valentine's Day. "I can't wait for more memories together."
Erin has amassed more than 18.5K followers on her private Instagram. According to her bio, the racing star's lady is a graduate of the University of Alabama and resides in Charlotte, North Carolina, the capital of NASCAR.
Along with her race car driving beau, Erin's ties to NASCAR go beyond her brother Ryan Blaney. Erin and Ryan are the offspring of NASCAR driver Dave Blaney and grandchildren of dirt track racer Lou Blaney, according to Players GF. The outlet reports that Erin's big sister Emma is also married to retired driver Cale Conley. Clearly, Erin was destined to find love behind the wheel of a race car.
William Byron has Erin Blaney's brother's approval
Ryan Blaney recalled finding out his competitor William Byron was dating his sister Erin Blaney in an interview with NASCAR on NBC's Rutledge Wood. "My buddy's like, 'Hey I didn't know about Willy and your sister,' and I'm like, 'What are you talking about?'" he shared. Ryan said he resisted the urge to jones Byron about the information and reached out to his sister. "I texted Erin first. 'I think you forgot to tell me some news,'" he said. On whether he's mad at his opponent on the racetrack courting his sister, Ryan isn't upset. "I don't care, she's 22 and can do whatever she wants," he said at the time. "And I like him. So it's all good."
In fact, the competitors have forged a close relationship as potential brothers-in-law. "You're alright," Ryan teased Byron on Twitter in December 2019, sharing a photo of himself with his sister and her boyfriend on a night out. The two racers bonded on an island vacation in 2019, alongside Erin and some other familiar NASCAR faces, including Bubba Wallace. "Couldn't ask for a better time with some good people down in Turks and Caicos," Ryan captioned photos on Twitter of him hanging with Byron. "Was so much fun," Byron wrote back to Ryan.