Kris Jenner Reveals Kylie Has A Special Past With Son Wolf's Birthdate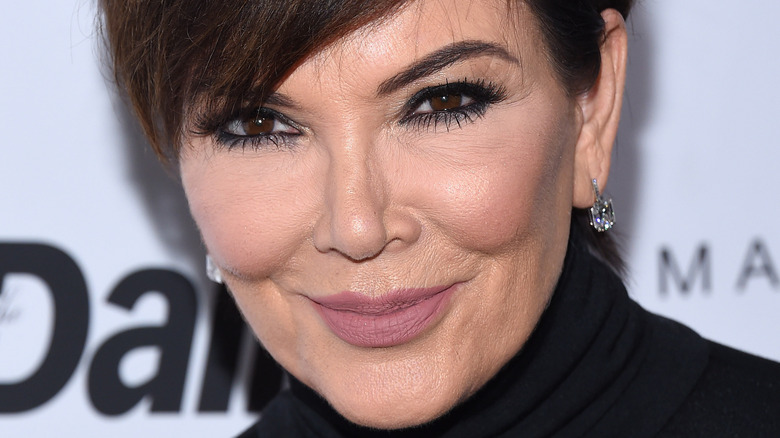 DFree/Shutterstock
Kris Jenner welcomed her 11th grandchild in early February. Kylie Jenner was relatively open about her second pregnancy, unlike her first, which she kept completely under wraps until she announced Stormi's birth on Instagram in February 2018. The second time around, Kylie told her Instagram fans that she and Travis Scott were expecting a baby by sharing an emotional video of her early journey on September 7, 2021. Still, Kylie kept the baby's gender a secret until she gave birth. 
Throughout her pregnancy, fans speculated Kylie was having another girl. One hint they clung to came from her baby shower in January, photos of which she shared on Instagram. While Kylie wore a white dress, as did many of the guests, some of the decor had light pink accents. "100% Kylie had a girl! If she had a boy the baby shower would've been very boy themed bc it's her first boy. Plus there's pink curtains in the pic and her belly was sitting up really high!" one Twitter user guessed. Plus, her sisters Khloé Kardashian and Kendall Jenner were spotted looking at girl toys while filming their Hulu series, according to the Daily Mail.
But lo and behold, Kylie gave birth to a baby boy on February 2, she announced on Instagram. That means that Wolf Webster is exactly four years and one day younger than Stormi. That, however, is not the only significance behind Wolf's birthdate. 
Wolf's birthday is Kylie Jenner's 'angel number'
Wolf Webster's birthdate has a special meaning in Kylie Jenner's life, Kris Jenner explained on "The Ellen DeGeneres Show" on February 17. Having been born on February 2, 2022, the day is marked by its sequence of number twos. "That's an angel number," Kris told DeGeneres. "Well, 2-2-2, or 2-2-2-2, has always been Kylie's angel number. And a friend of hers got her a necklace with that number and she was wearing it when she gave birth. It was so weird 'cause she's had the necklace for like five years," Kris detailed.
Stormi, who celebrated her birthday the day before, doesn't seem too jealous about almost sharing her birthday with her baby brother. The toddler also reportedly over the moon about being a big sister. "She is fascinated by her little brother and has been able to hold him," a source told People.
Stormi and Wolf aren't Kris's only grandchildren to be born on similar dates. In fact, Kourtney Kardashian's oldest and youngest sons, Mason and Reign, were born exactly on the same day, but years apart. So for Kris, December 14 will always have a special meaning in her life. "I mean what are the chances???! I will never forget the day that my first grandson Mason was born... It will always be such a very special moment in my life because it was really the beginning of my journey as a grandmother," Kris wrote on Instagram to celebrate her grandsons' birthday in 2021.