Kristen Stewart Had Something Surprising To Say About Harry And Meghan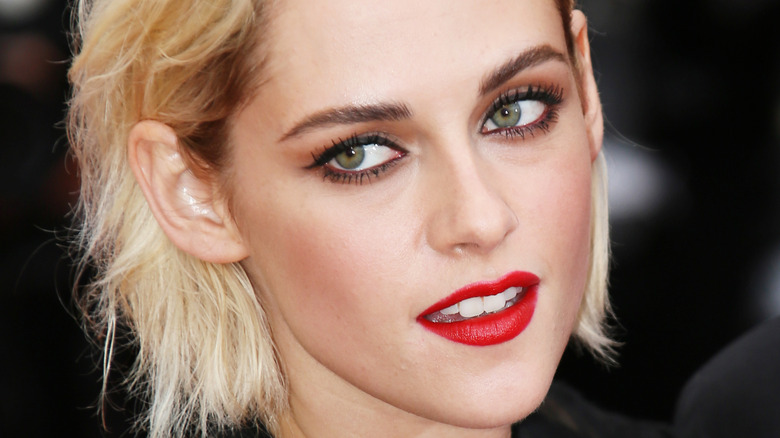 Denis Makarenko/Shutterstock
Kristen Stewart has been immersed in the royal family's world since mid-2020, when she was tapped to portray the beloved Princess Diana in Pablo Larraín's "Spencer," according to Deadline. She spent four months perfecting her accent and mannerisms with dialect coach William Conacher, who guided "The Crown" actor Emma Corrin and "Diana" star Naomi Watts in their journey to bring Lady Di to life, Hello! reported. "There was something just in absorbing her completely over the last six months leading up to this. I knew that I had hit some kind of elemental energy," Stewart told the outlet in October. 
In the months ahead of principal photography, Stewart read and watched whatever she could get her hands on in her attempt to dissect Diana's spirit. "I read everything. And somehow, in a sort of abstract way, the [Spencer] script substantiated everything I learned in detail," she told Variety. The film covers just three days around Christmas shortly before Diana and Prince Charles separated. In this sense, Stewart had to completely absorb the princess' personality to distill her energy in such a condensed way. 
In director Larraín's eyes, Stewart was the perfect Diana. "It's this uncrackable mystery that Diana has," he told Variety. "How do you play that? You have to carry some of that mystery to be able to put it on screen. Kristen has that." But dedicating months of her life to Diana doesn't mean she keeps up with all royals, like Prince Harry and Meghan Markle. 
Kristen Stewart didn't know Harry and Meghan live in Cali
lev radin/Shutterstock
Kristen Stewart really delved into Princess Diana's life in her effort to capture not only her essence, but also the solitude that engulfed the popular royal amid the collapse of her marriage to Prince Charles. To Stewart, no subject was too difficult to approach. And that included Diana's complicated history with bulimia, which she attempted to recreate on camera, she told Vanity Fair in a February 17 piece. Stewart was invested in "Spencer" and it shows, as her performance earned Stewart her first-ever Oscar nomination. But she was so knees-deep in Diana's story that she neglected all modern-day news about the British royal family. 
In fact, she had no idea Prince Harry and Meghan Markle had moved to the United States. "That's so funny. I wonder where," Stewart said, immediately showing her ignorance was in no way intended as a diss against the Duke and Duchess of Sussex. "I'm no better than anyone! Of course I want to know." When interviewer Yohana Desta informed her the couple currently lives in Santa Monica, she was unsurprised. "That makes sense. It's really nice up there."
Given that Diana was already a mother to Prince William and Harry during the timeframe covered in "Spencer," she researched them as well — and understands where each is coming from. "They're both very clearly examples of two sides. And I don't think either is right or wrong," she told Vogue Australia in a February 6 profile.