Shiloh Jolie-Pitt Holds Dual Citizenship With This Country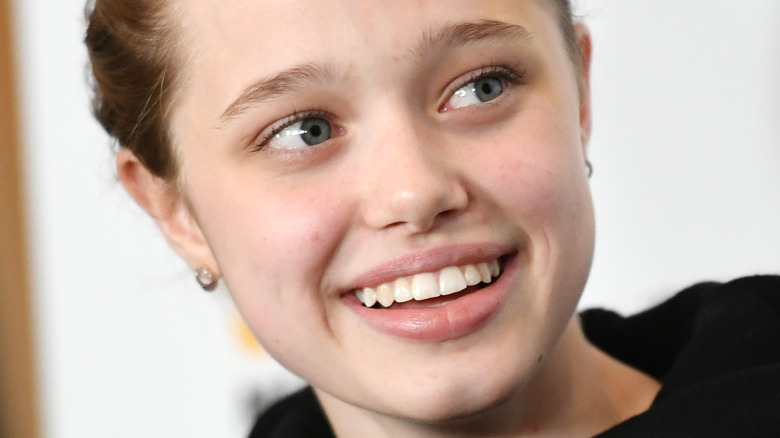 JC Olivera/Getty Images
Angelina Jolie has been doing motherhood her own way since day one. For the Oscar-winning actor, the urge to become a mother came when she held a baby boy at a northern Cambodia orphanage during a U.N. ambassador trip in November 2001, per Vogue. Four months later, she and her then-husband Billy Bob Thornton announced the adoption of a 7-month-old boy, whom they named Maddox. "[We] met a little boy we felt a connection to and that we wanted to be our son," they said in a statement, per People. Though Jolie and Thornton shared the news as a couple, hers was the only name on the adoption papers, People reported. Just three months later, in July 2002, Jolie filed for divorce from Thornton.
In July 2005, Jolie adopted her second child in the early days of her relationship with Brad Pitt, according to Yahoo! The couple flew to Ethiopia to meet Zahara when she was 5 months old. "When Maddox looked at the baby, he blew a kiss as if he was saying that was the girl who he wanted for his sister," orphanage worker Sister Lete Brham told the outlet. Pitt subsequently adopted both children, per Newsweek.
In January 2006, Jolie and Pitt caused an uproar when they announced they were expecting a baby together, People reported. Once again, Jolie showed she wanted to do things her way and flew halfway across the world to welcome Shiloh that May.
Shiloh Jolie-Pitt is a Namibian citizen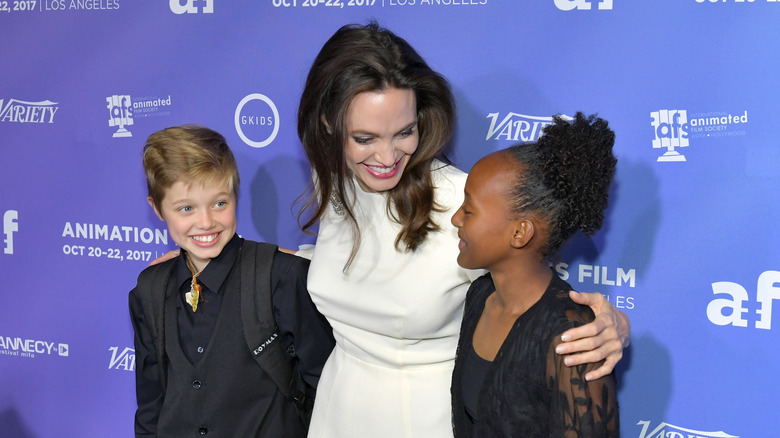 Neilson Barnard/Getty Images
Because Angelina Jolie's pregnancy news came early in a relationship that had already drawn unprecedented attention (and wrath) amid Brad Pitt's split with Jennifer Aniston, the couple opted to give birth in a place far away from U.S. paparazzi cameras, according to the Los Angeles Times. On May 28, 2006, Jolie and Pitt welcomed their first biological child, Shiloh, at a private hospital in Swakopmund, a coastal town in Namibia. And like that, she and her sister, Zahara, would be forever bound by their African roots. 
Like the U.S., Namibia has birthright citizenship laws, according to the New York Post. "Shiloh Nouvel Jolie-Pitt will ... be allowed to obtain Namibian citizenship if the parents should choose to do so," former deputy environment and tourism minister, Leon Jooste, said upon her birth. Jolie and Pitt praised their birth experience in the southern African nation, which took measures to prevent journalists from swarming the country to cover the news, the Los Angeles Times detailed. Thus, the couple opted to apply for dual citizenship for Shiloh, who is both American and Namibian, according to the Independent.
Despite living in the U.S., Shiloh maintains bonds with her birth country through the Shiloh Wildlife Sanctuary, which she and her mother opened in 2017. "Her face lit up when she saw the sanctuary for the first time," a source told People. "The name was a surprise to her and she was beaming."
None of Angelina Jolie's children were born in the U.S.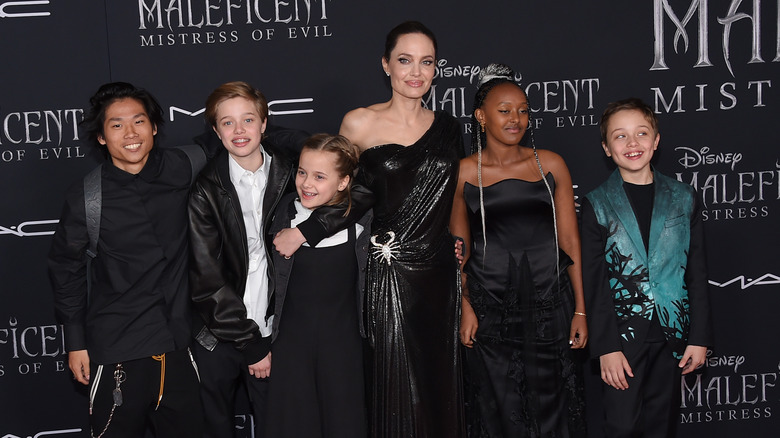 DFree/Shutterstock
Angelina Jolie continued on the tradition of leaving the U.S. to welcome their children — biological or otherwise. Less than two years after giving birth to Shiloh, Jolie and Brad Pitt adopted their fourth child, Pax, in March 2007, according to Time magazine. The couple had met the boy the previous November during a visit to an orphanage in Vietnam. Jolie signed Pax's papers as a single mother because the country's laws prevent unmarried couples from adopting, though she filed to add Pitt's last name a few months after, per NZHerald.
In May 2008, Jolie announced she was pregnant with twins, according to Reuters. Once again, Jolie and Pitt opted to give birth to their children outside the U.S. Their choice was different this time, though, as they opted to jet off to Europe instead of a developing country. On July 12 of that year, Vivienne and Knox were born via C-section in Nice, France. Unlike the U.S., France doesn't have birthright citizenship laws, meaning that children born on French soil to foreign parents aren't automatically citizens, People noted. 
But, with money and celebrity status being the great motivator they are, the mayor of Nice bestowed the title of "honorary citizens" upon the twins, according to Fox News. "All their lives they will be Nicois and all their life they will be able to come to Nice and we will receive them with great honor," then-mayor Christian Estrosi said.