Who Is Michael C. Hall's Wife, Morgan Macgregor?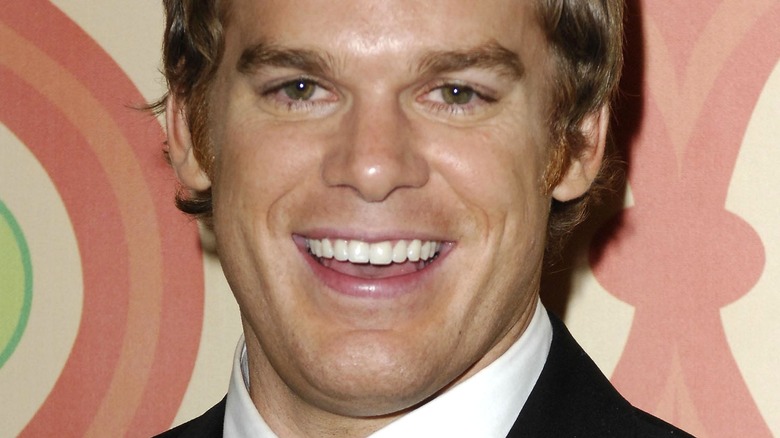 Everett Collection/Shutterstock
Michael C. Hall has made a hugely successful television career of playing loners with problematic romantic lives. The first character that put him on the map, David Fisher in the HBO drama "Six Feet Under," was a closeted gay man. Hall's most famous role, however, came as the titular serial killer of serial killers on "Dexter." The series depicted his struggles of being a "normal" person and interacting with his girlfriend on an emotional level — difficult for a psychopath with no human emotions. Everyone who comes to know the real Dexter ends up dead, so he eventually embraces his life as a loner.
Even on stage, Hall played characters on the fringes of romantic relationships. He took over the role of the Master of Ceremonies in Sam Mendes' revival of "Cabaret" in 1999, and he played the title role of "Hedwig and the Angry Inch" in 2014. He even played the abused and abusive Jud in his school's production of "Oklahoma!" in his native North Carolina, per the Daily Beast. 
But the same cannot be said for Hall, the incredibly versatile actor who so fully embodied these characters. He even described himself as a "coupler" to the Beast. "I think I romanticized for a time being a solo lone person," he said. "But I don't think that's who I actually am." Proof of his "coupler" status could be shown in his third marriage, which he says is, "the charm." Let's learn a bit about his third wife, Morgan Macgregor.
Morgan Macgregor is a writer and former editor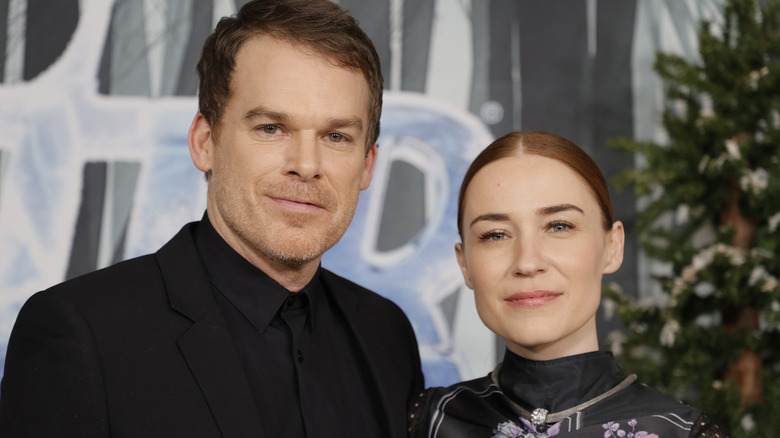 Michael Loccisano/Getty Images
Despite sharing a name with Michael C. Hall's most famous character, his wife Morgan Macgregor is probably nothing like Dexter Morgan (and we should hope not!). Macgregor is a book reviewer and novelist who used to serve as an editor for the Los Angeles Review of Books, per the Daily Beast. Hall told the outlet that Macgregor is "working on her own stuff," though Macgregor keeps her life and work private.
She also hosted a now-defunct blog, Reading in L.A., as noted in her bio for a post she wrote on The Nervous Breakdown. That 2011 essay seems to be Macgregor's only foray into cyberspace. In it, she discusses how she would rather be reading than hobnobbing with writers — something very important to the book-reviewing, Hollywood lifestyle — in part because "friendship negates fandom." "For me, the romance of literature requires that the writer and reader maintain some significant level of disconnect," she writes. She also explains that reading, and writing about reading, are "solitary activities."
Macgregor and Hall married in a private ceremony at New York's City Hall, per E! News, on February 29, 2016. They had apparently been dating since at least 2012 when they made their first public appearance together at that year's Emmy Awards.
Michael C. Hall had been married twice before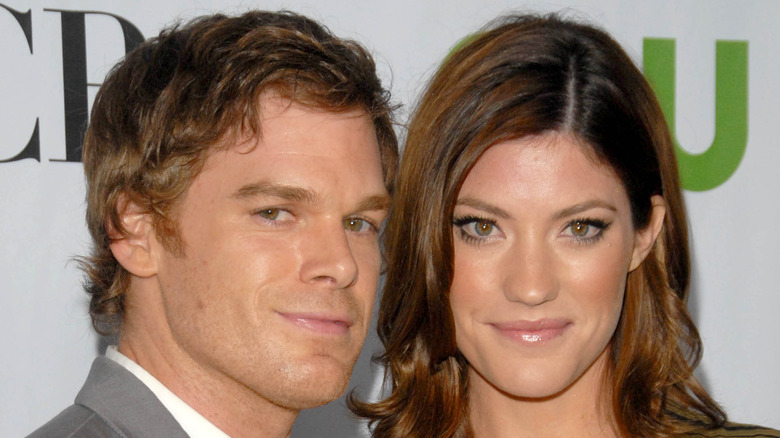 s_bukley/Shutterstock
Though they keep quiet about their private lives, Michael C. Hall and Morgan Macgregor seem to be going strong. They appeared together on the red carpet for "Dexter: New Blood" in November 2021. After the original series ended in 2013 with what Vulture described as "a terrible end," Showtime brought the character back nearly 10 years later for another stab (get it?) at a better conclusion. Of course, netizens across the digital realm had a variety of answers as to whether they succeeded. But regardless of audience responses to the show, it hasn't affected the couple's relationship.
Macgregor had moved from Los Angeles to New York to be with Hall, and the two bought a $4.3 million apartment on Manhattan's Upper West Side, per the New York Post. That's in addition to Hall's smaller pad in lower Manhattan, which he rented out for a mere $13,500 a month in 2016.
Hall was not alone before meeting Macgregor, as this is his third marriage. He had married Broadway performer Amy Spanger in 2002, per The Guardian. The two starred opposite each other in "Chicago" as calculating lawyer Billy Flynn and merry murderess Roxie Hart, respectively. The pair, however, split in 2006. Hall also eloped with his "Dexter" coworker Jennifer Carpenter, who played Dexter's adoptive sister Debra ('cause that's not weird), on New Year's Eve 2008, but the couple divorced in 2011. They remain friends, and Debra's ghost appeared in "New Blood."