50 Cent Has A Direct Message For The Super Bowl Trolls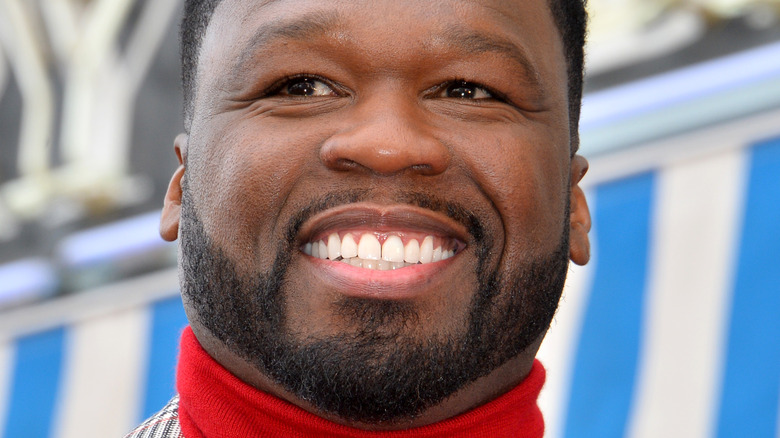 Featureflash Photo Agency/Shutterstock
50 Cent attracted attention at Super Bowl LVI for all the wrong reasons. Alongside Dr Dre, Snoop Dogg, Mary J. Blige, Eminem and Kendrick Lamar, the rapper dropped in for a surprise appearance at the February 13 game's halftime show, performing a partly upside-down rendition of "In da Club". Despite pulling off this impressive act at age 46, a faction of viewers chose to focus on (and mock) the rapper for his perceived weight gain.
"50 cent got fat now he a dollar," tweeted one viewer. (Yeesh, this isn't the "Twitter Open Mic Comedy Hour.") "50 Cent out here looking like a FAT BAT," bluntly stated another tweeter, adding a screenshot of 50's upside-down pose. Even 50's iconic "I love you like a fat kid loves cake" lyric, off his 2003 hit "21 Questions," came back to bite him hard in a predictable manner.
In spite of the hate, the rapper showed an admirable amount of restraint in the following days. Rather than acknowledging his trolls, the successful entrepreneur simply tweeted a promotion of his G-Unit clothing line to fans and haters alike on February 15, proclaiming, "Get your G-Unit Tank tops & Headbands Now." One week following his Super Bowl drop-in, however, 50 Cent — probably having heard enough "fat jokes" — has finally confronted his critics in a surprising manner.
50 Cent is laughing along with his body-shamers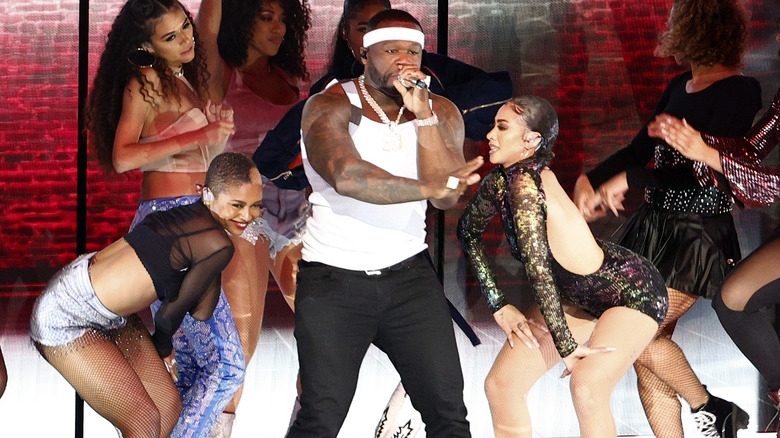 Ronald Martinez/Getty Images
With on-brand candor, 50 Cent took to Instagram on February 17 to address the torrent of negative comments about his weight at the Super Bowl halftime show. The "Candy Shop" rapper wrote, "I call this teasing me, They're just teasing me because they know i can drop the weight. that's why i laugh with them. Fat shaming only applies when your ashamed of your fat. LOL," with 50 adding shrugging and laughing emojis. 
Despite the trolls, the rapper had many Twitter supporters slamming the rude body-shaming comments. "People tried to clown 50 Cent during the Super Bowl saying he got fat knowing damn well most of them aren't in the same shape they were in 20 years ago either," a fan pointed out the day after the Big Game. Another replied tongue-in-cheek to the business-savvy 50's Instagram post, musing, "I put money it's movie role you gained weight for that'll be another chess move and everybody be like 'Ohh.'"
Perhaps one Twitter user summed it up best when he reflected upon the hypocrisy of the Twitter opinion mob, writing, "Loool you lot are so fake. Twitter: mental health, bullying is bad, we will cancel you if you offended us.. Also Twitter: haha 50 Cent is fat as f***." Sadly, we wish his comment wasn't as astute as it was about Twitter's often-unhealthy nature.