Why 50 Cent Was Upside Down During His Super Bowl Appearance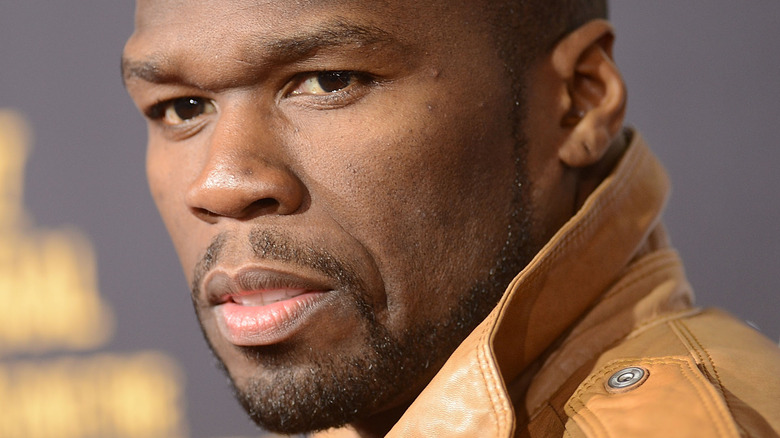 Jason Merritt/Getty Images
The Super Bowl LVI halftime show was an extravaganza of throwbacks. Industry big names Dr. Dre, Snoop Dogg, Eminem, Mary J. Blige, and Kendrick Lamar delivered a show-stopping performance of their biggest hits at SoFi stadium in Los Angeles February 13. The 2022 Super Bowl show was a historic one, as it was the first-ever halftime performance to be headlined completely by rap and hip-hop artists.
Ahead of the iconic performance, Snoop Dogg spoke to the honor of bringing the two worlds of hip-hop and football together. "The Super Bowl is the biggest sporting event in the world and Hip-Hop is the biggest form of music in the world," he said. "That's what Hip-Hop and the NFL is supposed to be about; representing change, about moving forward."
Indeed, the all-star line-up of veterans lit up the stage with classics like "The Next Episode," "Family Affair," and "Lose Yourself." On top of a virtually flawless performance by the five headliners, special guest 50 Cent joined the crew on stage for a surprise performance of his 2003 hit song "In Da Club." Football fans saw 50 hanging upside down for a portion of his performance — but why?
50 Cent recreated 'da club' on stage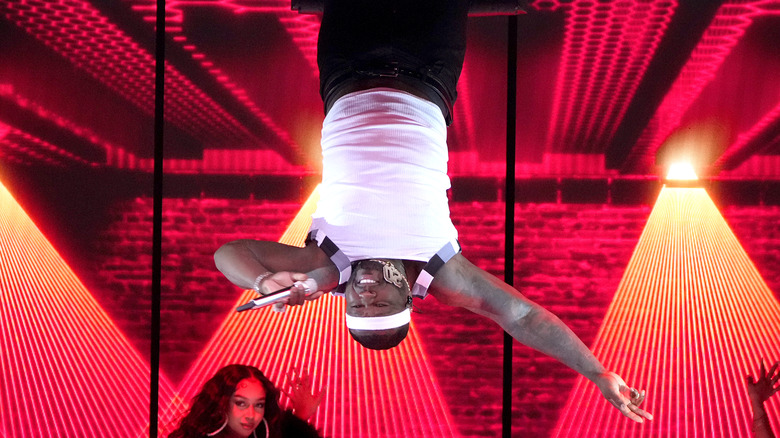 Kevin Mazur/Getty Images
50 Cent, born Curtis Jackson, brought his music video for "In Da Club" to life on the Super Bowl LVI halftime stage. The iconic 2003 music video saw a young 50 acting portraying a cyborg, who goes beast mode in a laboratory gym, which involved some hanging sit-ups. To the delight of hip-hop fans everywhere, the pop-culture moment was recreated almost two decades later at the 2022 Super Bowl, alongside 50 Cent's closest industry peers, Dr. Dre and Eminem.
The surprise guest celebrated his performance with a hilarious meme on Instagram, sharing a viral photo of a boy looking strained, writing, "waiting for @snoopdogg and Dre like ok who's idea was it for me to be upside down again?" 50 also shared an Instagram clip of NBA star LeBron James rocking out to his performance at SoFi stadium. "See we came in 03 and we still here," 50 Cent wrote. "@kingjames you know the vibes."
On the smash success of "In Da Club," 50 Cent described the longevity of his song to Entertainment Tonight in 2018. "Every day is someone's birthday, so the song never kind of goes away," he shared. "Hip-hop is connected to youth culture," he continued, "So you've got to kind of let it trend." After his surprise performance of his No. 1 smash hit at the Super Bowl, 50 Cent is no doubt trending again in 2022.