Why Nina Dobrev Doesn't Go By Her Real Name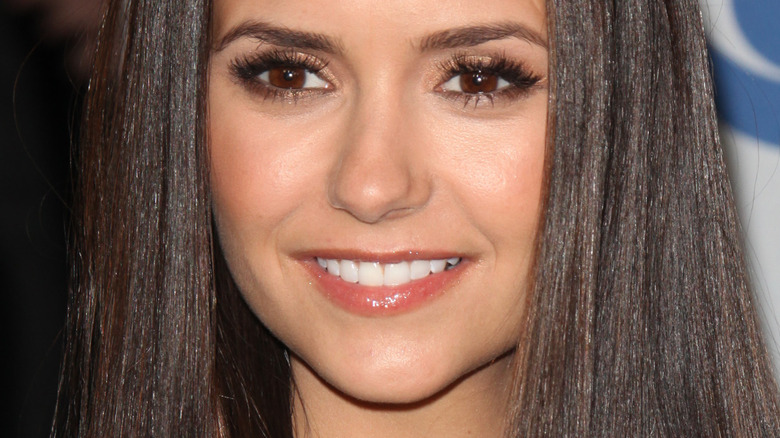 Kathy Hutchins/Shutterstock
Besides her more recent role in Netflix's holiday rom-com "Love Hard," actor Nina Dobrev is notoriously known for starring as the main character Elena Gilbert and her doppelgänger Katherine Pierce on the popular supernatural drama series "The Vampire Diaries" for six seasons, per IMDb. In 2006, Dobrev's acting career blossomed when she landed the role of "Mia Jones" in "Degrassi: The Next Generation" and she has solidified her place in the entertainment industry as one of the most beloved teenage character's of the late 2000s while also easing fans into a more "adult-like" acting career. 
Before she set out for Hollywood, Dobrev did what many actors or performers do before they rise to fame and created a new identity all for the purpose of getting fans to remember her better. But the beloved teen-vampire star — who speaks an impressive three languages! — didn't pull a total change in the making of her stage name like other celebrities, such as Tom Cruise or Sean Combs. In fact, her solution does not even come close to the strangest celebrity name changes. Dobrev simply wanted to shorten her moniker so it'd be easier to remember.
Why Nina Dobrev shortened her birth name before she became famous
Andreas Rentz/amfar/Getty Images
A-list actor Nina Dobrev hasn't always been living in Hollywood, impressing fans with her impeccable acting skills. In fact, the "Degrassi: The Next Generation" and "The Vampire Diaries" star was actually born in Bulgaria with the name Nikolina Konstantinova Dobreva, according to People. Dobev's family immigrated to Canada when she was 2 years old and she said, at one point, her family "lived with another family in a one-bedroom apartment" because of her parents' years-long financial struggles. Dobrev noted that her mom even nicknamed the local thrift store where her family shopped for their clothes at "Versace," according to Harpers Bazaar. Of course, as an icon for fashion and beauty, Dobrev is a now a regular attendee, who can be seen at "an actual Versace fashion show in the front row." 
Although she was proud of her background before starting her acting career as a teen, Dobrev changed the spelling of her stunning — but long! — Bulgarian name to make it easier for people to remember, spell, and pronounce. And with a strong fan base around the globe and more than 25 million followers on Instagram, it appears making the major change before her rise to fame paid off.
Nina Dobrev is still closely tied to her Bulgarian roots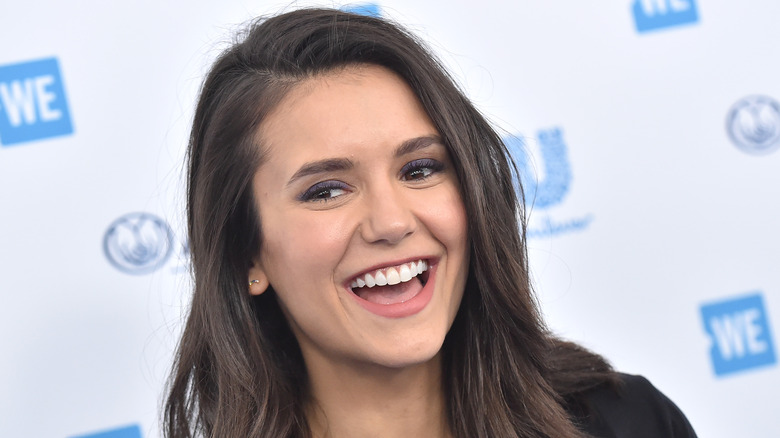 DFree/Shutterstock
Like many celebrities who chose to adapt their names to make it easier to get parts in a variety of productions, Nina Dobrev, who was born Nikolina Konstantinova Dobreva in Sofia, Bulgaria, shortened her name before entering the limelight, according to People. Although fans might only know the "The American Mall" actor by her common name instead of the real one, Dobrev occasionally steps back into her traditional roots. She recently filmed a video with Vanity Fair where she confidently spoke in her family's native language, Bulgarian, by showing off slang terms and describing what each means.
Additionally, when Dobrev was a guest on "The Late Late Show With James Corden" in 2015, she playfully showcased her impressive linguistic skills by reciting the lyrics to "Bump N' Grind" by R. Kelly in Bulgarian. One fan from the actor's home country commented on her speaking in the YouTube clip's comments, saying, "I thought that she wouldn't speak Bulgarian so good since she has lived most of her life in an English speaking country but she's amazing," and another chimed in, "Bravo Nina!" Dobrev also speaks Russian and French, notes EconoTimes. Talk about talented!