The Real Reason Dolly Parton Turned Down Elvis Presley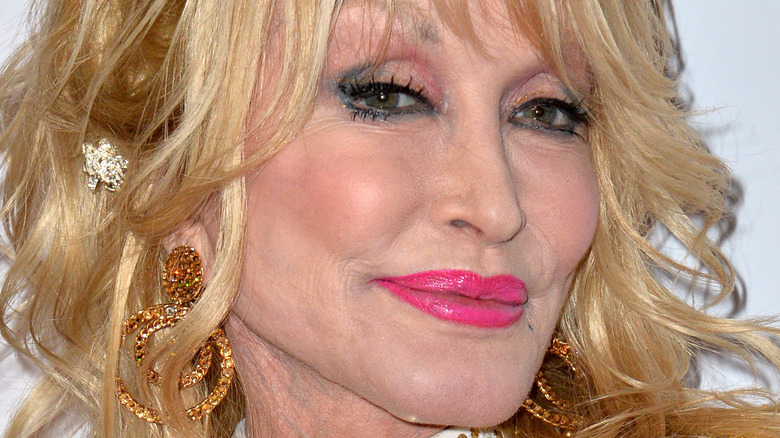 Featureflash Photo Agency/Shutterstock
Country singing superstar Dolly Parton is not only a legendary performer, but she's also a talented lyricist, actor, and savvy businessperson. Parton has sung many beloved tunes over the years and has written chart-topping songs, including her hits "Jolene," "9 to 5," and "I Will Always Love You," per SecondHandSongs. In an interview on "The Tonight Show Starring Jimmy Fallon," she told the backstory behind creating the lattermost track, which has gone on to become one of the most famous love ballads of all time.
"I worked with a man named Porter Wagoner for years, and I started out on his TV show ... I had said when I started that I'd stay for five years," she explained. "So, when the time came, ... and I wanted to go, he didn't want me to go, ... it was just breaking my heart. So I went home and I wrote this song." Wagoner cried once he heard the ballad, and he told Parton he would let her leave if he could produce the song, to which she agreed.
After Parton recorded and released "I Will Always Love You," it garnered an interest from fellow performer Elvis Presley, who wanted to record his own version of the song, as W Magazine explained. Parton, however, had a valid reason for why she decided to say no to the King of Rock and Roll.
Dolly Parton wanted to retain her publishing rights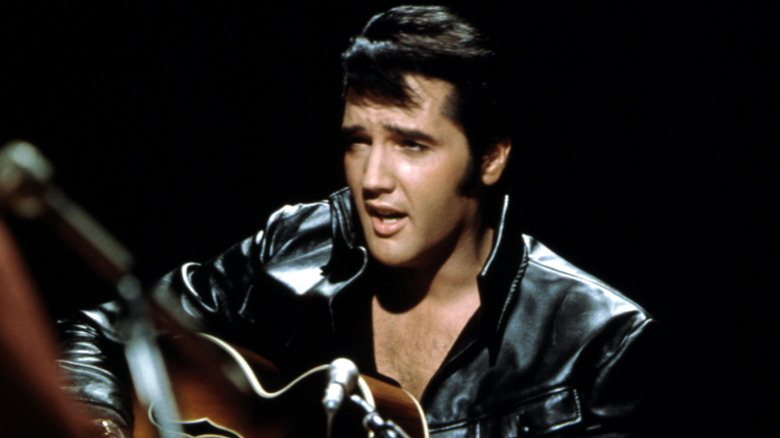 Michael Ochs Archives/Getty Images
As reported by The Boot, when Dolly Parton first released her version of "I Will Always Love You" — a song she penned about moving on from her professional relationship with Porter Wagoner — it climbed the charts in July 1974. Not only that, but the song hit No. 1 a second time when Parton recorded the tune again for the film "The Best Little Whorehouse in Texas"  in 1982, proving the power of her talent.
"I Will Always Love You" was a favorite song of the King of Rock and Roll, Elvis Presley, who wanted to sing a version of the track, per W Magazine. Although she was initially interested in this offer, when Presley's manager told Parton that she would have to relinquish half of the publishing rights to the song for Presley to record it, she declined their deal. "I wanted to hear Elvis sing it, and it broke my heart — I cried all night," Parton told the magazine. "But I had to keep that copyright in my pocket ... These are my songs — they're like my children. And I expect them to support me when I'm old!" Another famous singer would next record the song and certainly make Parton glad she had chosen to hold onto the rights to "I Will Always Love You."
Whitney Houston's rendition reignited the song's popularity
Steve Rapport/Getty Images
In 1992, "I Will Always Love You" saw a new version from Whitney Houston, who recorded the song for the film "The Bodyguard." Although its initial recording had been successful when Dolly Parton sang the song in 1974, this soulful rendition from Houston took the track to a new level of fame. When Houston released "I Will Always Love You," it stayed at the No. 1 spot of the Billboard Hot 100 chart for 14 weeks in a row, per Vibe. When Parton first heard the recording, she was driving and nearly got into an accident because she was so touched by Houston's rendition of the ballad.
"I had the radio on as usual, and I just heard this voice ... honest to goodness, I almost wrecked. I had to pull over," Parton said to Andy Cohen for a Radio Andy interview. "It was the most overwhelming feeling that that little song of mine could be done so beautifully, so big, ... that I almost just had a heart attack right there on the spot. So I'll never forget it." After the success of Houston's cover of "I Will Always love You," Parton earned $10 million in royalties from the track during the '90s, Forbes stated. Even though it would have made for another great song cover, it's a good thing Parton went with her gut feeling and didn't hand over half the song's rights to Elvis Presley — this paid off in the end!