The One Thing Katie Couric Hated Being Called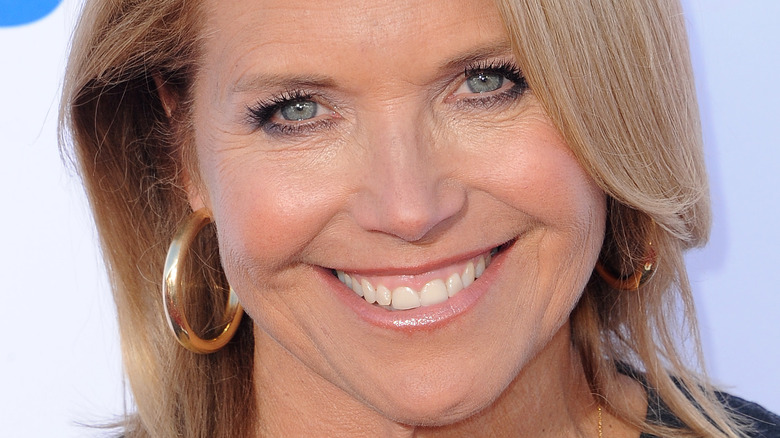 Tinseltown/Shutterstock
When we think of incredible female journalists, Katie Couric immediately comes to the front of our minds. According to History, the television personality got her start on "The Today Show" in 1991, where she assumed the role of co-host with Bryant Gumbel. Later, Couric would host with Matt Lauer, and we don't know about you, but we remember waking up with them every morning.
Couric left the popular morning show in 2006, after accepting a job as the CBS Evening news anchor. Along with the stint came the hefty salary of $15 million a year. In an excerpt from her memoir, "Going There," Couric talked about her choice to move from the morning post to the evening one, per Page Six. "I longed to be respected for my journalistic chops," she wrote. "And although I'd done many serious interviews in the morning, the fun stuff, which I had a blast doing—like flying across the plaza dressed as Peter Pan while flinging phosphorescent confetti, fulfilling my dream of being a backup singer for Darlene Love, hurling myself onto a Velcro wall—was what people remembered."
The move to the evening news ensured that Couric would get to report on more hard-hitting news, and the television personality hoped she would be taken more seriously. Later in her career, she also hosted a self-titled show which ran from 2012-to 2014, per IMDb. During her time on the air, Couric had a particular name that people called her that still irks her.
Katie Couric didn't want people to 'put [her] into a box'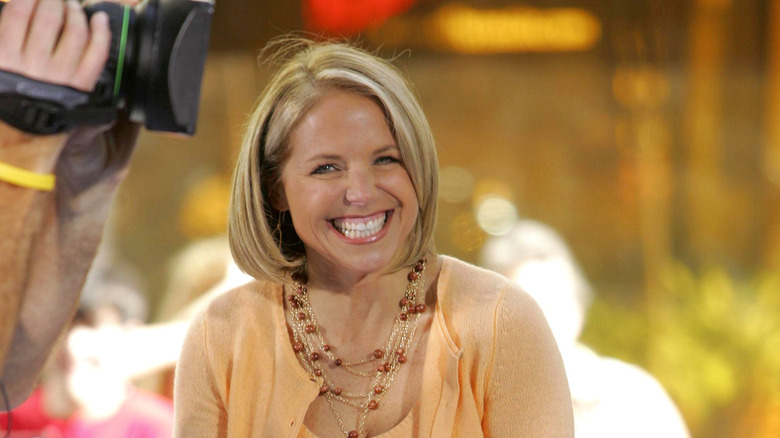 Everett Collection/Shutterstock
In the world of Hollywood, there are a ton of celebrity nicknames, like "J.Lo" and "Kim K," but that doesn't always mean that the person behind the nickname loves it. During her time on the "Today Show," Katie Couric recalled how people often referred to her as "perky." While you could take the name in a few different ways, Couric saw it in a bad light.
"It's also hard for people to see you as a multifaceted person—that you can be funny, fun, outgoing, and friendly, but that doesn't mean you're vapid," Couric told Hemispheres magazine in 2014. "That's why I hated the word perky, because I thought the connotation was that you were an airhead, that there wasn't a serious side to you." Couric added that people have a lot of "different sides," and people "often make judgments based on the wrong things." 
In an interview with InStyle, Couric touched on a similar topic, stating it wasn't always easy to be a journalist because people "put you into a box." "I've had to work hard to ensure that people understand that I can be warm and friendly but also thoughtful and intelligent," she stated. "Sometimes those things can seem incongruous, and that has always been challenging for me, but I've overcome it." We can understand where Couric is coming from, and we're glad she paved the way for so many others. But, there's one nickname that she doesn't mind being called — mom.
Katie Couric adores her daughters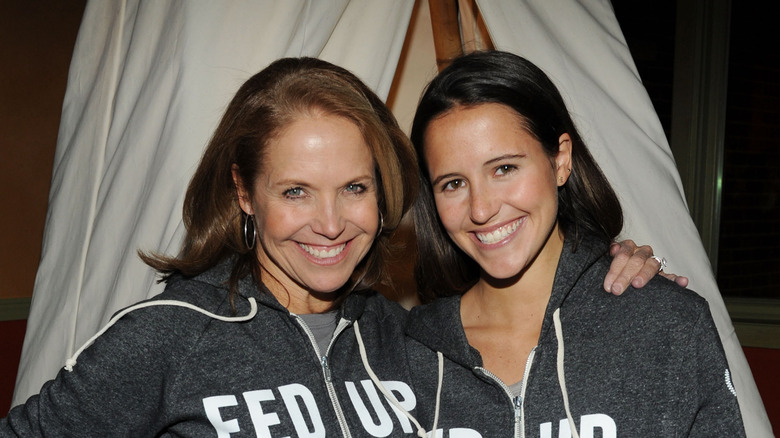 Craig Barritt/Getty Images
Katie Couric lost her husband Jay Monahan in 1998.  According to Showbiz CheatSheet, the pair had two daughters together — Elinor Tully "Ellie" Monahan and Caroline "Carrie" Couric Monahan. Couric made sure to write a memoir titled "Going There" about her late husband, so the girls had a way to get to know their dad, since they were so young when he died. "I dedicate it to Ellie and Carrie ... and they both called me in tears, and I think they're grateful for the book," Couric said on "Today." The star added that it "was really hard. I was very private. Obviously I've lived this out in a very public way, but I was really private because I felt like it was not my story to tell back then."
There's no doubt that Couric is incredibly proud of her daughters, and she often raves about them on social media. "What kind of lousy mom forgets #nationaldaughtersday ???? (Is anyone else a little over EVERYTHING having a day??? —sorry was that my outside voice???) Well, while we're at it, here's to Ellie and Carrie and my bonus daughter Allie! You three make everything better,"#girlsruleboysdrool #betterlatethannever," she wrote in September 2021.
In July 2021, Couric shared several posts after her daughter Ellie's wedding and couldn't help but rave over what a spectacular day it was. Fittingly, she also thanked her late husband for the great weather.