The Actor Who Intimidated Tom Felton On The Harry Potter Set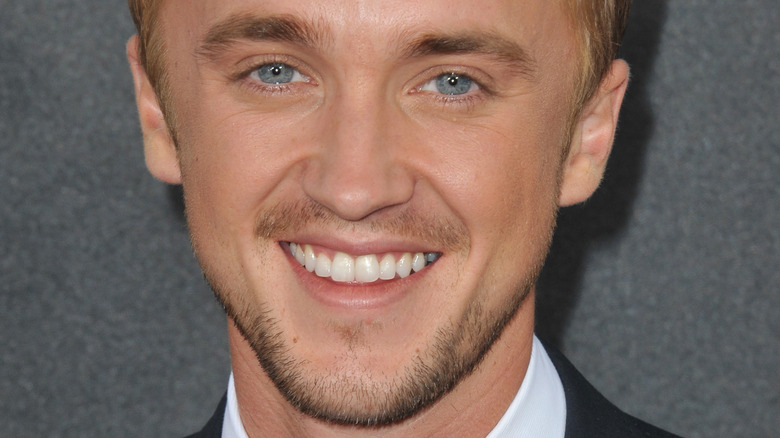 Featureflash Photo Agency/Shutterstock
Best known for starring in the legendary "Harry Potter" film series since his early teens, Tom Felton has continuously appealed to "Team Slytherin" fans around the world with his near-perfect villainous portrayal of Draco Malfoy. Audiences have loved Felton's sneering performance in the eight-part movie series based J.K. Rowling's popular children's novels that first premiered in theaters in 2001 with "Harry Potter and the Sorcerer's Stone." (We even still get goosebumps just watching the movie's 2001 trailer again!) 
And while on-set of the fictional Hogwarts School of Witchcraft and Wizardry, Felton took advantage of working around some of the films' legendary cast members who, at the time, were intimidating — and even "terrifying" — to him as a kid working on a major film series, per People. Let's find out which "Harry Potter" cast member resembled their on-screen "wicked sense of humor" as much off-screen and kept the child actor on his toes during the series' early filming days!
Why Tom Felton was 'terrified' of Alan Rickman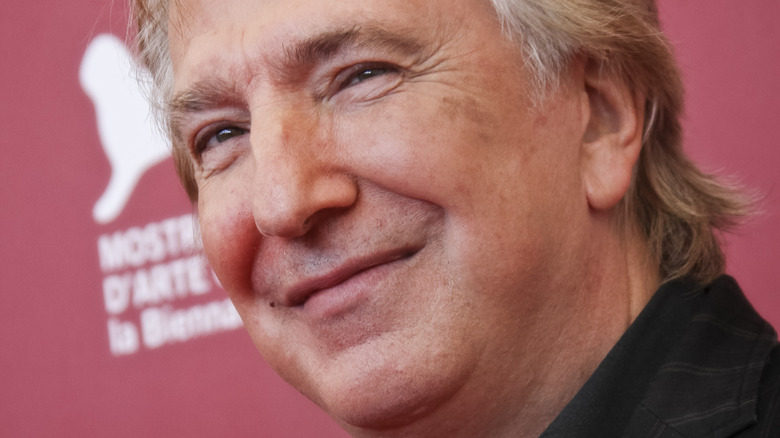 Denis Makarenko/Shutterstock
It's no secret the iconic "Harry Potter" film series involved it's fair share of big-name, veteran actors, like Alan Rickman, who played the mysterious and cruel potion's master Severus Snape, according to Screen Rant. And the cast also included many young adult actors, like Tom Felton, who played Draco Malfoy in the hit franchise, so many got to grow up and learn around some of the best in the entertainment business. In 2018, Felton did a video interview with BuzzFeed, where he was asked by fans what it was like working alongside more experienced, famous adults in the films. Felton clarified that when he first starred as Malfoy he was only 12, so he "didn't know who any of the adults were," but he added that he did have his own cheat system saying, "his mom would tell him" who the renowned actors were while on-set. He also admitted the one adult actor who "terrified" him was Professor Snape himself, Rickman.
In March 2021, Felton talked to People, which asked him some viewer-sent questions, like, "What was it like to work with Alan Rickman?" The child actor answered the question with "scary" and "terrifying in the most pleasant way," but added that he was "very, very kind."
How Tom Felton and the Harry Potter cast paid tribute to Alan Rickman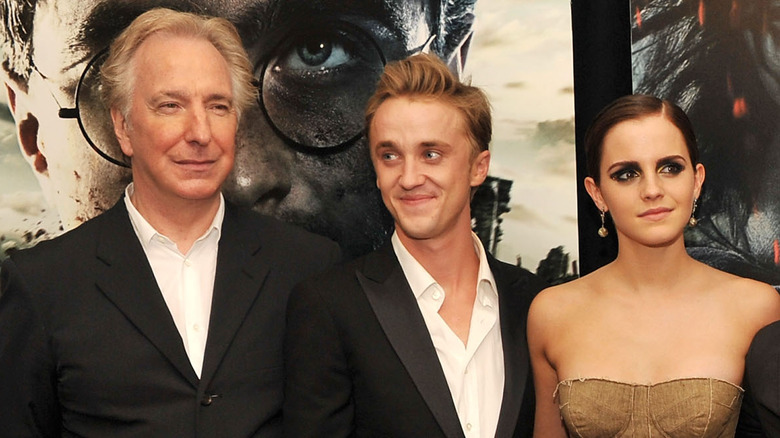 Stephen Lovekin/Getty Images
Appearing alongside stars Emma Watson, Daniel Radcliffe, and Rupert Grint for the "Harry Potter 20th Anniversary: Return to Hogwarts" reunion, which premiered on January 1, Tom Felton, who describes himself as an "actor, musician, wizard, and dog trainer" to his 9.6 million TikTok followers, also joined in on the special that paid tribute to their deceased co-stars, including Alan Rickman. In 2016, Rickman died from cancer at age 69 and cast members are still mourning the loss of the actor who masterfully played the villainous, dark arts master Professor Severus Snape in the eight-movie series. During the HBO special, Watson, who plays Hermione Granger, said, "Alan Rickman never talked to me like I was a child. He always took my thoughts and opinions very seriously, which I was always very touched by," according to Yahoo! 
Felton's been open about his relationship with Rickman since his death, telling People in March 2021 "it was a real privilege" to work with the late actor even though he first "terrified" him as a child on set. "It took me a few years to have enough courage to say more than, 'Hi,'" Felton said about how his relationship with Rickman in time. It's clear the Hogwarts family always sticks together off-screen, no matter which house they belong to on-screen.