The Real Reason Amy Duggar Distanced Herself From Her Family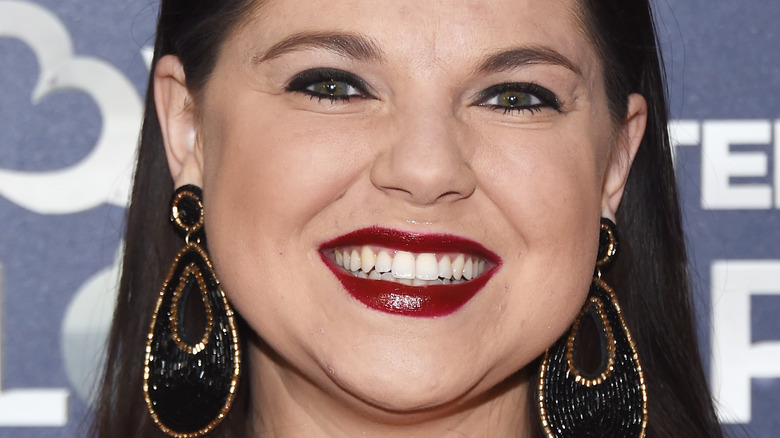 Amanda Edwards/Getty Images
Amy Duggar has a last name that is widely-known in the reality television world. She appeared on several episodes of "19 Kids and Counting" (formerly known as "17 Kids and Counting"). The series first aired in 2008 and ran for about seven years until the show got canceled in 2015 after several controversies came to light, per The Sun. The series followed the lives of Jim Bob and Michelle Duggar as they raised their multitude of children in Tontitown, Arkansas and adhered to their strict religious beliefs. Amy is the niece of Jim Bob, and she was often scrutinized on the show for living a somewhat normal life compared to her cousins.
The Duggar family members were known as Independent Fundamentalist Baptists. Some of their rules included women being submissive, and they have to keep their hair long, cannot wear revealing clothes, do not believe in birth control, don't watch television, and take courting very seriously, per In Touch Weekly. "Courtship is really waiting for the one God has for you and praying through the whole process," Jim Bob told Today in April 2014. 
Amy made it clear she didn't believe in how her uncle raised his kids when she was on the show. And, as a result of several issues that have come to the forefront over the years, she has also chosen to distance herself completely. 
Amy believes it's okay to 'cut off' family if they're 'toxic'
In April 2021, Josh Duggar — Jim Bob and Michelle Duggar's oldest son — was arrested and arraigned on "federal charges of receipt and possession of child pornography," per CNN. Two months before he was found guilty on those charges, Amy Duggar shared an Instagram post of balloons spelling out the quote, "It's okay to cut off toxic family for your own well being," with the caption, "it's not easy, but necessary." Fans quickly started to speculate if that was a jab directed at her cousin Josh, who was in prison.
"I have created those boundaries in our life to protect Daxton and to protect myself," Amy exclusively told Hollywood Life, referring to her son. She never confirmed if the post was intended for her cousin or the Duggar family as a whole. However, she did explain the type of people she doesn't need in her life. "If anyone covers up things, if anyone acts a certain way or treats you differently, kind of rejects you, anyone that makes you feel less than," she told the outlet. "Those people don't truly love you and accept you for you and that's OK to eliminate them from your life if all they're going to do is bring you down and make you feel like you're a terrible person for no reason."
But, despite Josh battling his own issues, that's just the tip of the iceberg when it comes to why she's parted ways with her family. 
Amy Duggar is at 'peace' with distancing herself from her extended family
In 2016, Amy Duggar shared a photo sporting a "Gilmore Girls" hoodie on Instagram, and one of her followers commented if whether or not her cousins could go over her house and spend the night even though they're not allowed to watch television. She replied (via Us Weekly), "It's a rule though that if I want to spend quality time with them I have to come see them. They don't want me to influence them. So I respect their standards and I don't fuss about it." Amy and her husband Dillon King joined the Season 9 cast of "Marriage Boot Camp," and during her time there, she often spoke about "being judged" and admitted, "I hate being a rebel Duggar."
Considering the fact that her extended family is always in the headlines for a new scandal and she was often ridiculed for being "normal," Any revealed to Entertainment Tonight she's at "peace" with distancing herself from the others. "I think we are all just trying to find our path and we're all just doing things differently," she said. "I'm doing things differently and I'm happy where I'm at. I'm happy for them. Things are definitely different, but I'm happy for everybody."
Amy owns several businesses and is loving life with her husband Dillion and her toddler son Daxton.