Here's What We Think Emo Girl By Machine Gun Kelly & WILLOW Really Means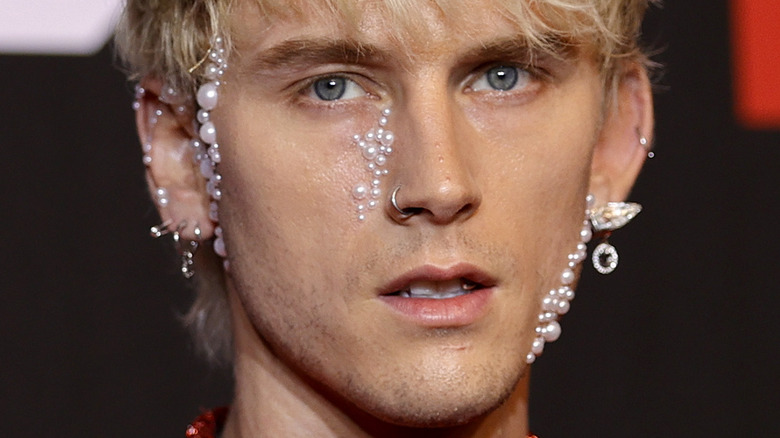 Jason Kempin/Getty Images
Machine Gun Kelly is building his pop-punk repertoire. The "Wild Boy" rapper has transitioned in recent years to rock music, embracing a more emo persona on his latest album, "Tickets To My Downfall."
"It was never intentional," MGK told Variety about his pivot to punk. "I always wondered why people think this is so new for me, when I spent half a decade on Warped Tour stages and covering songs by all different types of bands. This isn't like some random jump — I was just becoming comfortable with myself."
MGK defended his artistry after he dropped the single "Papercuts," a track off his new album, "Mainstream Sellout," due out March 25, according to Billboard. "Me, drops a rock song — 'Oh, he doesn't rap anymore!' Me, drops a rap song — 'Oh, he doesn't do rock anymore!'" he ranted in a TikTok video, shouting, "I'm not f***ing dying tomorrow, I just drop music!" Machine Gun Kelly's latest collaboration with WILLOW, "Emo Girl," is certainly a departure from his former sound and a celebration of his new image. We think the song's true meaning goes deeper than what's on the surface.
Machine Gun Kelly has a real-life 'Emo Girl'
It's no secret that Machine Gun Kelly's rockstar image is only amplified by his fiancé, actor Megan Fox. The couple's hot and heavy romance culminated in a romantic marriage proposal in Puerto Rico in January. 
"Just as in every lifetime before this one, and as in every lifetime that will follow it, I said yes," Fox wrote on Instagram, announcing the big news. Both stars have been outspoken about their passionate and somewhat tortured connection — just take MGK wearing a droplet of Fox's blood on a necklace as evidence their love gets a little dark, per Page Six. With this in mind, there's no question who Machine Gun Kelly is referencing when he sings, "I fell in love with an emo girl" on his song "Emo Girl."
MGK takes his references to his lady even further by drawing inspiration from Fox's iconic role in the cult classic "Jennifer's Body," in which she portrays a man-eating teen zombie. "She is a monster in disguise and she knows all the words to the trap songs / Takes pics with the cherry red lipstick," Machine Gun Kelly sings. He again hints at his paranormal sweetheart later in the track, singing, "Half dead but she still looks so cute."
Willow Smith is an e-girl
As Machine Gun Kelly gives listeners major throwback vibes with his pop-punk sound, his collaborator WILLOW, Willow Smith, brings a fresh Gen Z voice to "Emo Girl." She sings about another e-girl crush, "She puts eyeliner on her dark skin / She tells me lies, but she knows all of my secrets." In a candid 2019 chat on the successful Facebook Watch series "Red Table Talk," Willow opened up about being bisexual and polyamorous. "I love men and women equally and so I would definitely want one man, one woman. I feel like I could be polyfidelitous with those two people," she shared, via Bi.org.
"You tell me you're depressed, baby girl, that makes two of us," Willow later sings to her downcast partner on "Emo Girl." Willow has also been open about her mental health struggles on "Red Table Talk." On a 2018 episode, she revealed to her mother Jada Pinkett-Smith that she had struggled with self-harm while growing up in the spotlight. "I was, like, plunged into this black hole and I was cutting myself ... and doing crazy things," Willow shared. "I totally lost my sanity for a bit there." The singer explained on "The YUNGBLUD Podcast" in July 2021 she's taking her challenges in stride now. "My mental health is in a very fragile state, but I think it's in a state where it's about to grow in a really awesome way," she said, per HotNewHipHop.
If you or anyone you know is struggling with addiction issues, help is available. Visit the Substance Abuse and Mental Health Services Administration website or contact SAMHSA's National Helpline at 1-800-662-HELP (4357).