The Celebrity That Convinced Meghan Markle To Adopt Her Dogs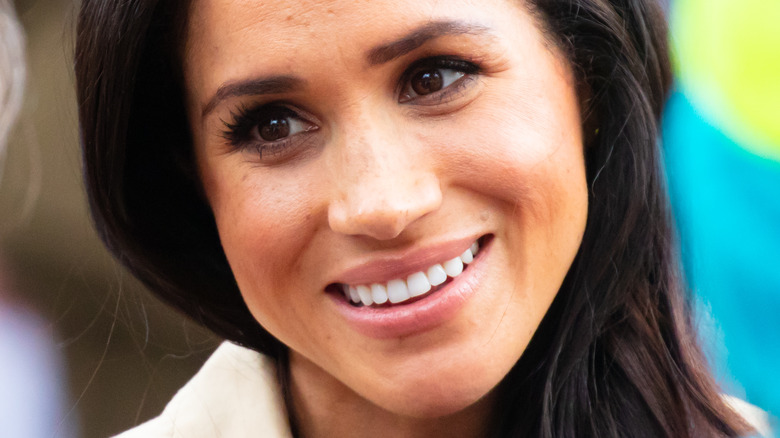 FiledIMAGE/Shutterstock
Meghan Markle — a former actor who married her very own "Prince Charming" and tied the knot with Prince Harry, Duke of Sussex at Windsor Castle in May 2018 — has always made it clear she cares deeply for her dogs and animals, in general, frequently visiting animal charities during her time in London. It appears Prince Harry doesn't have as much of a "royal" touch when it comes to animals, however, as he claimed in 2017 that he had "spent the last 33 years of his life being barked at" by Queen Elizabeth II's famous pack of corgis, who took to Meghan "straight away," according to W Magazine.
The Duchess of Sussex's history with her own beloved pups started when she ran into a famous celebrity TV host at a dog rescue shelter in Los Angeles and they subsequently convinced her to adopt. "She yells 'Take the dog!' And so I brought him home," Meghan recalled to Best Health, according to People. The former "Suits" star has always expressed her love for animals, but between a royal engagement and a move across the pond, she had to make a hard decision about one of her pups, who apparently "never liked" Prince Harry, according to the Daily Mail. So which celeb helped land a pooch in the lap of a royal family member and what happened to the pup who wasn't so fond of the prince?
How many dogs does Meghan Markle have and who helped her rescue them?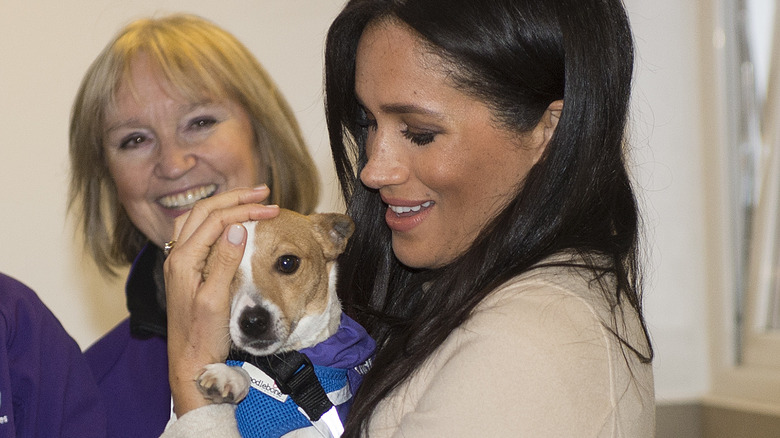 Wpa Pool/Getty Images
Meghan Markle and Prince Harry aren't just parents to two adorable little royals — Archie Harrison and Lilibet "Lili" Diana — they are also the proud parents of a few fur babies themselves and active shelter advocates. When the two first met in July 2016 and started dating soon after, Meghan had two adopted pups of her own and frequently posted about them on her now-deleted Instagram account. The Duchess' first dog Bogart — a Labrador-German Shepherd cross — was discovered and adopted at an animal shelter in Los Angeles with the assistance of comedian Ellen DeGeneres and her wife Portia de Rossi, coincidentally, according to Harper's Bazaar.  
"It's sort of like if Oprah tells you to do something. And so I brought him home," Meghan recalled how Borgart, her eldest pup, came into her life, whom she re-homed about four years ago. (More on that in a moment.) In 2015, Meghan rescued her second dog, a beagle named Guy, who was at a kill shelter in Kentucky before landing in the duchess' lap. Meghan took the pup home after she fell in love at a shelter event, and he ultimately sat by her feet during hair and makeup for her enchanting, royal wedding, according to People. 
After the couple got married in May 2018, the Duke and Duchess of Sussex adopted a black Labrador together and named her Pula, Parade reported. Meghan voiced that, for a long time, people in Sussex "kept getting her name wrong," revealing their newest dog is a she, not a he!
Why did Meghan Markle have to leave one of her dogs after getting engaged to Prince Harry?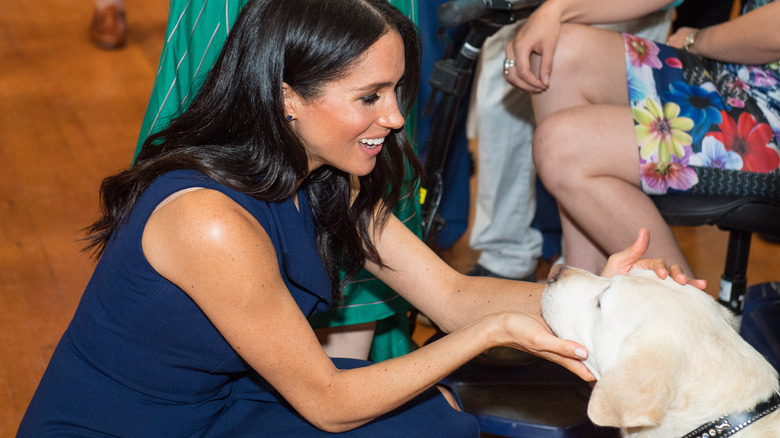 Pool/Getty Images
Following their engagement in November 2017, Meghan Markle, who was a working actor in the U.S., uprooted her life and moved to the U.K. to begin her new life with Prince Harry. But the move didn't come without some heartbreak for the former "Suits" star, as she had to re-home and leave behind her eldest dog, Bogart, who now belongs to Meghan's close friends, according to Hello! In their first interview after Meghan and Harry announced their engagement, Meghan briefly explained Bogart's absence and told BBC's Mishal Husain the rescue pup is now staying with very close friends, while also confirming that her "other little guy" had made the move to the U.K. and that "he's doing just fine," according to The Guardian. 
However, two years after marrying Prince Harry and starting a royal life, the Daily Mail reported that the real reason the Duchess of Sussex would not "take her beloved rescue Bogart" back with her to the U.K. was "because he doesn't like Prince Harry" and "never took to" him. But Meghan has since said moving would have had a negative impact on the pup's health, as the Evening Standard noted.