Harry Styles Has Way More Tattoos Than You Realize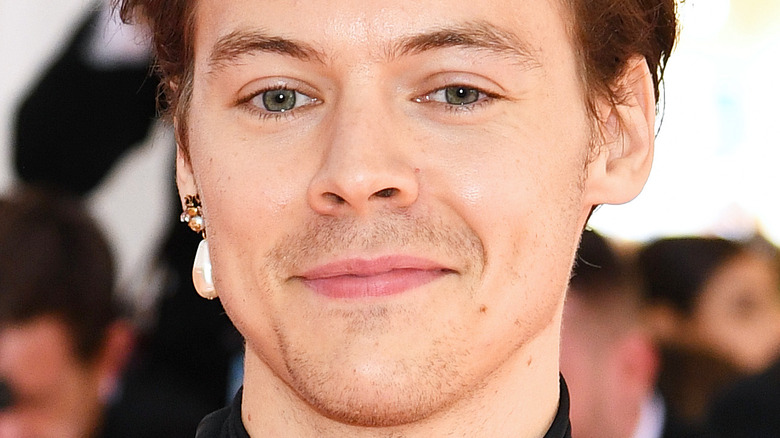 Dimitrios Kambouris/Getty Images
Harry Styles is a man of many talents, nipples (seriously), and tattoos. The "Watermelon Sugar" crooner is a big fan of body art, having been inked since the early days of One Direction.
While he doesn't publicize whenever he gets a new tattoo, eagle-eyed fans are quick to notice anyway. Photos and various analyses of his inks float around several fan accounts, with some speculating that a handful of his tattoos are dedicated to his former lovers like Taylor Swift. After all, she did accompany him to a tattoo shop once, back when he got his famous ship tattoo. Many took it as a sign that the #Haylor ship has "sailed," but Styles insisted that it's simply a reminder that he will eventually come home when he's touring across the globe.
Judging from the shirtless photos of Styles, he has dozens upon dozens of tattoos peppered across his entire body, ranging from large, intricate pieces to barely noticeable inks that have faded with time. But how many tattoos does the Grammy award-winning singer actually have?
Harry Styles has more than 50 tattoos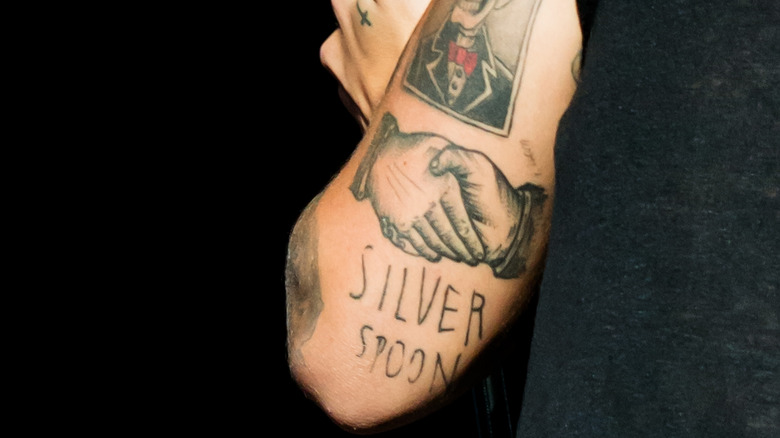 Gilbert Carrasquillo/Getty Images
At this point, Harry Styles' tattoos are almost as famous as his wavy locks. While he doesn't talk about his body ink that much, it didn't stop his legions of fans from documenting his tattoos, from their actual number, down to their possible meanings. The total tally is unclear, but according to Styles himself, he has roughly 60 different inks.
Perhaps one of the most famous tattoos he has is the two swallows he had done across his chest. In a 2012 interview with Us Weekly, he dished that it symbolizes his jet-setting lifestyle. "I got two swallows on my chest," Styles explained at the time. "I like that kind of style of tattoos, like the old sailor kind of tattoos. They symbolize traveling, and we travel a lot!" He also admitted that getting it was a particularly painful experience. "Anyone who says tattoos don't hurt is a liar!"
While some people are very nitpicky about the designs they put on their body, Styles is much more laidback to the point that he even has friends experiment with tattoos on him. Ed Sheeran once shared that it didn't take much to convince his pal to get matching inks. "I got that with Harry Styles, he got Pingu [written under his arm]," Sheeran told MTV, explaining that it's "kinda like a bro tat... I mentioned it; he was like, 'Alright then.'"
Harry Styles regrets some of his tattoos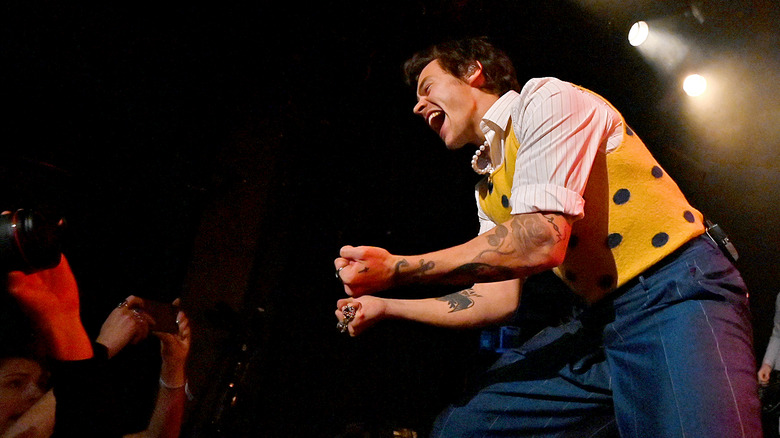 Kevin Mazur/Getty Images
Harry Styles is the first one to admit that he's not a big fan of some of his tattoos. In an appearance on "The Late Late Show with James Corden," where he coincidentally got an impromptu tattoo that says "Late Late" after losing the game "Tattoo Roulette," he said that he has a number of inks that he finds "stupid."
"I've got a couple stupid ones. I don't know if I regret them so much," he shared. "I mean, I wrote 'big' on my big toe." He also has tattoos marking noteworthy moments in his life, like when he lost money gambling. "I was tattooing Ed Sheeran and he said that his mate Harry wanted to get one," celebrity tattoo artist Kevin Paul told British GQ. "I went around to one of Harry's houses on a Sunday morning and, actually, he had completely different ideas to what we'd originally discussed... Basically, Harry lost money gambling — I think it was in Australia — and he lost it on 17 black."
If there's one thing Styles really doesn't like about having lots of body art, though, it's that he has to spend hours in the makeup chair to conceal them, especially when he's participating in blockbusters like "Dunkirk." He told Variety: "It's the only time I really regret getting tattooed."