What Cookie From Ned's Declassified Looks Like Today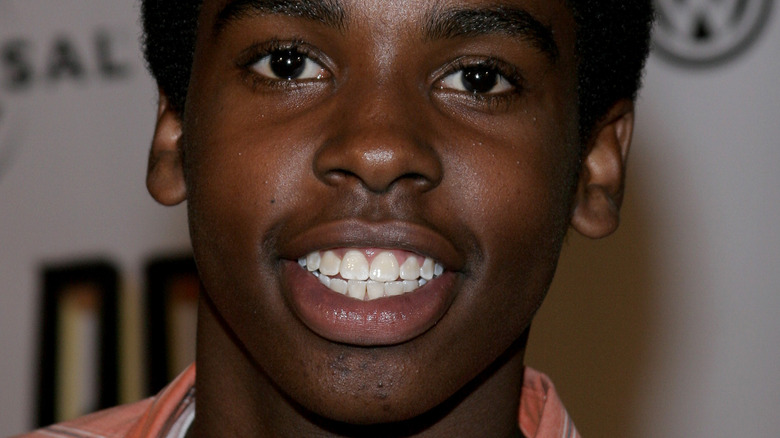 Tinseltown/Shutterstock
If you were a kid growing up in the '00s, you likely spent some spare time watching classic Nickelodeon television shows like "Zoey 101," "Drake & Josh," and "Ned's Declassified School Survival Guide." The latter series centered around Ned Bigby, a middle school student who created a guide for other students with advice on various topics ranging from crushes to gym class to field trips, and more. The show starred Devon Werkheiser as Ned, Lindsey Shaw as Jennifer "Moze" Mosely, and Daniel Curtis Lee as Simon Nelson-Cook, or Cookie, as his peers called him. Cookie was a character who loved tech gadgets, wore glasses, and usually found himself in unique escapades at James K. Polk Middle School. 
Cookie was the first major role Lee booked, only playing a few minor roles in television shows and films prior, per IMDb. He starred as Cookie from 2004 to 2007, beginning when he was just 13 years old. Today, believe it or not, Lee is in his 30s, and he has matured quite a bit since his child acting days.
Daniel Curtis Lee looks all grown up
Daniel Curtis Lee, who played Simon "Cookie" Nelson-Cook on "Ned's Declassified," has a look that is completely different than the young student he portrayed on Nickelodeon. He is now all grown up, appearing with facial hair and without the famous Cookie glasses! In August 2020, Lee showed off this mature look when he posted some on-set photos from a recent project on Instagram, in which he played a role in an episode of the series, "Game On! A Comedy Crossover Event." In the caption of the post, Lee said, "Despite the fast approaching quarantine, I Had a blast working w/ @netflix for the GAME ON Comedy crossover @familyreunionnetflix episode with so many great actors from my childhood."
In addition to this gig, the actor has consistently secured a string of successful roles since "Ned's Declassified" wrapped. This includes playing Kojo in "Zeke and Luther" for a total of 72 episodes, and portraying Phil in four episodes of the hit series, "Glee," per IMDb.
Daniel Curtis Lee still keeps in touch with Ned's Declassified cast and crew
Although it's now been many years since "Ned's Declassified" was on the air, Daniel Curtis Lee still manages to keep in touch with his former co-stars, who also have matured quite a bit from when they starred opposite him in the series. In an Instagram photo from June 2021, actor Devon Werkheiser, who portrayed Ned Bigby, posted a selfie with Lee and two other cast and crew members from "Ned's Declassified": Teo Olivares, who portrayed the character Crony, and Scott Plimpton, who was a studio teacher on the show, per IMDb. In the image, the four are standing in the sun and smiling for the camera in front of a body of water.
Werkheiser captioned the sweet reunion photo, "decades of friendship." Although this cast and crew has evolved a lot since "Ned's Declassified," they definitely seem to have stayed true to their roots and have remained thankful for the opportunity to have been part of the beloved show.