Lamar Odom Opens Up About Drug-Fueled Past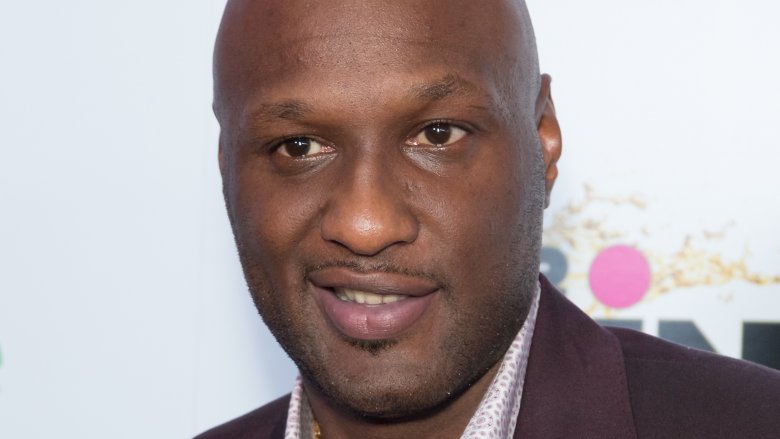 Getty Images
Ex-NBA player Lamar Odom gets more candid than ever about his shocking fall from grace in a recent interview and essay for The Players' Tribune.
Recalling the feeling of helplessness as he lay temporarily paralyzed in a Nevada hospital following his overdose at a nearby brothel, Odom admits, "At that point in my life, I was doing coke every day. Pretty much every second of free time that I had, I was doing coke. I couldn't control it."
Odom writes that he knew he "was probably in bad shape" after observing that his estranged wife, Khloé Kardashian, had come to his bedside. "After all the s**t I had done, I was surprised to see her," he writes. 
But the low point also served as a moment of clarity for the former basketball champ. Odom recalls, "I was laying there in that bed, hooked up to all these machines, people all around me crying, and there was no running from it anymore. It was like God was telling me, 'Whatever the f**k you think you're doing, you need to slow down. Or it's gonna be worse than this.'" 
Odom also reveals that drugs weren't a part of his life until he was 24 years old. He writes that while he was "on summer vacation in Miami" he made the "asinine decision" to try cocaine for the first time, which he then began using to cope with the loss of family members. 
"If I knew that it was going to affect my life the way it did, I would've never even thought about it. Never. But I did it. It turned out to be a life-altering decision," he writes.  
After Odom lost his 6-month-old son, Jayden, to sudden infant death syndrome, his cocaine use "picked up." He describes being stuck in the cycle of highs and lows for years as he let his cocaine use spiral out of control. 
"When I was like 32, 33 ... I just wanted to get high all the time. That's it, just get high. And things got dark as hell," Odom writes. 
It was at this point that Odom's marriage fell apart. He recounts a story of being caught "in a motel, with some random person, doing coke" by his then-wife, Khloé Kardashian. 
"You know, I was being a scumbag. Nothing else I got for that. No excuses. No bulls**t. That's just the truth, Odom writes, adding, "My d**k and my habit took me down all the roads that you don't ever wanna go down. A lot of great men are fools to that. Fools to that."
After his hospitalization, Odom went to rehab, drawing on the strength of his children to push him forward. "I'm sober now. But it's an everyday struggle. I have an addiction. I'll always have an addiction. It never goes away. I mean, I want to get high right now. But I know that I can't if I want to be here for my children," he writes. 
Of his children, Lamar Jr., 16, and Destiny, 18, Odom writes, "I just look at their faces for a few minutes, and it's like a reminder of what life is supposed to be about. I feel warm. I feel an energy. I feel love. That s**t gets me through the day." 
And Odom's even retained a sense of humor throughout his ordeal. "I still got my kids. I'm still here. And damn, I'm still pretty handsome," he writes. 
For an even more in-depth look at Odom's turbulent life, check out the truths of Lamar Odom's dark past.