How Bob Saget's Tragic Death Led Another Actor To Seek Medical Help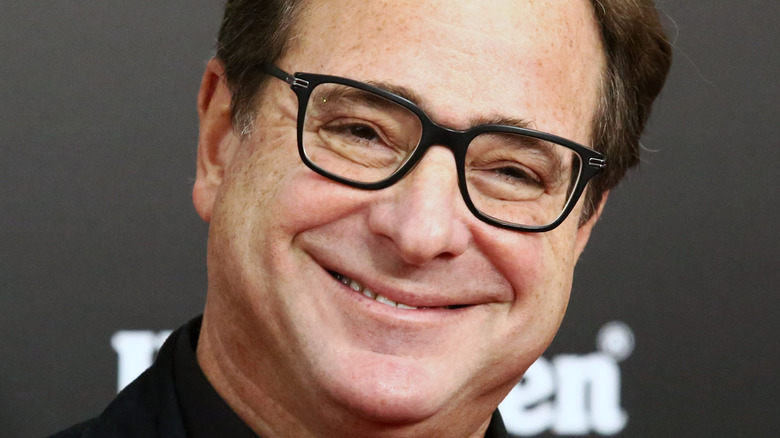 Astrid Stawiarz/Getty Images
Bob Saget's unexpected death on January 9 was the result of trauma to the head that led to several skull fractures and extensive brain bleeding, as per The New York Times. Since he was found alone in his hotel room at the Ritz-Carlton Orlando, no one can be certain exactly how he ended up with such a serious injury, but medical examiner Dr. Joshua Stephany believes the comedian fell and struck his head before falling asleep. Concussion expert Dr. Jeffrey Bazarian confirmed the likelihood that the "Full House" actor only hit his head once despite the various fractures. "It's like an egg cracking," he stated. "You hit it in one spot, and it can crack from the back to the front." Experts agree that the injury would have left Saget confused, likely leading to his decision to sleep it off instead of getting help.
The television host's death has understandably been difficult for loved ones and fans. Many tributes have rolled in from fellow personalities in the entertainment industry as well as friends and family. Dana Delany was one close friend of Saget's who took to Twitter following his death to encourage her followers to contribute to the Scleroderma Research Foundation in his honor, which was a cause near and dear to his heart. She wrote that "he would be so happy." She then expressed her condolences to the actor's family in a separate post. Saget's death also prompted her to take her health seriously after a scary incident.
Dana Delany took a nasty fall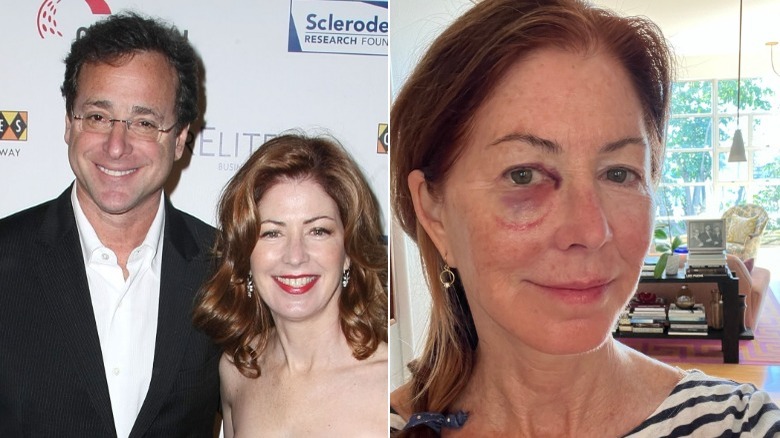 Andrew H. Walker/Getty Images, Twitter
On February 18, Dana Delany took to Twitter to show off an enormous black eye alongside a cheeky caption that read, "You should see the other guy." In a follow-up post, the actor explained that the shiner was not the result of a fight but rather a fall down "some iron stairs head first." Although she was "totally sober," she wrote, "I grabbed the handrail with my face." As she fell, she thought of "poor Bob Saget" and immediately went to the hospital to make sure she didn't fracture any of the bones of her face. Luckily, it seems that Delany will be fine after giving herself some time to recover. 
The reason Delany thought of Saget as she took the spill down the stairs wasn't just because of the tragic way he died last month but also because the two shared a close friendship. In a January 11 interview with The Hollywood Reporter, the "Desperate Housewives" actor revealed that she and the "Full House" star had been friends for 35 years. They both held seats on the board of the Scleroderma Research Foundation in honor of Saget's late sister, Gay, who died of the autoimmune disease in 1994. Delany also starred in the television movie about Gay's story, entitled "For Hope," which was directed by Saget himself. "It was a ... joyous film shoot, and everybody remained very close from it," she said. "Wherever Bob went, people wanted to be a part of it."