The True Meaning Behind Girl Of My Dreams By Juice WRLD & Suga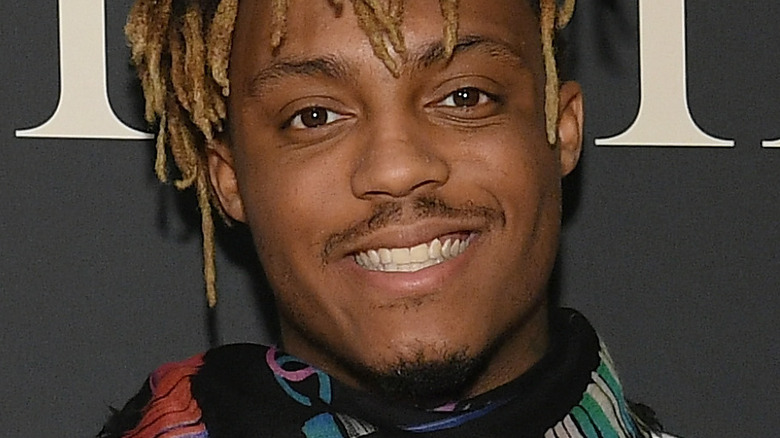 Dia Dipasupil/Getty Images
Though rapper Juice WRLD died in 2019, his legacy in music continues to live on — especially after his second posthumous album, "Fighting Demons," had dropped. The 19-song album unpacks the late rapper's battle with addiction, depression, and how his fans are the reason why he kept going. It also featured notable collaborations, including the industry's biggest artists like Justin Bieber and BTS member Suga.
"I loved his talent," the "Daechwita" rapper, who's also revered for being open about mental health and the cost of fame in his solo work, said of Juice WRLD in the album trailer. "I personally related a lot to the messages he tried to convey." Little did fans know that the two collaborated long ago on a song called "Girl of My Dreams," which debuted at No. 1 on the Billboard Digital Song Sales Chart in December 2021.
With a significant chunk of the track containing some lyrics in Korean, many fans are wondering what the song is about. But judging from the official translations, Suga's contribution to the song stayed true to Juice WRLD's vision. "Girl of My Dreams" explores what it feels like to be consumed with love.
Juice WRLD and Suga's 'Girl of My Dreams' is a love song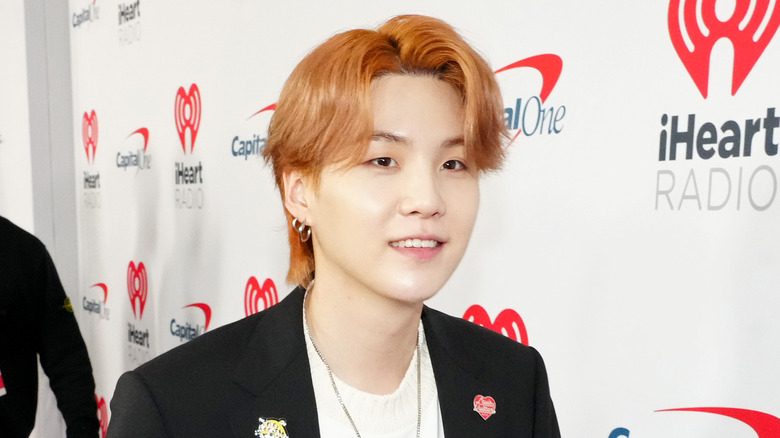 Jeff Kravitz/Getty Images
When Juice WRLD's girlfriend, Ally Lotti, first heard "Girl of My Dreams," she had quite the emotional response. "I'm on the floor of my bathroom in tears shaking while typing," she wrote on her Instagram Story at the time (via Reddit). "I need yal to scream every f***ing word when you hear this song. I need your energy sent to me."
Her reaction isn't surprising, considering how passion-filled the lyrics are. "The girl of my dreams, but I ain't fallin' asleep / Think both of your legs gone, the way you fallin' for me," Juice WRLD raps in the chorus. He also goes on to describe his feelings when he's around the girl he's in love with. "Somehow I found you / Harmony when I'm around you / Paradise when I'm around you," he sings, adding that he'll never feel the same way about anyone else. "Won't let any other woman come and talk to me / I'd do the same thing if you leave, honestly."
Suga's verse also echoed the same message. "Another name for love is blue / What's refreshing can otherwise feel cold," per the translation of a fan. "Even when together, the loneliness is still present I don't need it anymore / At times, like a madman, laughing a lot, crying a lot" It's clear that "Girl of My Dreams" is in all ways a love song, and a catchy one at that.
'Girl of My Dreams' isn't the first collaboration for Juice WRLD and Suga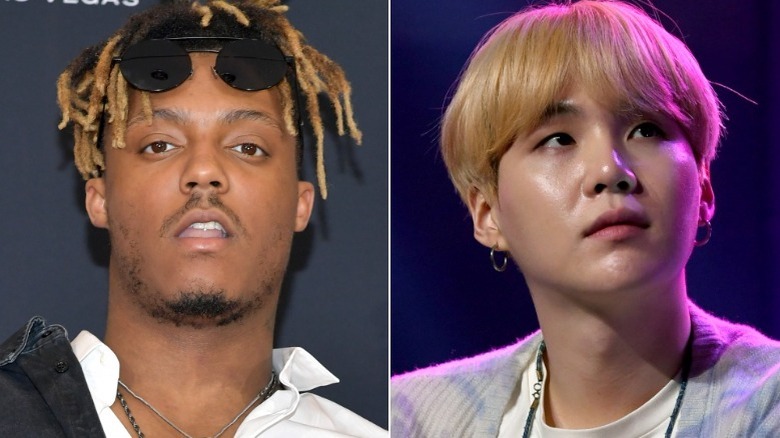 Amy Sussman & Kevin Winter/Getty
"Girl of My Dreams" isn't the first track that Juice WRLD and BTS member Suga collaborated on. In 2019, Juice WRLD was featured on Suga and RM's "All Night," which was included in the soundtrack for BTS' mobile game "BTS World." While "Girl of My Dreams" was about falling in love, "All Night" talks about achieving one's dreams, with some sexy lyrics sprinkled in courtesy of Juice WRLD.
"I still have a dream I'm still in the studio / Ask the people passing by / Who's the one shot singer? / Grammys are right in front of our noses," the lyrics read, per Genius, and then Juice WRLD chimes in. "She calls me charming, need an ARMY / Marching for your love, I'm a sergeant," he raps, alluding to the name of the BTS fanbase. "I'm not from this planet, a Martian / For you, I go the hardest / Can't stop when you get me started / You gonna make me park the Aston Martin / Tints on the windows, I don't do no talking."
Similar to "Girl of My Dreams," "All Night" charted No. 18 Billboard's Bubbling Under Hot 100 chart. BTS and Juice WRLD sure do know how to churn out some hits.