Why Megan Fox Removed One Of Her Signature Tattoos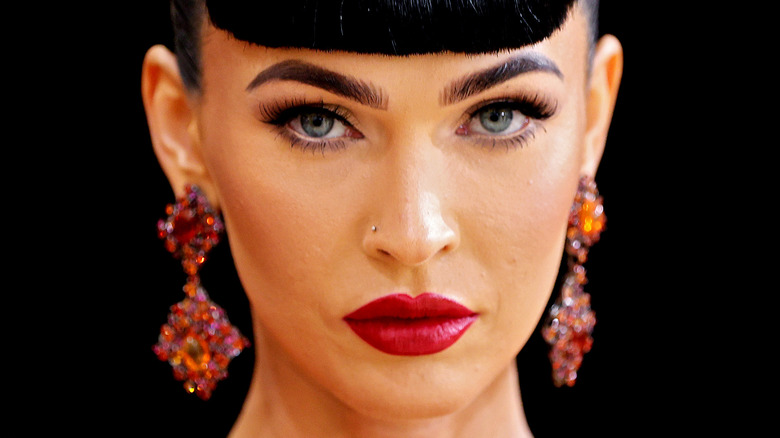 Theo Wargo/Getty Images
For the last decade and change, Megan Fox has mesmerized audiences with her blockbuster films and undeniable talent. While many of her fans love her quick-witted personality, a large chunk of her fanbase has been drawn to her diverse set of tattoos.
Since she was 18-years-old, the beloved actress has been cultivating her expansive list of body art — which consists of over ten pieces. From poetry to Chinese symbols, Fox has used the art form as a way to express herself. And it's important her partners are also on the same page, as she once quipped to "The Early Show" (via Digital Spy), "My boyfriends are all required to have one." So it's a good thing Fox has found love with Machine Gun Kelly, who boasts almost 100 tats as of this writing, per Page Six.
Although Fox's beloved designs have remained intact throughout the years, one tattoo was not so lucky.
Megan Fox outgrew Marilyn Monroe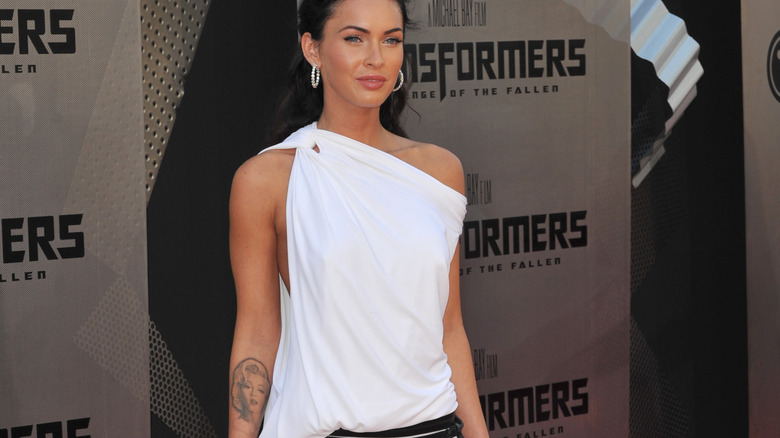 Featureflash Photo Agency/Shutterstock
Megan Fox once proudly donned a tattoo of Marilyn Monroe's face, telling Us Weekly, "I really admire Marilyn Monroe, but I would never try to emulate her. I got the tattoo as a warning." She continued, "It warns me not to let myself be treated so badly by the film industry so that it breaks me down."
However, two years later, she revealed that the "negative" perception regarding the Hollywood icon inspired her to remove the tattoo. "It is a negative character, as she suffered from personality disorders and was bipolar," she told Italian Mag Amica (via HuffPost). "I do not want to attract this kind of negative energy in my life."
In that same year, she elaborated on her reasoning during a sit down with CinemaBlend. "It's not like I needed to have it on my body. It's not that I don't love her – I got it in the first place because everyone loves Marilyn," Fox shared. "But she suffered a lot." Fox went on to say that growing up also had a part in it, adding, "The things you love as a child, as a teenager... you grow out of them." Fair point!
Fox shows no signs of slowing down her tattoo journey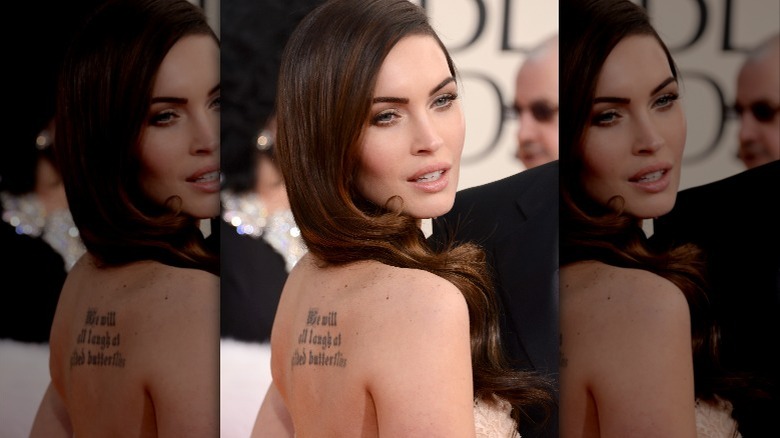 Jason Merritt/term/Getty Images
Even though Marilyn Monroe's face is long-gone, there are still many tattoos that the actress proudly showcases. One of her most noticeable piece's of work is a Friedrich Nietzsche quote. Located on Megan Fox's back, the excerpt states: "And those who were seen dancing were thought to be insane by those who could not hear the music."
According to a 2010 interview with MTV, the actor revealed that she got the tattoo as a way to pay homage to her "Passion" play costar Mickey Rourke. But in a follow-up interview, she debunked the statement and said that she got the quote because it symbolized "marching to the beat of your own drum." She clarified, "I was saying that it reminds me of Micky of course, because he clearly is not marching to anyone else's drummer, drumbeat, and that's all."
Recently, Fox has added a few more tattoos amid her engagement to bad-boy musician Machine Gun Kelly. At the 2020 American Music Awards, she debuted her collarbone "el pistolero' tattoo, which means "the gunman" in Spanish, per Page Six. And during a 2021 interview with British GQ, the passionate couple tattooed the phrase "The darkest fairytale" — which alluded back to one of the first text messages they sent to each other. So although the Monroe tat is gone, it's clear Fox is still wild for ink!