Why Faith Hill Owes Her Career To Elvis Presley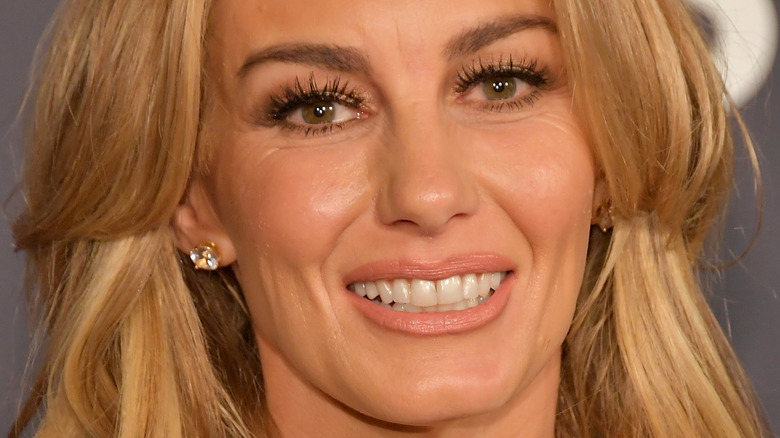 Neilson Barnard/Getty Images
Faith Hill is a chart-topping country music icon who's known for her hits like "This Kiss" and "Where Are You Christmas." Along with recording music, Hill has consistently performed live sets for her fans around the world, and Concert Archives lists that she has carried out more than 300 concerts over a 20-year period. She took a decade off from live shows from 2007 until 2017, when she and her husband, fellow country singer Tim McGraw, returned to the stage for their Soul2Soul world tour. During an interview on the "Bobby Bones Show," McGraw and Hill discussed their performance techniques while promoting their upcoming concerts.
"I'm more [of a] fly by the seat of my pants kind of girl when it comes to performing. And I've learned so much from the master entertainer that I'm sitting next to right now," Hill said, referencing McGraw, who was seated by her side.
Her approach to performing has resulted in Hill being able to emotionally touch and entertain her dedicated audience of fans. Hill was first able to learn about what it means to be a performer of this magnitude from the King of Rock and Roll, Elvis Presley.
Elvis Presley inspired a 7-year-old Faith Hill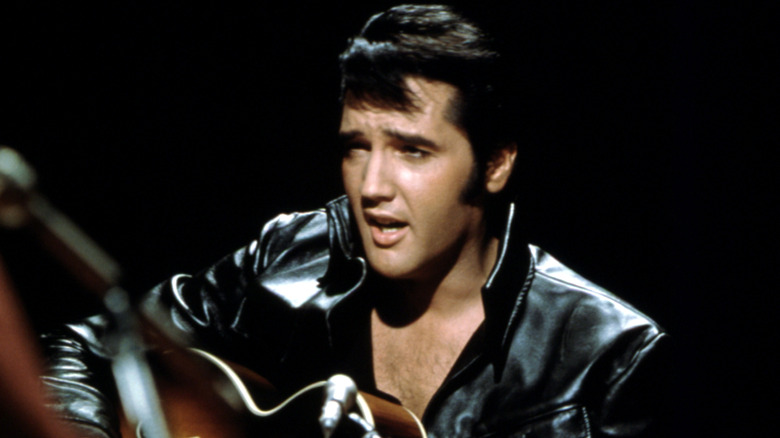 Michael Ochs Archives/Getty Images
When Faith Hill was just 7 years old, she went to one of Elvis Presley's concerts in 1975. The live show took place at the Mississippi Coliseum, and it made the young Hill recognize the power of music. In the book "Chosen for Greatness: How Adoption Changes the World" by Paul Batura, she recalled her memories of attending the show, according to popculture. "I sat in the top row of the arena and I remember everyone going wild," Hill said. "But it was as if there was nobody there — except for me and Elvis."
Hill learned from watching Elvis' onstage performance skills, which generated a strong reaction from fans at his show. This whole experience is what inspired Hill to become a performer herself, she further explained in the book. "I'm not sure what it was ... but what I did know was that after that concert, I had to be a performer, pure and simple," she added.
Not only did Hill become a performer, but she also payed tribute to Elvis in one of her songs from her 1999 album, "Breathe," per Genius. On the track, called "Bringing Out the Elvis," she sings, "You're bringing out the Elvis in me / Making my hips wanna swing / You bring out the Elvis in me / Making me burst out and sing." Hill really delivered some powerful vocals for this catchy song while showcasing her love for Elvis' musical talents.
Faith Hill has taken career cues from Elvis Presley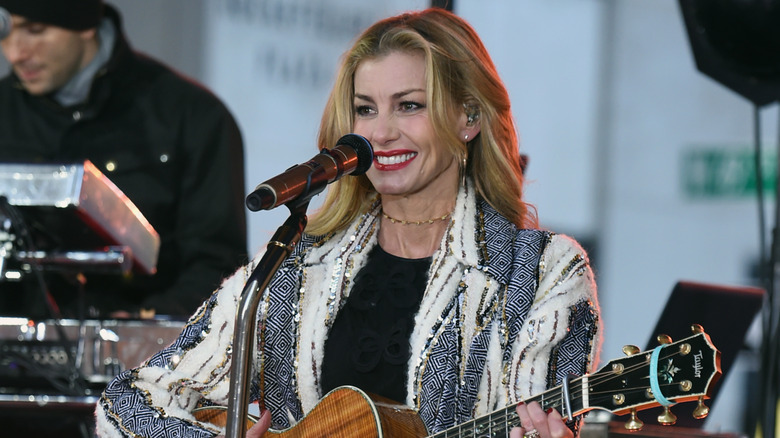 Jamie Mccarthy/Getty Images
The charisma and talent of Elvis Presley that Faith Hill witnessed when she went to one of his concerts as a young girl was the catalyst for her music career aspirations. Beginning with the favorable release her first album, "Take Me as I Am" in 1993, Hill has maintained a successful career in which she has inspired a large group of loyal fans, just as Elvis did. Also taking a cue from the late rock and roll artist, Hill has branched out into other roles in the entertainment industry, including numerous acting projects. Just as Elvis took on roles in films like "Jailhouse Rock" and "Viva Las Vegas," Hill has acted in "The Stepford Wives," "Dixieland," and most recently, the series "1883," which is a prequel to "Yellowstone" and also features the singer's husband, Tim McGraw. 
Hill has also honored Elvis through her live performances over the years, as she has carried out memorable renditions of his tracks "That's Alright Mama," which she sang live in 2008, and "Tryin' To Get To You," which she performed in 1994.
Hill has really learned from Elvis' career and applied it to her own ambitions, which has resulted in her becoming one of the biggest names in the country music business.