The Ridiculous Amount Of Money James Harden Makes Every Game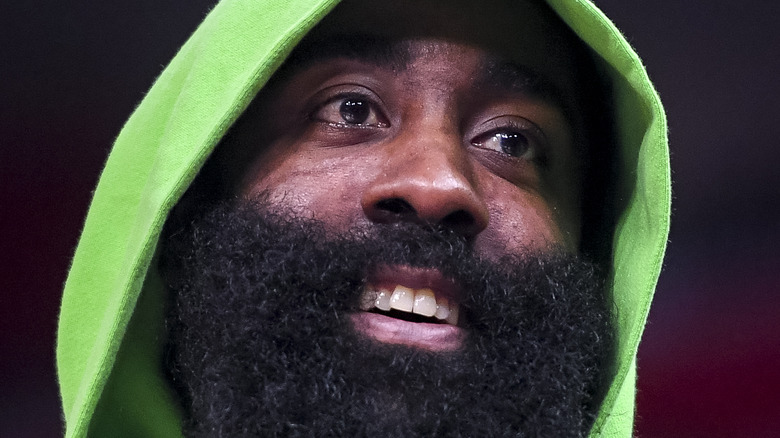 Nic Antaya/Getty Images
NBA superstar James Harden has worked his way up from humble beginnings to become one of the most accomplished and recognizable players in basketball. Harden started off his high school career at a disadvantage at only 6'1" and dealing with asthma. But his height and basketball IQ both developed significantly over those four years, per Biography. As a shooting and point guard, his skills were instrumental in leading the Artesia High School boys' basketball team to the California state championship for two consecutive years.
Harden again dominated while playing at Arizona State University, where he was named the Pac-10 Conference Player of the Year and finished at ASU as the third-best player in the school's history. In 2009, Harden was chosen as a first-round draft pick by the Oklahoma City Thunder and soon grew into a pivotal member of the OKC franchise. At this time, he was earning about $14.7 million annually, per Celebrity Net Worth.
In October 2012, however, Harden's career with the Thunder ended when he was traded to the Houston Rockets after declining the Thunder's contract extension offer.
Jame Harden now earns over half a million dollars per game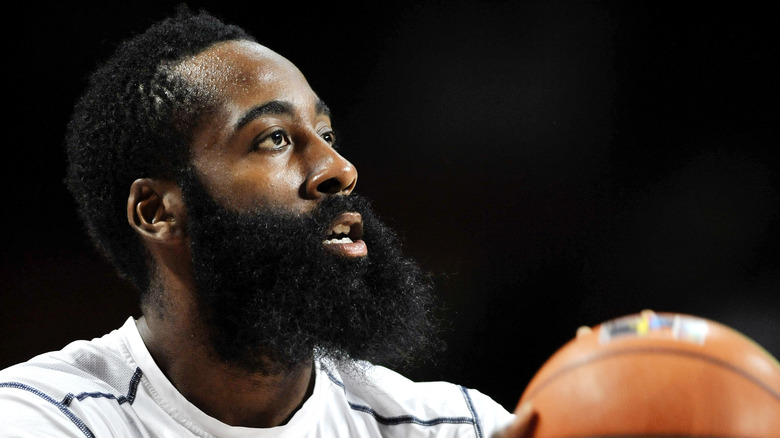 Marcos Mesa Sam Wordley/Shutterstock
When James "The Beard" Harden was traded to the Houston Rockets in 2012, his salary skyrocketed. As he grew into his place on the team, Harden was making $40 million a year, per Celebrity Net Worth. His salary increased in 2017 when Harden signed a contract extension to remain with the Rockets for four additional years. This deal was worth $228 million, which translated to about $47 million annually, and officially made Harden one of the wealthiest players in the NBA.
In January 2021, the NBA announced that Harden would be moving to play for the Brooklyn Nets as part of a three-team trade deal. As he went to play at this location, Harden's per-game income reached over $530,000. He's now switched it up again to a different franchise, and by the end of this contract, he will have made a total of more than $560 million from his basketball career, including endorsement deals.
James Harden has moved to the Philadelphia 76ers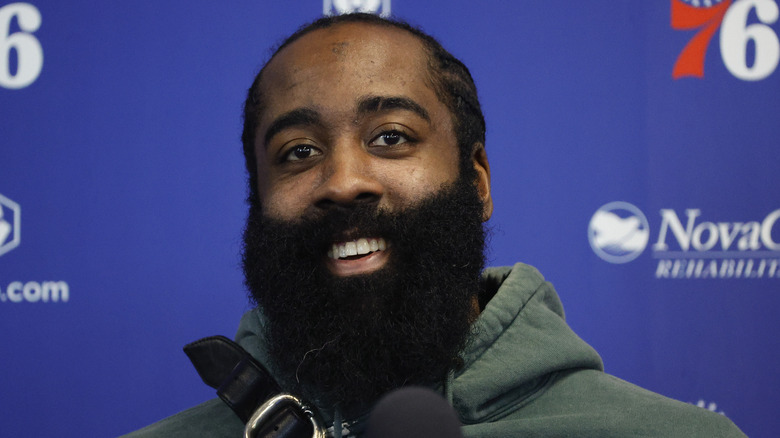 Tim Nwachukwu/Getty Images
James Harden is still bringing in more than half a million dollars per game. He is making a killing as a six-time NBA All-Star, and he's always looking to make money moves. In a blockbuster deal, he was traded to the Philadelphia 76ers along with Paul Millsap in exchange for fellow point guard Ben Simmons, Seth Curry, Andre Drummond, and two future first-round draft picks. The hotly anticipated trade was reported on Feb. 10 by Adrian Wojnarowski and CBS Sports. Harden is expected next season to opt into a $47.3 million player option, as tweeted by Shams Charania. 
ESPN wrote that, at a press conference, Harden spoke about his satisfaction with the trade, specifically in regards to being around teammates who share his winning mentality. 
"For me, it made sense, man," he said of the move to the Sixers. "It's a time where I needed to be around guys that I know want to win, and know that they are willing to do whatever it takes to win, and the structure here is unbelievable." It looks like Harden's lucrative per-game salary will be met with a strong foundation for success at this new location.